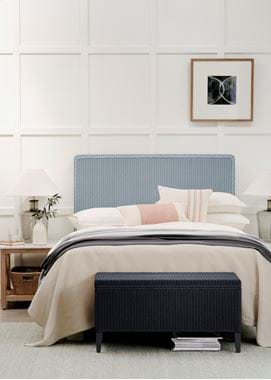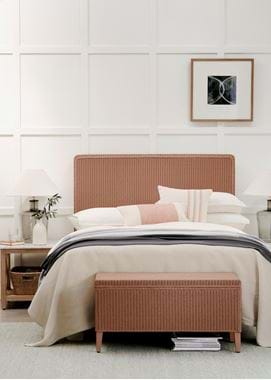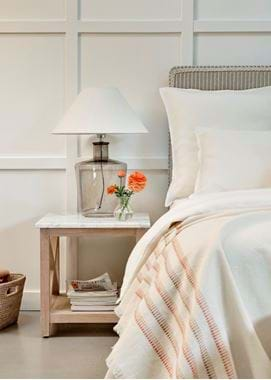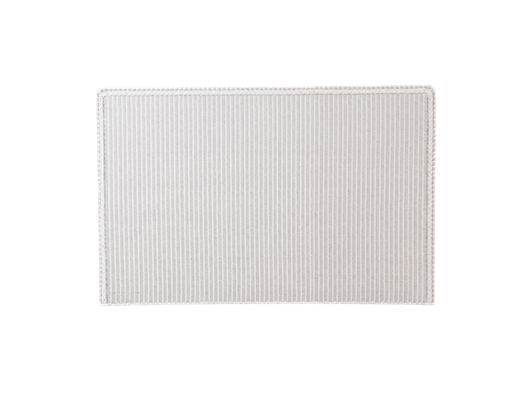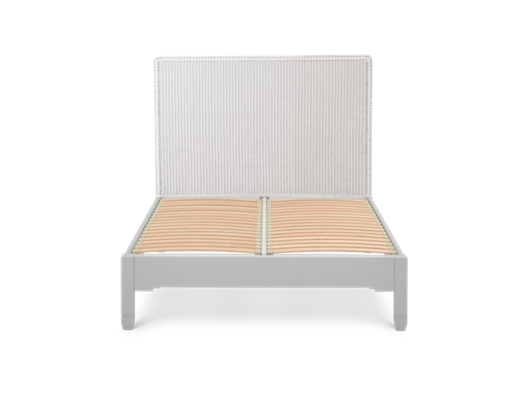 Montague is a headboard that's more subdued than statement, and that's a hardwearing but still graceful and soft (in terms of its aesthetic) alternative to a fabric upholstered headboard. It's made from Lloyd Loom – a craft that's been around since the early 20th century, and which involves wrapping paper around a steel wire before weaving it around a frame. Montague's raison d'être is texture, which is why we've kept its shape simple, and colour – it has a painted finish that comes in any of our colours and that, should you want to update, can easily be repainted too.
The beauty of Lloyd Loom
What's so appealing about Lloyd Loom is not just its texture but its heritage. It's synonymous with a very elegant, early 20th century style, as well as garden pieces which, far from being out of place in a bedroom, only adds a sense of lightness, grace and ease. It can be woven into different forms: we've chosen a very simple weave for the face (this wraps partially around the back too) with a plait detail to finish the edges.
Completing your bed
We'd suggest pairing Montague with our Chichester painted timber bed base – another classic style – but it will attach to most other divans and bed bases using its timber struts, or it can be hung on the wall using the French cleat fixing. It's designed to sit behind, rather than on top of, your mattress. If you'd like to create a matching scheme, there's also a Montague blanket box and a chair that could be used with a dressing table.
Your choice of colour
Montague is painted in our Silver Birch water-based eggshell as standard – a pale, warm-toned grey that suits both classic and contemporary settings as well as the airy, summery characteristics of Lloyd Loom furniture. However, you can choose from any of the colours in our paint library to work with your palette. If you'd like to change the colour in the future, you can do so easily with any eggshell paint.
Product Code:
INT-MON-HEA-135-LI-FIXING
From the Journal
How to choose art for your bedroom
If we're honest, we probably spend a fair amount of time thinking about the decor of our bedrooms but a lot less time consider the art with which we decorate the space, and the effect it can have on our sleep quality.
Keep reading