The garden furniture guide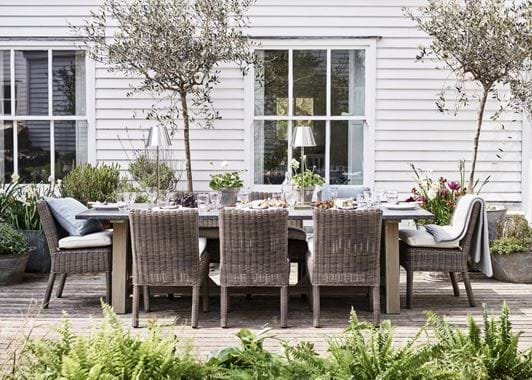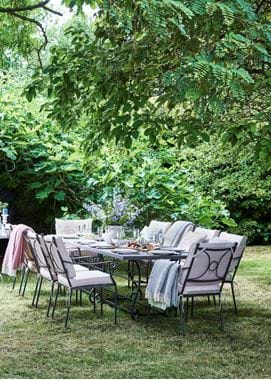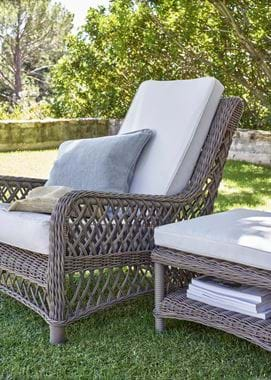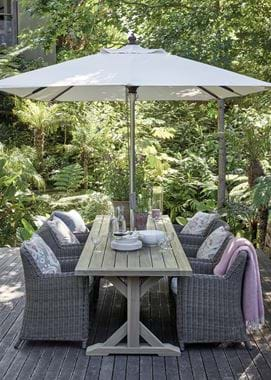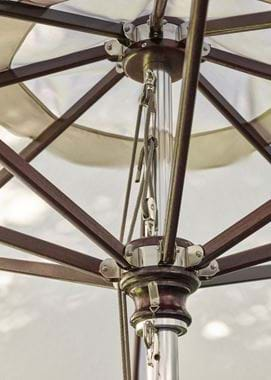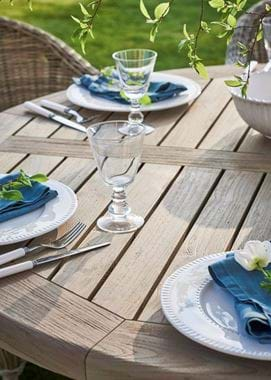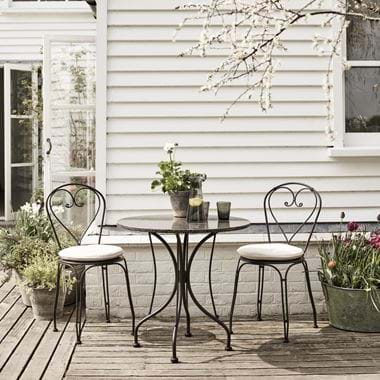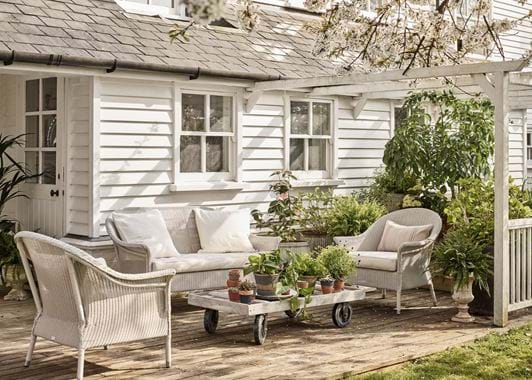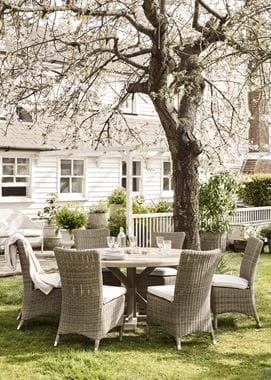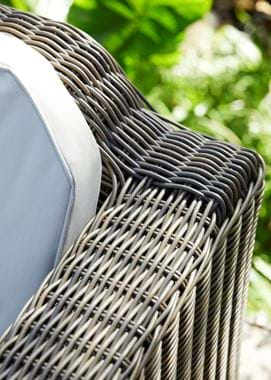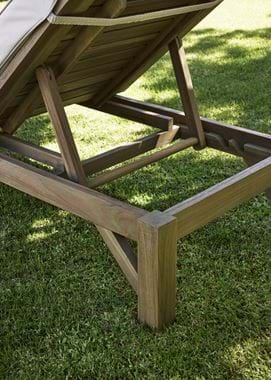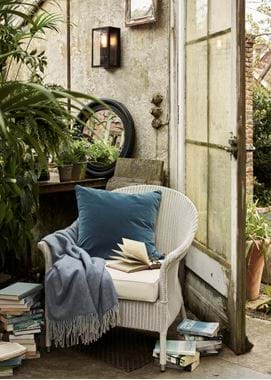 The garden furniture guide
Choosing furniture for your home, whether it'll live inside or out, is a balance between what looks the part and what fits in with your lifestyle. So, to help you decide which design is 'the one', we've written a guide to the four types of materials you'll find in our outdoor furniture collection – their characteristics, their qualities, and how much maintenance each one asks for.
Timber
There are lots of types of wood you can use outside, but teak's by far our favourite. Tried and tested, that's why it's the only timber you'll find in our wooden tables, sunloungers and benches.
Timber's characteristics
Strength: teak's tough: it's a hardwood, which means it grows slowly but surely, creating a dense timber that can stand up to a few everyday knocks and bumps. And not only is it robust, it's weather-resistant too: it has lots of naturally-occurring oils that repel water, stopping it from warping or cracking. So, when it's in your garden, coping with rain (lots of it, let's face it), snow and summer's rays, you know that it's going to take it all in its stride.
Graceful ageing: teak is a natural material, and even when cut, it'll continue to live and respond to its environment. Part of its response mechanism is to oxidise and form a protective layer – that's what you're seeing when it develops its iconic silvery-grey patina. Silvering is the best type of protection you can give your teak, and you don't have to lift a finger. We do treat all ours with our IsoGuard® oil before it gets to you, just to help it along, but after that, you don't need to do anything else if you don't want to.
Natural character: like timber inside your home, using it outside lets your garden benefit from all its warmth and texture too. And it'll tie in with trees and stems, willow trellises and timber pergolas, helping your piece quietly and subtly slip into the fabric of your outdoor space.
Cover with care
No matter how hardy, all your outdoor furniture will fare better if you cover it or, even better, bring it inside over the winter.
If you do decide to cover it though, it's important you use a breathable cover so your efforts don't go to waste. Sometimes you can accidentally create a microclimate beneath the tarpaulin, where condensation is kept inside and rust and rot are encouraged – the exact opposite of what you set out to do.
Stone
Like timber, there are lots of types of stone you could use in your garden. Dappled or plain, honed or polished, natural or man-made composite…
For our tabletops, we settled on two natural stones – granite and bluestone – and, in Hove's case, one composite.
Stone's characteristics
Durability: all stone is strong, but one of the reasons we chose granite and bluestone over any other is because they're especially difficult to damage. And the good news is that, if you do, they're easy to repair and, because of their dappled looks, chips and cracks are hard to notice. Neither are quick to fade in the sun either. Hove's man-made 'stone' is also tough, made from a blend of cement, granite powder and jute fibres, and although it'll also take on the occasional mark, we think that all adds to its rugged character. 
Practicality: behind strength, stone's most obvious plus point is that you can simply just wipe it down, so you don't need to worry about spilt drinks. A once-in-a-while deep clean with our stone care kit is the only other thing it asks for. So they're not impractically heavy to move either, all the solid granite tabletops have a slim profile, and the chunky bluestone on Stanway is made by wrapping sections of the stone around a strong-but-light aluminium honeycomb core. It's also why we chose a composite rather than solid concrete for Hove's top: so it wouldn't be too heavy.
Natural character: just like teak, granite and bluestone bring such a lot of character to your space. Full of colour variations and the patterns that are created as the rock's formed, each piece is entirely unique.
Cool and crisp: one of the reasons you might choose stone over timber is its texture. Where timber's warm, stone looks and feels cool. Not only is it lovely to lean against, but it'll match the smartness of metal and bring contemporary contrast to teak. 
Metal
The most obvious place you'll find metal in our garden collection is in the steel Cheltenham and Boscombe designs, and the aluminium poles of some of our parasols. But it's also hiding, out of sight, to give structure and support to our wicker pieces too.
Metal's characteristics
Strength without bulk: all the materials we've talked about so far are strong, but when it comes to steel, this characteristic means that a relatively slim frame can easily take the weight of a granite or marble tabletop – which is just what we've done in Cheltenham and Boscombe. It makes it a good material to choose if you want your garden's furniture to have a more delicate look. Aluminium promises strength too, but it's lighter than steel which makes it ideal for creating the frames of our wicker pieces and the poles of our parasols – as sturdy as they are, you'll still be able to move them around easily.
Longevity: while aluminium on its own will continue looking good for years and years, steel needs a little help because, left bare, it can rust. So, we give it two protective coatings – first with zinc (known as galvanising), which doesn't rust easily, and then with a coloured powder to act as another defence against corrosion and to give it its dark or light grey finish. It's tough and long-lasting, but if you did ever chip it, you might notice rust setting in. We've included a step-by-step on fixing this in our care guide though. And all that both steel and aluminium need normally is an occasional jet wash or wipe down.
A polished look: where teak gives you natural texture and warmth, metal's a material for those of us that want our gardens to have a sleeker feel. Use it to smarten up rustic finishes or tie in with crisp stone paving and formal planting. 
All-weather wicker
Wicker's synonymous with garden furniture. It's perhaps the material we expect to see the most, especially when it comes to seating. 
Whenever you see wicker on our interior designs, we use natural rattan or Lloyd Loom (you'll also spot the latter in our indoor-outdoor Chatto collection – keep scrolling for more about these pieces). For most of our outdoor collections though, we prefer to use a material that we call 'all-weather wicker'.
All-weather wicker's characteristics
Durability: a resin fibre, all-weather wicker's tougher and more durable than natural rattan, and won't flake or peel over time. Hardy and reliable, it'll withstand sunshine and showers for years and years to come.
Easy going: it won't ask very much of you either. Even though your piece will benefit from being brought inside over winter, it's not an absolute must. And cleaning it can be as simple as a hose down – although you can also use a soft brush or sponge if it's especially dirty.
Texture: all-weather or otherwise, wicker furniture's great for adding to the layers of texture in your garden. It'll bring in another surface style and, like timber and stone, pick up on other natural materials to help the space feel considered.
Chatto and Lloyd Loom in your garden
Our Chatto collection's the only one that doesn't use all-weather wicker. Instead, it's made using the traditional British craft of Lloyd Loom, where paper's wrapped around a steel wire, woven over a frame and painted.
It's not as chunky as all-weather wicker, which means you might prefer Chatto if you want a more delicate look. But, as strong as it is (it won't bend out of shape), it really does need some protection from the weather and you shouldn't leave it outdoors all year long. This is more of a collection for bridging the gap between indoors and out – just the thing for orangeries and sun rooms.
Last but not least
Timber, stone, metal and all-weather wicker are the four main materials in our garden collection, but here and there you'll spot a few others. Like glass tops on tables, cushions on sofas and chairs, and parasol canopies.
All of our outdoor cushions and parasols are made using polyester materials (a thicker canvas for the parasols and a softer, cotton-like textile for cushions). They're weather-resistant but not weatherproof, which means that a sprinkling of rain from time to time won't hurt them (air them off though, if you can) but you shouldn't leave them outdoors all year long if you're wanting to keep them looking as lovely as the day you brought them home. You can also wash them at 30° when they really need it, or simply dab with a damp sponge.
As for the glass, it's all toughened, so you can be sure it's not going to break easily. And cleaning it is just as you'd expect: with a damp cloth – no specialist solutions needed.
You can explore all the designs in our garden collection online here. And if you'd like to delve deeper into the ins and outs of looking after each material, you'll find all that in our garden care guide.