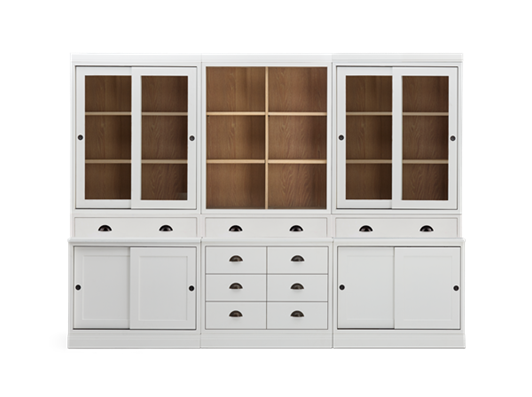 11,300€
Available in 14 weeks
We're experiencing delays due to challenges from the pandemic and its impact on our production houses and shipping. Thank you for your patience
Chawton gives you the personalisation of a bespoke piece, the look of fitted cabinetry and the flexibility of modular storage. Use this classic cabinet's sliding doors to keep your crockery tucked tidily away, then organise your cutlery with the Orford tray which will fit perfectly into any of the large drawers along the middle. The glazed cupboards and open shelving on the top are inspired by traditional museum displays, so they're ideal for exhibiting your favourite kitchenware. You'll also find height-adjustable feet hidden behind the skirting – they're there so you can match up both sides of the sideboard, just in case your floor's not perfectly even.
From the Journal
How to do a kitchen refresh rather than invest
Suggestions from the Neptune design team to give your kitchen a mini makeover.
Keep reading