Food for 'popping in' moments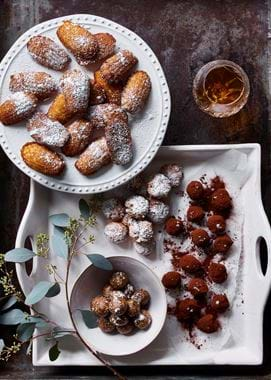 Food for 'popping in' moments
When December comes, and Christmas draws closer, there are more knocks on the door than at any other time of the year. Neighbours drop by to deliver a Christmas card, and friends seem to stop off more as they're driving through. The anticipation of Christmas makes people jollier, we're more neighbourly.
Six mini recipes
That's what these recipes are all about. Seasonal, warming bits that are super easy to make and take next to no time either. Some are savoury, some are sweet, some are indulgent, some are much better behaved, they're all suitable for vegetarians, and a few are vegan-friendly and gluten-free too. Hopefully you'll find something for everyone.
All were created by Sam Wylde, the man behind the incredible food brand, Sam's Kitchen Events.
Orange and ginger madeleines
Makes 12
Put aside: 15 minutes for making them, 30 minutes for resting the mixture, and ten minutes for baking.
What you'll need
100g butter unsalted, melted and then cooled
100g caster sugar golden, ideally
80g self-raising flour sifted
20g ground almonds
2 medium eggs free-range
2 tsp ground ginger
2 balls of preserved stem ginger in syrup finely chopped
1 orange zested
1 tbsp orange juice fresh, from the same orange
A sprinkling of sea salt
12-hole madeleine tin
What to do
Use a touch of the butter to lightly grease the madeleine tin. If you have some plain flour in the cupboard, sprinkle a touch over the moulds too to make it as easy as possible to ease the madeleines out of the tin later.
In a mixing bowl, whisk the eggs and sugar together until they're pale, fluffy and a little frothy.
In a separate bowl, combine all of the remaining ingredients, then fold them into the egg and sugar mixture to create a smooth batter.
Leave the batter to sit for half an hour, and in this time, make sure your oven is preheated to 200°C (180°C fan) or gas mark six.
Spoon just less than a tablespoon of mixture into each madeleine hole. Bear in mind that they're going to rise, so you're not looking to fill them to the top.
Bake in the oven for eight–ten minutes until golden brown, and if you can, serve them warm.
Spiced date balls
Makes 12–15
Put aside: five minutes for making them, and that's it. No cooking is needed for these.
What you'll need
150g Medjool dates pitted
40g almonds blanched
40g cashews unsalted
20g coconut desiccated, chips or flakes
¼ tsp ground ginger
¼ tsp cinnamon
¼ tsp cardamom
A pinch of ground white pepper
What to do
In a food processor, tip in all of the ingredients in one go and blitz until they form a dough. This should take roughly 30 seconds to one minute, depending on how coarse you'd like the mixture to be.
Carefully remove the blade then, taking a small amount at a time from the container, roll the dough into small balls.
They taste perfect as they are, but you can roll them in a bit more desiccated coconut if you'd like to make them look as though they're dusted with snow.
Store them in the fridge in an airtight container.
Cranberry amaretti
Makes 18–20
Put aside: 15 minutes to make them and 12 minutes for baking.
What you'll need
180g ground almonds
120g caster sugar preferably golden
60g dried cranberries roughly chopped
3 drops almond extract
2 tsp honey clear, runny
2 egg whites free-range
1 lemon zested
A pinch of sea salt
A dusting of icing sugar for rolling
What to do
Preheat the oven to 170°C (150°C fan) or gas mark three.
Place the ground almonds, sugar, cranberries, lemon zest, almond extract and salt in a large bowl and combine so they're evenly mixed.
Beat the egg whites and honey together to form a soft meringue, either by hand or using an electric whisk. Fold this into the almond mixture – carefully, so you don't lose the air – until you have a soft paste.
Taking a tablespoon of mixture at a time, roll the paste into balls. In a small bowl, tip in some icing sugar and roll each amaretti ball in the sugar to coat them entirely. Add more icing sugar to the bowl as you go.
Place each of the dusted balls onto a lined baking tray and bake for approximately 12 minutes, or until they've taken on some colour. You want them to be pale and chewy in the middle.
You can dust them with a little more icing sugar once cooled if you want a snowier finish. Store them in an airtight container and they'll keep for three–four days.
Sea salt truffles
Makes 12–15
Put aside: 15 minutes for making and two hours for cooling
What you'll need
110g dark chocolate at least 70% cocoa
100ml double cream
40g light muscovado sugar
25g butter unsalted and at room temperature
A dusting of cocoa powder for rolling
What to do
In a saucepan, heat the cream and sugar together over a gentle heat, stirring occasionally to stop the sugar from sitting, until it comes to the boil. Let it simmer for a minute and then take it off the heat. Allow it to cool for a few minutes.
Smash the dark chocolate into shards and dice the butter, then place them into a large, heatproof bowl. Pour the cream and sugar mixture over the top and allow them to melt the chocolate and butter. It should take a few minutes.
Stir until the ingredients combine, melted, smooth and glossy. Then, add a generous pinch of sea salt and stir once more.
Cover and put into the fridge to set for two hours.
Taking a teaspoon, scoop out the truffles one by one and roughly roll them into balls – you don't want to handle them for too long. Roll them into the cocoa, give them a shake to remove the excess and serve. Keep these in an airtight container in the fridge so the consistency stays nice and solid.
Smashed butternut, roasted garlic and pomegranate croutes
Makes ten–12
Put aside: 15 minutes to make them, 30 minutes for cooking and ten minutes for cooling.
What you'll need
5 tbsp olive oil
3 garlic cloves
3 sprigs of thyme fresh and whole
1 large butternut squash
1 pomegranate just the seeds
1 tsp chilli flakes
1 bunch of flat leaf parsley fresh and roughly chopped
A sprinkling of sea salt, cracked black pepper and grated parmesan
Sourdough for serving
What to do
Preheat the oven to 200°C (180°C fan) or gas mark six.
Cut the butternut squash in half lengthways. Scrape out the seeds and then place each half of the squash (skin-side down) onto a lined baking tray.
In a bowl, pour in the olive oil. Crush two of the garlic cloves by carefully pressing down on them using the side of a wide chopping knife. Pull the skin away and put the flesh into the olive oil bowl. To that, add the chilli flakes and thyme sprigs, and mix.
Pour the mixture over the squash and then sprinkle with a little water from your hand. Cover the squash with a layer of baking parchment, leaving it loose rather than tucking it in tightly.
Roast for 25 minutes, removing the parchment for the last five minutes, and then place the squash to one side to cool, leaving the oven on. While it's cooling, slice as many pieces of fresh bread as you need, rubbing them with olive oil and the remaining garlic clove, and place them in the oven to warm slightly – five minutes at the same temperature is plenty.
As the bread is warming, scrape out the soft butternut squash flesh and the garlic mixture (removing the thyme sprigs) into the bowl you used earlier (to save washing up two bowls) and mash with a fork. Add the parsley once mashed.
Take the bread out of the oven, then generously top with the squash mixture, a scattering of pomegranate seeds and a sprinkling of seasoning and the grated cheese.
Spiced beetroot dip with crispy pitta and crudités
Makes enough for four
Put aside: ten minutes for making
What you'll need
240g Greek yoghurt
6 medium beetroot pre-cooked, but not in vinegar
3 tbsp olive oil
2 garlic cloves crushed
1 small red chilli seeded and chopped
1 tbsp maple syrup
1 tbsp za'atar
A pinch of sea salt
A pack of wholemeal pitta breads toasted and cut into thin pieces
A selection of raw vegetables such as peppers, carrots and cucumber, chopped into long strips
What to do
Put all of the ingredients (expect the pitta and vegetables) into a food processer and pulse until blended. Scrape the mixture into a wide, shallow serving bowl so lots of people can dip at the same time.
Serve alongside your favourite raw vegetables and toasted pitta breads.
A tip or two
Medjool dates are the best variety to use for the spiced date balls because they're naturally sweet and sticky so create a gorgeous taste and texture. Normal dates will work too though. You can buy them pitted, or it takes moments to pit them yourself – just slice the first third away and you'll see or feel the stone, then just pull it out. It can be helpful to soak the dates in warm water for ten minutes if you want them to be a little less sticky. And because this recipe doesn't need cooking, you can taste a little to see if you'd prefer more spice; if you do, then just blitz the mixture again for a few seconds to combine.
For the amaretti, the dough consistency should be like cookie dough – soft and malleable. Don't be tempted to overcook them, you only want a little light brown colour so they remain deliciously chewy when cooled.
The date balls and madeleines will keep for three–four days if stored in an airtight container. You can also freeze both of these recipes.
The madeleines can be made gluten-free if you substitute the flour for ¾ gluten-free flour and ¼ coconut flour – although the texture will be crumblier and you won't get the shell-like definition quite so much.
For a vegetarian and vegan-friendly parmesan substitute for the croutes, try the prosociano wedge by Violife, which is available from most supermarkets.
When it comes to removing the pomegranate seeds, cut the fruit in half and then, over a small bowl with the seeds facing downwards, hit the back of the fruit with a rolling pin and they'll start popping out. Do it as close to the bowl as possible to prevent any juice from spraying.