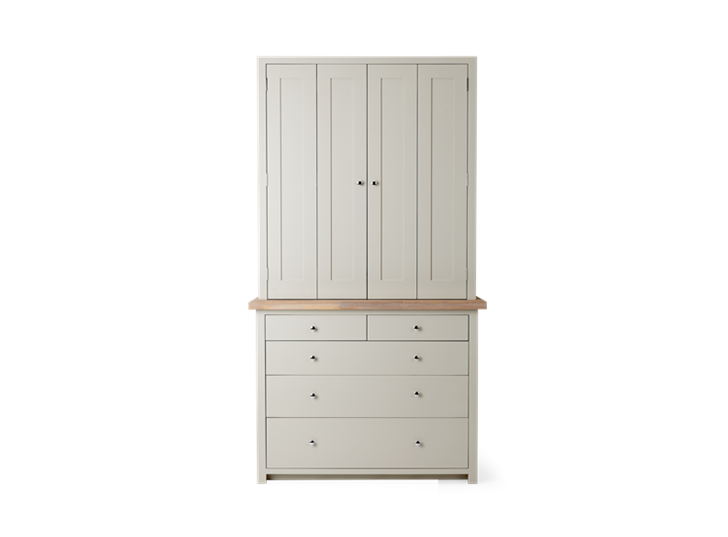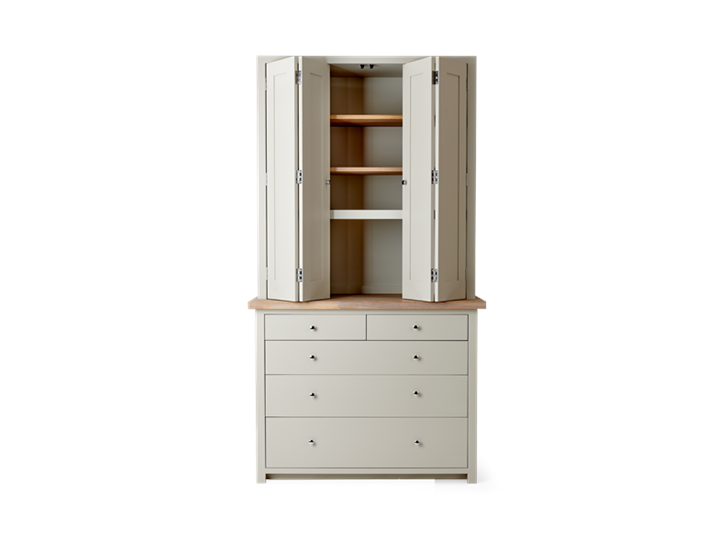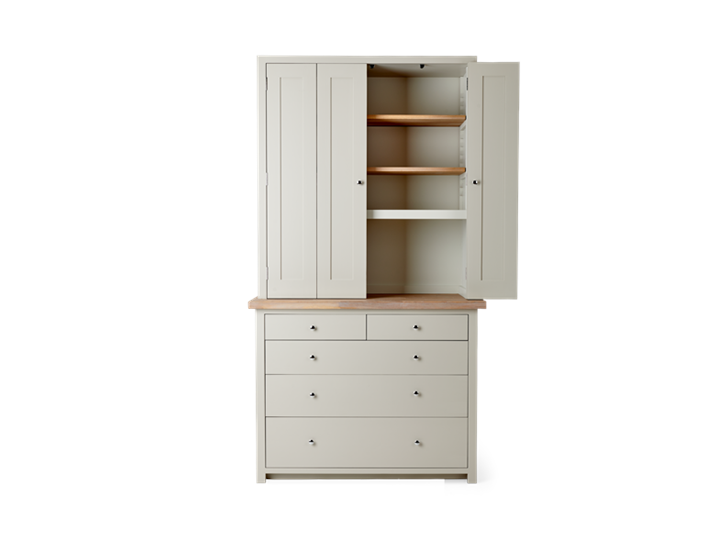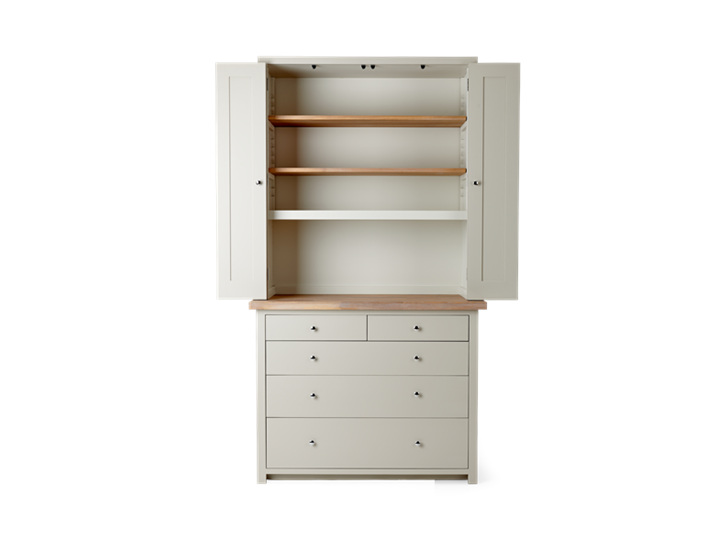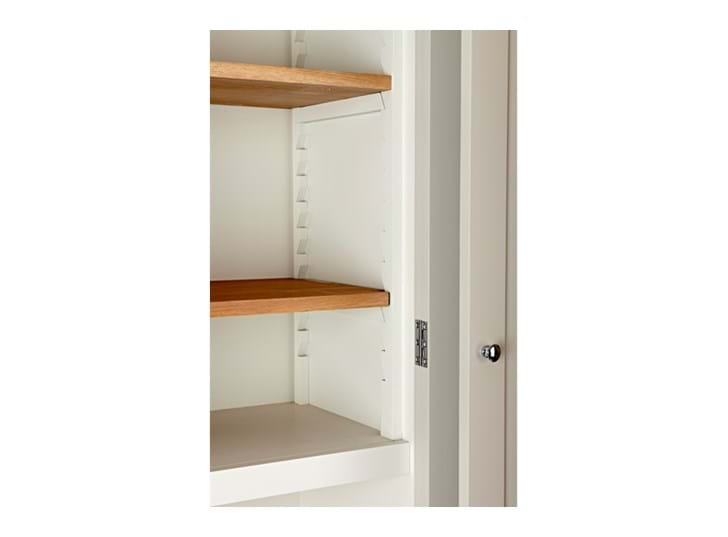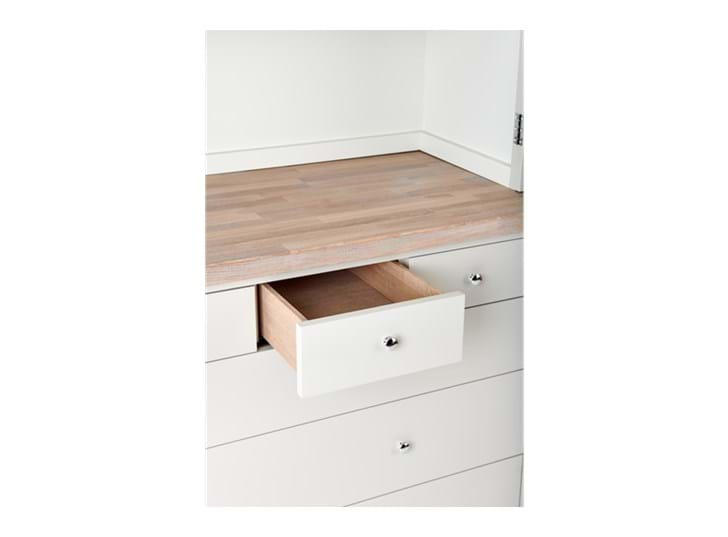 6,364€
Disponible sous 11 semaines
This Suffolk larder is actually made from our Suffolk kitchen cabinetry, but can sit separately as a freestanding piece of furniture. It's full of useful details, like the bi-fold doors that fold back out the way for easy access, the adjustable oak shelves and the arrangement of small and spacious drawers. There are two sizes to choose from: a smaller, five-drawer design and a larger one which has seven drawers. As this piece requires specialist fitting (and has options for cornicing or without), you'll need to visit or call one of our stores to order.
Mastercode du produit
SUFK-BFC-LAR-1120-DR
Notre service haut de gamme signifie qu'une équipe de deux livreurs est à votre disposition. Vous n'aurez pas à porter d'objets lourds. Ils seront déposés et montés pour vous là où vous le souhaitez, et les emballages seront emportés pour être recyclés.
Regardons de plus près Suffolk
What does 'short stave' mean?
When it comes to oak worktops, you generally have one of two options: short stave and full stave. The one we've chosen for this work surface is the former, which basically means that the pieces of oak don't necessarily run the full length. Both are lovely options, but this one is a little less expensive and more suited to a smaller piece of furniture like this. Like other oak work surfaces, it may take on marks over time, so you can sand it back and oil it if you'd like.
The finish: IsoGuard®
The oak shelves and drawer interiors are finished using our Seasoned Oak IsoGuard® – our own, natural and zero VOC linseed oil-based formula that protects the timber for a time from spills, without masking its natural texture. It also gives the oak here a subtly silvered tone, like gracefully weathered timber.
One cabinet, lots of possibilities
How you use this design is entirely up to you, and we've found it can work as a dresser-style piece for tableware, as a freestanding larder for pantry staples, or as a mixture of the two. We particularly like the idea of turning it into a breakfast cupboard for teas, coffees and cereals as well as cups and bowls. If you cut space for sockets into the back panel, you could also use the work surface for small appliances as the cabinet sits directly onto this with no bottom shelf, making them easy to pull in and out.
Introducing Suffolk
Suffolk: simple on the outside, but far from it on the inside. A design suited to people who want a pared back look in their home and who can never quite find the right word to describe their style because they're somewhere between classic and contemporary. This is our most understated collection of all; a Shaker inspired family of kitchen cabinetry and freestanding furniture, where there's real discipline in the design and the beauty comes from the unfussiness of it all.
Design details: part one
For us, function and form go hand in hand and, especially in a kitchen, it's important that our designs make your life easier each day. So, for instance, the upper shelves in this cabinet sit on timber zig zag supports which are sturdy, attractive and make it easy to adjust the shelves to any arrangement. And then the drawers sit on soft-close runners which are incredibly load bearing, so you can stack plates, pans and even cast iron pots inside.
Design details: part two
Thinking more about Suffolk's aesthetics, you have a choice with this cabinet to opt for no cornice (that's the price you see here, and it creates a more contemporary look) or Suffolk's signature cornice which is a simple, timeless design. As standard, it also comes with our small Britten button knobs in chrome, which exactly suit the pared-back style.
The materials: tulipwood & ply
Tulipwood is the hardwood timber that we choose for almost all our painted furniture and cabinetry. Not only is it strong, but it also has a very fine grain which means we can achieve a smooth painted finish. Tulipwood forms the frame of this cabinet, but for the larger panels we've used hardwood ply. It's still made from proper timber, but it's built up in thin layers which prevents movement over these large areas and, in turn, any warping. Together, these two make the best, most sturdy combination.
The finish: paint
You can choose from any of our colours for Suffolk, each applied in our water-based eggshell using a mix of spray and hand-painting techniques so the finish is perfect as can be. By using eggshell, rather than a seemingly more hardwearing plastic coating, you can not only repaint easily, but your cabinet will have a soft, low-sheen finish that's so much more tactile and has a greater depth of colour.
The materials: oak
Each of the two shelves inside this cabinet, the interiors of the drawers and the work surface are made from oak. It's a detail that adds so much character and richness alongside the painted finish. We chose oak, our favourite timber, because of its strength, its beautiful grain (full of personality but not too knotty) and its sense of heritage. The shelves and drawer interior are IsoGuard®-protected solid oak, while the work surface is short stave oak.