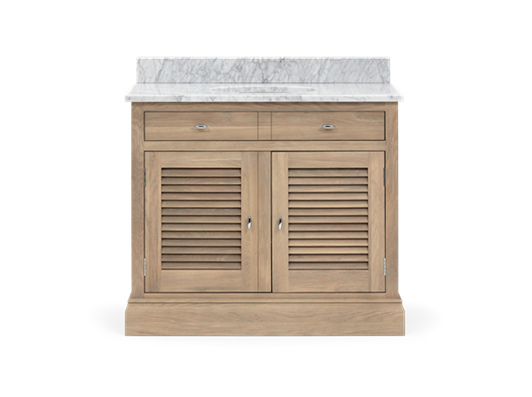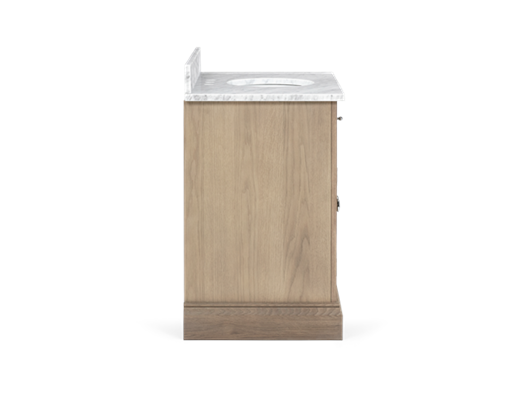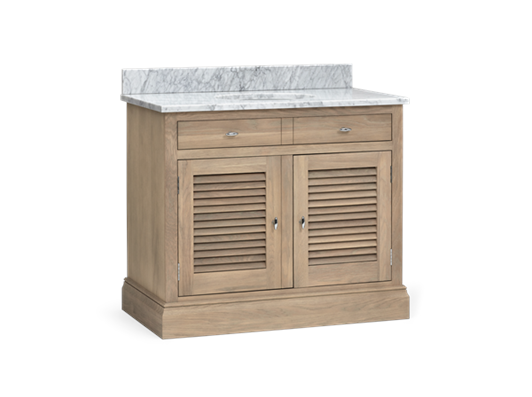 €2,660
Available in 7 weeks
We're experiencing delays due to challenges from the pandemic and its impact on our production houses and shipping. Thank you for your patience
Exposed timber is rare in a bathroom, but it can be a welcome foil to colder surfaces like stone flooring and metal brassware. Our Edinburgh large, single-sink washstand is made from oak that not only adds a great deal of texture and warmth, but is also happy in humid spaces. We've kept its design clean-cut, with simple lines, a marble top and upstand, and airy, louvered doors.
Materials: oak
We use oak because of its beautiful grain, its durability and its sense of heritage (we've written more on it here). The knots and variations in tone are all part of its character and are an aspect we love. And because the pieces we use are such a high grade, they'll withstand the moisture in your bathroom.
Finish: oak
The oak is brushed and stained to help bring out the appearance and feel of the grain. It's then protected with IsoGuard®, an oil-based formula that doesn't mask its texture and that also makes it less likely to mark if it gets splashed – it's still advisable that you wipe it down, but you'll have more time to do so.
Materials: marble
Carrara marble is a naturally occurring metamorphic rock. It's grey-white in colour, and has darker veining that makes each piece unique. It's a beautiful material, it just requires more hands-on care than other stones. Don't worry, this isn't very time-consuming and we've included our guide to doing so.
Finish: marble
The marble has a semi-matte, honed finish that's an ideal complement to the slightly more rugged oak. We've sealed it to help protect against stains, and we recommend that this is reapplied using our stone care kit (available in-store) each year.
The basin
Edinburgh has a shallower basin than most – the washstand's proportions mean that a regular one would take up shelf space. It's cleverly designed to be deep enough at the back (where the taps are) for easy hand-washing. And it's made from ceramic, which is both durable and classic.
What about taps?
We've pre-drilled the holes for the taps into the marble top – you needn't worry about that. But we haven't included the taps themselves so you can pick the style. The holes will fit most three-hole designs, including our Bamburgh.

Waste plug trap included
:
Yes
Waste bottle trap included
:
No
Neptune Code:
EDIB-WSU-1000-VO-K