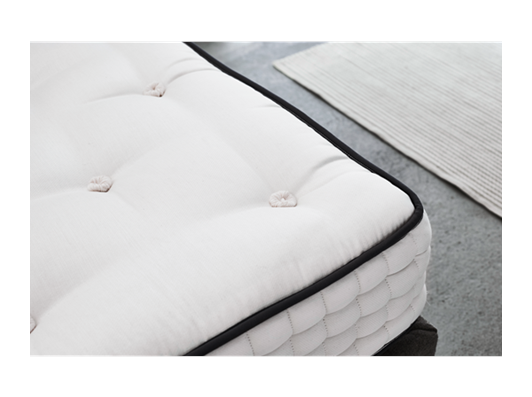 Barrington Mattress, Single
€1,635
Available now
We're experiencing delays due to challenges from the pandemic and its impact on our production houses and shipping. Thank you for your patience
Everyone deserves a good night's sleep. But what makes the perfect mattress? Our new collection of medium and firm mattresses that are seriously supportive, cushioning and comfortable. They conform to your body, wick away the moisture to keep you cool or warm and only use the best sustainable, natural, recyclable materials.
In the making
Barrington's made for us by a family-run company in Yorkshire that have been making mattresses since 1840. They produce a lot of the materials themselves on their 300-acre farm just a few miles from their workshop. The rest come from other local farmers or, when it comes to Egyptian cotton, the very-best international growers.
Pocket springs
Unlike open springs, each pocket spring sits inside its own fabric 'pocket'. This means they can rise and fall individually to support your body and spread your weight evenly. Think cloud-like comfort – a phrase that's often used with pocket springs, for good reason.
Natural Materials
As well as the springs, there are several layers of natural padding: wool and cotton for softness and springiness; and hemp and horsehair for strength and durability. Unlike synthetic materials, they're all breathable, which means you'll be cosy in winter but fresh in summer.
Quilted pockets
The little tufts, undulating surface and lines of neat stitching are all part of securing your mattress' fillings in place, but they also make it look all the more inviting. They're all stitched on by hand the traditional way.
Brass air vents
The natural fillings are all brilliant temperature regulators, but to give them that little extra help, we've added a few air vents to keep things breezy. You won't see them when the sheet's on, but we believe they should still look good too, so we've made them from brass.
Turning Handles
Barrington's the kind of mattress you can turn – the fillings are mirrored on both sides. And because doing so regularly means your mattress will last longer and wear better (stopping the fillings from compressing too much in one spot), we've added padded handles along the edges to make things that little bit easier.
Mattress protector recommended
:
Yes
Neptune Code:
BAR-MAT-090F (default)