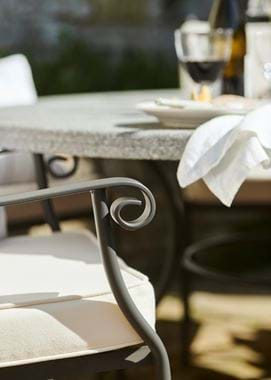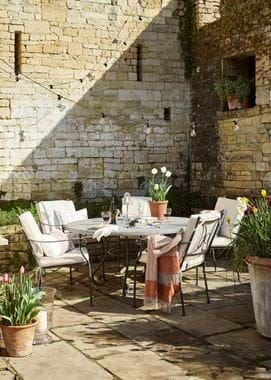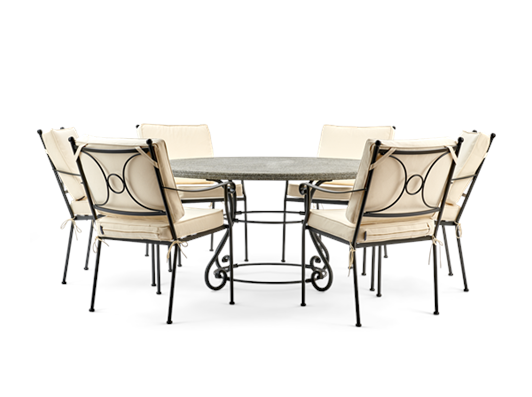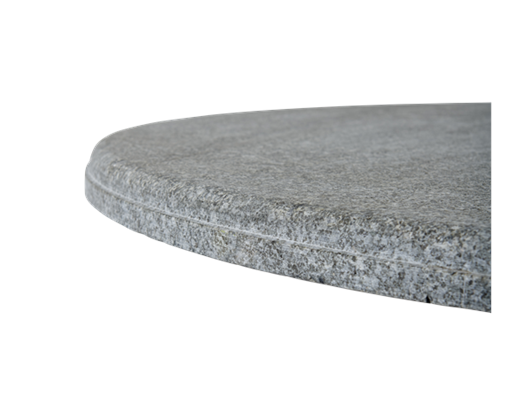 Our Cheltenham dining furniture exhibits sweeping curves and arches throughout – a nod to the decorative balconies and railings of its namesake town. The elegant, stepped tabletop is made from hardy granite, while our carver chairs are softened by showerproof cushions. Choose between round and rectangular sets to seat six or 10.
Steel frames with a galvanised matt grey finish.
Granite tabletop comes pre-sealed.
Chair frames are slatted for efficient drainage.
Showerproof cushions with removeable, 100% polyester covers.
Ties secure the cushions to the frames.
Product Code:
CLT-TAB-ROU-150-GRA-DIN-04
Care guide
Clean the granite top with a damp cloth followed by a dry one.
Maintain the granite by using a natural stone sealant every couple of years.
Bring cushions inside during heavy rainfall.
Wash cushion covers at 30° then line dry. Do not tumble dry.
Do not wash the foam pad.