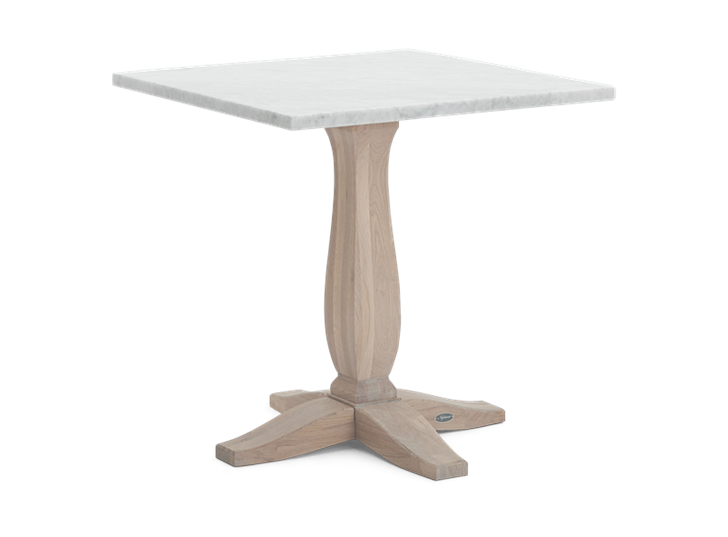 €1,115
Available now
We're experiencing delays due to challenges from the pandemic and its impact on our production houses and shipping. Thank you for your patience
Sometimes, a petite dining table for two is called for, and that's where Harrogate comes in. Tucked into the corner of a kitchen or an open plan living-dining space, it won't take up too much room but doesn't feel as if you're compromising. That's down to its weighty, oak pedestal leg and marble tabletop.
Materials: oak
Oak, because it'll look more than good in your home. You can expect the odd knot here and the odd change in wood grain there – which means no two tables will ever look quite the same – but overall, it's a well-balanced timber.
Materials: marble
Carrara marble is a naturally occurring metamorphic rock. It's grey-white in colour, and has darker veining that makes each piece unique. It's a beautiful material, it just requires more hands-on care than other stones. Don't worry, it doesn't take long and you'll find exactly what to do in our care guide. 
Finish: oak
The oak base is protected with IsoGuard®, our timber treatment oil. Think of it as a defence barrier, but one that you'd never know was there. IsoGuard® comes in a few finishes; this one's Seasoned Oak, which gives the oak a slightly silvered look that's neither too cold nor too warm.
Finish: marble
For the marble tabletop, we chose a matte, honed finish because it's a slightly more contemporary look than a glossy, polished one. It also complements the natural texture of the timber, and it's less likely to show scratches.
Design detail
There's no need to worry about uneven floors giving your table a wobble. Harrogate has height-adjustable feet concealed within its oak base so you can make sure it has an even footing.  

Neptune Code:
HAR-TAB-SQU-075-IS-H
Just so you know
Natural timber will always want to move. It's going to expand and shrink as the temperature and humidity in your home changes, but there are specialist joinery techniques that can help to counteract the movement. And that's exactly what we do, so although you might see a little movement in the timber over the seasons, it won't change drastically.