Ways with tiles and timber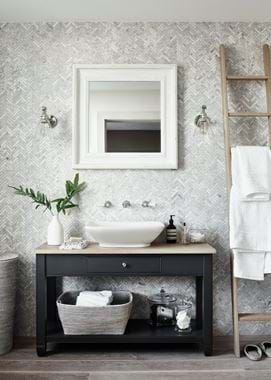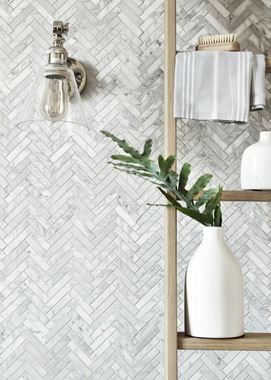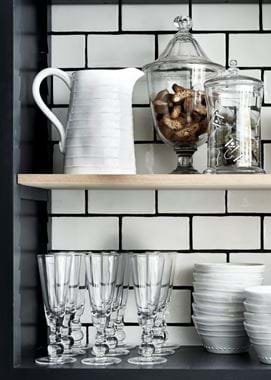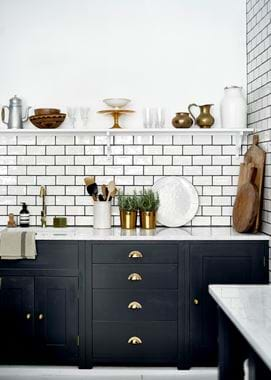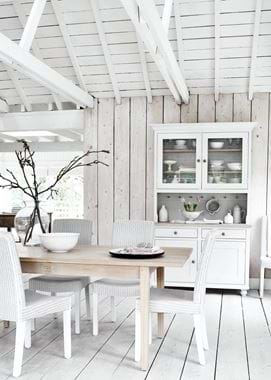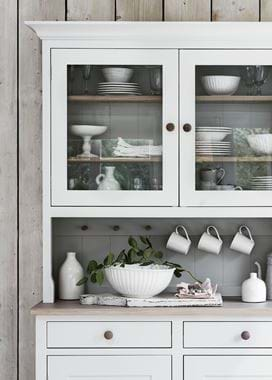 Ways with tiles and timber
Tiles and wooden wall panelling have a transformative effect. While paint and wallpaper are perfectly lovely options for our walls, tiles and timber offer an alternative that's quite often practical and not to mention a hugely creative expression that's welcome in rooms far beyond the bathroom. They're a form of wall art that's perhaps a little unsung in comparison to canvases, framed prints and photography.
So, this week on the journal, we explore three of our favourite room scenes that have tiles and timber cladding at their heart.
Let's begin in the bathroom
Tiles in the bathroom is an obvious place to start. That's mostly down to practicality. Splash marks don't really show, and they're easily wipeable should you accidentally squirt shampoo or toothpaste onto them. Paint works too of course, but an eggshell finish is much more suited to a bathroom environment. For people who prefer the tone of matte emulsion though, paint soon becomes a bit of a trickier option as water marks it much more easily.
Then there's the aesthetic side of things. Practical absolutely doesn't have to mean you sacrifice beauty. Not only is the design of the tiles important, but the way you apply them counts for a lot too. Ceiling to floor is a dramatic look that you could do on one feature wall (perhaps next to your bath or washstand), or it can be repeated on every wall for even greater effect (this is a wise option if you have a wet-room setup). Alternatively, you might like to tile two-thirds of your wall and paint the upper third – we love the combination of our Kennet marble tiles with our Charcoal paint.
In this scenario, we've used our Kennet wall tiles in their herringbone form (they also come in hexagonal and brick shapes) on a large scale. Pairing them with classic timber furniture and unfussy wooden floorboards balances the look so that it doesn't enter into too-contemporary waters. Because there are so many tiles, they brighten-up the room whether it's sunny or not, which is helped along by the Buckingham mirror and the Keats wall lights' glass shades. But to stop the scheme from becoming a sea of a similar tone, we've opted for our Charcoal paint on the Chichester washstand, which gives it some necessary grounding.
This is a look that's many things – contemporary, classic, dynamic, elegant, striking, serene, and has natural materials touching its every inch from the marble wall tiles, to the rattan Ashcroft baskets, to the solid oak Stratton ladder.
Into the kitchen
The next most-known place to see wall tiles in the home is the kitchen. just like the bathroom, they let you easily wipe away splashes from the sink and spits from pots on the stove. Tiles can also create a much more attractive alternative to a hob's splashback sheet. If you have a full cooker surround, simply use them to fill the space inside.
While we want our kitchens to be a place of function that's easy to care for, it doesn't mean we always like to stick to the more obvious, and that goes for the overall design as well as smaller elements like tiling. While Elcot is a traditionally-made tile with a fairly understated aesthetic, in this Suffolk kitchen scene, you can see how easily it takes on a more edgy personality. There are a few reasons for the shift. The glossed finish reflects light: it contrasts with the matte white walls and Charcoal-coloured cabinetry, and it works in tandem with the other reflective aspects in the room such as the polished marble worktop and brass accents. Then there's the dark grey grouting – another point of contrast that's bold and a little daring. This is a kitchen that really plays with light and shade – it's a grown-up, contemporary take on monochrome – and the tiles and grouting play a huge part. 
Just like the bathroom, the other thing to think about is the way you use the tiles in your kitchen. Here, we've broken a few boundaries without feeling try-hard or appearing radical. Instead of purely being used in the practical parts of the kitchen, we've used Elcot as a backdrop behind open-fronted cabinets and shelving – a simple, easy-to-achieve idea but one that's incredibly effective. On one wall, the tiling reaches up to the mantel shelf, but doesn't go beyond, and yet on the neighbouring wall it's used from work surface to ceiling. Tiles are used to change the pace, to intrigue, and to surprise.
From tiles to timber
Cranbrook is our rough boarding shiplap. It's an option that's different to paint and wallpaper, much like tiles are, but it translates to every single room and to parts of the home where tiles might not settle in so well, such as the bedroom or the dining room.
We make it from Norwegian spruce – a hardwood that's stable and far less likely to shrink as it lives through the seasons and climate changes in our homes. We've sanded each plank down so that you needn't fear a splinter when you touch it, but not so much that it loses all its texture – we want its character to shine through. You can use it on walls and ceilings, and it brings such a lot of warmth and personality. It makes you want to reach out and touch.
In this dining room, we've given Cranbrook a washed finish using our Silver Birch paint shade. More often than not, we position it horizontally, but here, we've used it to clad the walls in vertical strips. By painting all of the exposed wood in the same shade, the timber coordinates from the floorboards to the planked ceiling. But look closely, and you'll see that the thicknesses vary and there's a slight difference in appearance, telling you that streamlined it may be, but uniform it most certainly is not. It's a subtle design detail that doesn't go unnoticed.