Pack up a picnic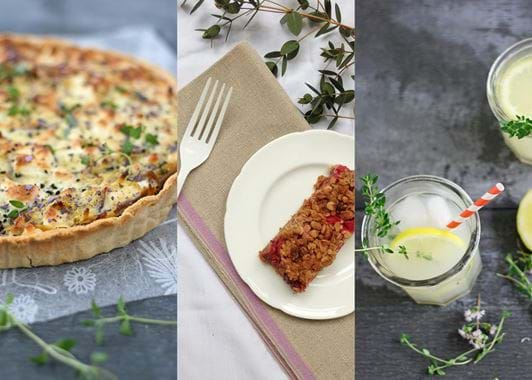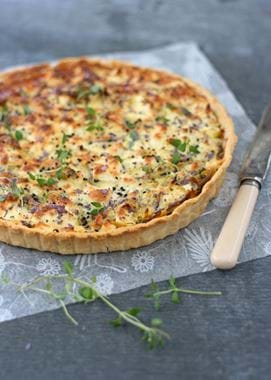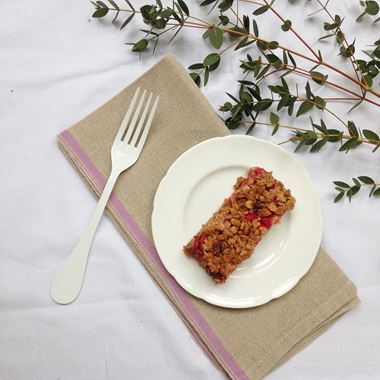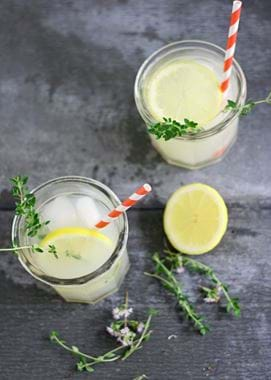 Pack up a picnic
Three easy summer recipes
Simple summertime pleasures don't come much better than a good old-fashioned picnic. In our garden picnic blog, we talk about how the key is to keep things simple. And the same goes for the food.
Of course, you can easily buy all sorts of ready-made picnic foods, but peeling back the cellophane on a plastic pot can't match unwrapping the parchment paper on a homemade tart. So, we're sharing three of our go-to recipes for picnics, be it one in your garden or a nearby green space. We're packing a seasonal savoury tart, some fruity flapjack bars and a lemonade that's reserved just for grown-ups…
Yellow beetroot & feta tart
Serves: six–eight
The perfect centrepiece for an al fresco feast. Transport the tart in the tin it was baked in – just wrap it in a clean tea towel or with baking paper secured with twine.
What you'll need
For the pastry
125g plain flour 
125g spelt or wholemeal flour
125g butter cold from the fridge
4–6 tbsp water ice cold
1 tsp salt flaked
A sprinkling of fresh thyme leaves not sprigs 
A little beaten egg just use some of the beaten eggs to be included in the filling
You could make the pastry with 250g of spelt or wholemeal flour, but we prefer to use a 50:50 mix of spelt or wholemeal flour and plain flour as it binds together well and bakes to a perfectly crumbly texture.
For the filling
3 yellow beetroot peeled and coarsely grated
1 red onion finely sliced
150ml crème fraîche
140g feta cheese crumbled
2 eggs beaten
1 tbsp balsamic vinegar
1 tbsp soft brown sugar
1 tbsp olive oil
A bunch of fresh thyme leaves not sprigs
Nigella seeds for sprinkling
Dried purple (or green) basil for sprinkling
What to do
1 You can make the pastry by hand or in a food processor. Start by mixing the flours, salt and thyme together and pulse in the processor or mix with a wooden spoon. Next, add the butter and either pulse in the processor or rub between your fingers until you have a rough breadcrumb consistency. Now add the water, tablespoon by tablespoon, pulsing or mixing each time, until the mixture comes together as a dough. Shape into a circle, wrap in baking paper and pop into the fridge for 30 minutes or so. Preheat the oven to 210°C (190°C fan). 
When it comes to rolling out your pastry, roll it between a couple of sheets of baking parchment. This reduces the chances of the pastry sticking to the surface and allows you to achieve the thickness required.
2 Once the pastry is chilled, roll it out into a large circle just bigger than a 24cm fluted loose-bottomed tart tin and about the thickness of a £1 coin. Remove the top sheet of baking parchment (keeping it aside for later) and roll the pastry over a lightly floured rolling pin before laying it over the tart tin. Remove the remaining sheet of parchment and use your fingers to push the pastry into the edges and scallops of the tin. Pop it into the fridge for another ten minutes.
3 Cover the pastry with your saved sheet of parchment and use baking beans or rice to weight it down. No need to trim the sides – do this at the end so you don't have to worry about your pastry shrinking. Bake for 15 minutes, then take out of the oven, remove the beans and paper, brush with a little egg and pop it back in the oven for ten minutes. When it's ready, take it out, trim the overhanging pastry and place to one side to cool while you get on with preparing the filling.
4 Turn the oven down to 180°C (160°C fan). Heat the oil in a frying pan and cook the onion over a low-medium heat until soft. Add the beetroot, vinegar, sugar and a splash of water to loosen. Next throw in the thyme leaves. Cook for five to eight minutes, stirring occasionally, until everything is soft and there's no liquid in the pan.
5 Cool the filling slightly, then spread over the base of the tart. Next sprinkle over the crumbled feta cheese. Whisk the eggs together with the crème fraîche and season with a little black pepper. Pour this over the feta and spread to cover the surface.
6 Cook in the oven for 30–40 minutes, or until set and golden. Leave to cool slightly before scattering with extra thyme, nigella seeds and dried purple basil.
Rhubarb crumble flapjack slices
Makes: 20 bars
These fruity bars are an ideal sweet treat to take on a picnic. Wrap a strip of baking paper around each bar for easy eating and general all-round prettiness. Adapted from a recipe by Anna Jones.
What you'll need
400g rhubarb finely chopped
150g raspberries halved or quartered
150g coconut oil or butter plus extra for greasing
150g rolled oats
150g spelt flour
150g coconut sugar or unrefined light brown sugar plus an extra tablespoon
1 lemon juiced
What to do
1 Preheat the oven to 210°C (190°C fan) and get all your ingredients and equipment together.
2 Line a roughly 30cm × 20cm baking tray with baking parchment and rub with a little coconut oil or butter.
3 Put the rest of the coconut oil or butter into a large saucepan over a medium heat and leave to melt, then take off the heat.
4 Add the oats, flour, 150g sugar and a pinch of salt and give it a good mix.
5 Take out six tablespoons of the mixture and put to one side to make the topping. Press the rest of the mixture into the baking tray with the back of a spoon until it evenly coats the bottom.
6 Put the chopped rhubarb and raspberries into a bowl; squeeze over the lemon juice, add one tablespoon of sugar and toss to coat.
7 Scatter the fruit over the crumb base then sprinkle with the reserved topping. Bake for 40 minutes, until the fruit is bubbly and the crumbs are golden.
8 Let the bars cool in the tray (you can do this in the fridge to speed things up), then cut into 20 slices. Store in the fridge – they'll keep for 4–5 days.
Gin-thyme lemonade
Serves: eight, though easily doubled to serve a crowd
Quick, easy and refreshing. It's worth going the extra step and making your own lemonade for this recipe. Our simple recipe is free from refined sugars and made with real lemons for a zingy flavour.
What you'll need
For the agave lemonade
1l ice-cold water still or sparkling
125ml agave syrup 
6 lemons unwaxed
For the gin-thyme lemonade
1l sugar-free agave lemonade
A small bunch of lemon thyme 
1–2 lemons sliced
A splash of gin 
Ice cubes
What to do
1 First make your agave lemonade. Slice one of your lemons and put it into a big pan with the juice of the other five (approx. 200ml juice). Pour in the agave syrup and 100ml of water and bring to the boil. Mix well, then turn off the heat and allow to cool completely. Top up with one litre of still or sparkling water. This is now perfect to serve with plenty of ice as a soft drink.
2 To make the gin-thyme lemonade, just pop two or three ice cubes into a tumbler and add a measure of gin. Top up with the lemonade and add a few sprigs of thyme and a slice of lemon.
You could insert several sprigs of thyme into the lemonade bottle a few hours ahead of serving (remember to screw the lid back on tightly) for a stronger hit of thyme.
Happy picnic-ing.
Louise Gorrod is the wishlist editor at slow-life magazine The Simple Things. She is also the author of the blog Buttercup Days and works as an independent food stylist and writer. Images by Louise Gorrod.