Keeping your garden well-lit – after the sun has set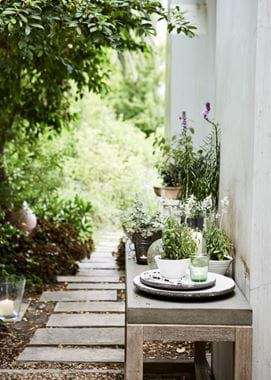 Keeping your garden well-lit – after the sun has set
When summer shows its face, you can't move for talk about bringing the outdoors in. But, you might've noticed that we've decided to concentrate more on the ways that you can take the indoors out – from how to treat your garden as an outdoor living room to our upcoming piece on kitchen gardens (look out for it in June). Whichever room (or rooms) you're trying to echo in your outdoors though, you'll need to spend more than a few minutes thinking about lighting. Because when the sun goes down, it should never mean that the lights have gone out.
Here are our three outdoor lighting tips to always bear in mind. They're simple as pie, and while any of them on their own will help you to create atmosphere, they really are best when done as a trio. Lighting shines brightest when you treat it as a scheme.
1 Think small and narrow-minded
Not something you're often encouraged to do. But the best parts of your garden to illuminate are the slender pathways, the channels you might have dug out along fencing or walls, and the depths of your garden where there might be small, shaded spots.
The first reason is to do with practicality. Walkways need lighting so that you can easily and comfortably find your way as you pop in and out.
The second is for ambiance. When you're sat back down, having the soft glow of the path or garden border in the corner of your eye is reassuring. The same can be said for the tucked away areas. When they're gently lit, they become pretty and enchanting, rather than murky and unknown.
2 Be romantic
Think about how you light your home in the evenings. As night falls, generally speaking, you'll instinctively dim down your lights. More table lights and floor lamps than spotlights on full power. It's all part of the wind-down process.
Your garden is no different. In the day, the sun will do all the bright activity for you, but when dusk falls and the light becomes more soothing, you'll want to play on that feeling for the rest of the evening. Candles are a definite. Just because they're easy and obvious, doesn't mean they should be discounted. Quite the opposite. Sit them in glass hurricane lanterns and dot them around your garden – from corners of decking or paved areas to in-between shrubs – or on your garden table. Clusters of pillar candles on plates like our Corinium platter are a lovely touch so you can dine by candlelight, but with enough light coming from the rest of your garden for you to be able to see what you're doing.
3 Don't forget indoor lighting
The main point with all this conversation on bridging the gap between your interior and exterior, is that they should be seen and used as connected spaces. When you're outdoors, your interior lighting should become part of your garden's backdrop. The familiar scene of your kitchen, your sitting room, or whatever room looks out onto your garden, is all part of how you light your outside space. So, make sure you keep the shutters or curtains open, and one or two lights left on.