Asparagus, kale and gruyère springtime tart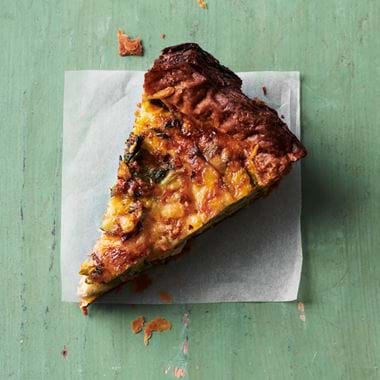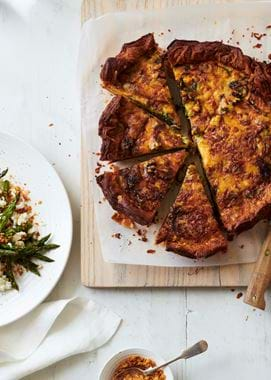 Asparagus, kale and gruyère springtime tart
During spring and summer months, a tart feels more appealing than a hearty pie. When autumn and winter arrive however, the temptation swaps places. But isn't it a lot to do with the filling? At our Bath-based café – The Provenist – we serve a tart inspired by the seasons. The fillings are what's being grown in the great outdoors – when nature dictates they're at their best. So, what's on our seasonal surprises board for spring? If you've had a piece of our springtime tart and want to make it at home, or if you haven't made it in but want to experience a slice of The Provenist in your own kitchen, then you can do just that with this recipe.
Asparagus, kale and gruyère tart
Makes enough for: eight people
Put aside: 25 minutes for prep and one hour for cooking
What you'll need
A 24cm circular pie dish
270g puff pastry
9 eggs eight for the filling and one for the egg wash
80ml whole milk
100g gruyère cheese
75g kale washed, stalks removed and leaves chopped
1 lemon zested
30g mixed herbs fresh dill, mint and parsley
500g asparagus trimmed
2 garlic cloves finely chopped
75g spring onions finely chopped
A sprinkling of salt
A grind of pepper
What to do
1 Before you do anything, preheat your oven to 180°C (gas mark four).
2 Next, lightly oil your tart tin before lining it with baking parchment – enough so that it goes over the sides (it'll make it easier to lift your pastry shell out smoothly).
3 Dust your work surface with flour (plain, wholemeal or a gluten-free substitute), and gradually roll out the pastry in a circular shape. You want it to be about 2mm thick. 
4 Gently drape the pastry into the dish, carefully pressing it in and up the sides. Trim off any excess and roll it into a little ball, which you can use to push the rest of the pastry case in more firmly without it tearing.
5 Beat one of the nine eggs and brush a small amount over the pastry before putting a layer of baking parchment on top and fill it with baking beans or rice. Pop the tin into the oven so that the pastry can blind bake for ten minutes. Then, remove the beans (or rice) and bake for another five.
6 Take it out of the oven and leave it to one side while you make the filling.
7 Start with the trimmed asparagus. Pour boiling water into a bowl or pan, add the asparagus and blanch them for just 30 seconds. Then drain the hot water, blast them with cold water to stop them cooking further, and drain again.
8 Now, drizzle olive oil in a saucepan on a medium heat. Tip in the chopped garlic until golden brown and then add the kale so that it cooks down. This should take about two minutes.
9 Take the kale and garlic mixture off the heat and stir in all of the herbs and lemon zest.
10 It's time to layer your quiche. Begin with spring onions on the base of the pastry, then kale, asparagus and a generous amount of gruyère. And then repeat with another layer of each ingredient in the same order.
11 Finally, whisk the remaining eight eggs, combine the milk, and season with salt and pepper. Pour the eggy mix over the tart and put it back into the oven to bake for 50 minutes until rich and brown.
If you live nearby or are passing through Bath on a day trip, come by to enjoy anything from brunch to coffee and a beetroot brownie at The Provenist.