Making Christmas felt inside and out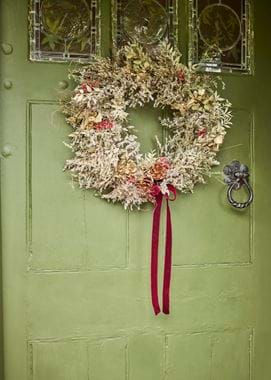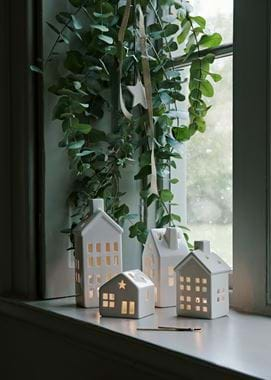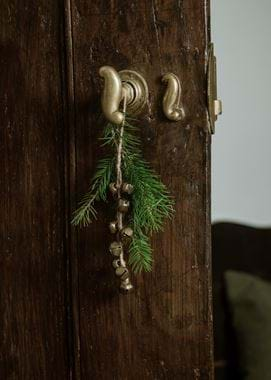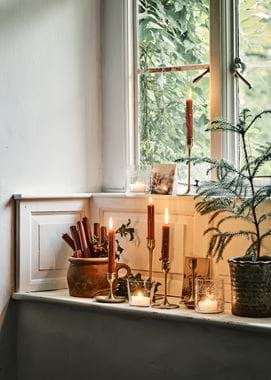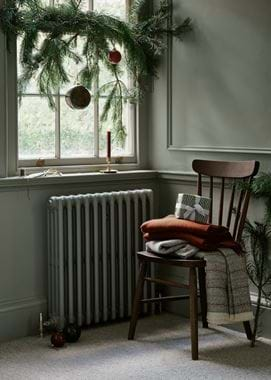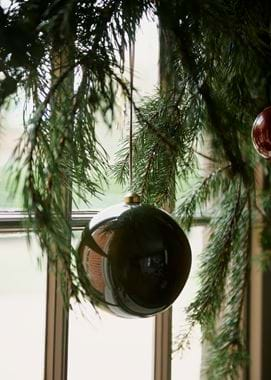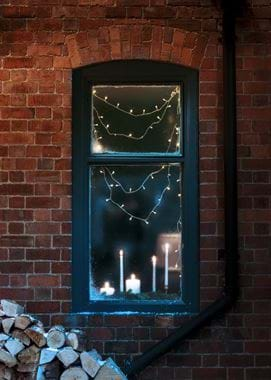 Making Christmas felt inside and out
Something that struck us during a design trip to Scandinavia some years ago was just how beautiful their window scenes were from the outside. Walking through the snow-covered streets of Stockholm, taking in candelabra-filled window after window, highlighted how even the simplest of touches can create quite the festive spectacle. It instantly turns your thoughts to the charming scenes that lie within – homemade gingerbread Christmas biscuits, a present-laden sheepskin rug under the tree and mulled wine simmering on the stove.
It reminds us every year to think about festive decoration from a different perspective. Imagine how your house looks as you return home and walk up to the front door. Does it set the right tone? Here, we share some key considerations for Christmas updates to your home's exterior that'll create a warm welcome even before you open the door.
Up the path
If you're lucky enough to have a garden path to your front door, start here. Even the shortest of paths can create a sense of anticipation if you line it with glowing lights and winter plants. Day to day, fairy lights on timers wound through shrubs or trees will mean that, at the end of the working day, there's a magical glow to greet you. But, if you're expecting guests, there's nothing quite so atmospheric as candles in lanterns to light the path. You could also hang several smaller lanterns from an arch and place this over your gate (if you have one).
With the front garden looking perhaps a little bare by December, you might want to introduce seasonal greenery – just as you would indoors. Wreaths and garlands on gates and along fences are lovely and, if made with fresh foliage, will last much longer outside in the cold, damp air than they will in the heat of your home. Just as you'd use pots of bulbs for temporary garden colour in spring, consider doing the same for winter. Evergreen topiary or holly bushes will have a more formal feel lining a path, and can then be moved into borders if you want to replace them with tulips come spring or roses in summer. There are also plenty of scented winter plants to choose from. Christmas box and winter honeysuckle are two to try.
At the door
Having wound our way up a – now enchanting – path, we reach the front door. Naturally, this wouldn't be complete without a wreath – the traditional symbol of welcome on December doors. For extra brownie points, match this to the rest of your front garden's planting. If you have hydrangea bushes in the garden, for instance, make sure to include the dried flower heads in the wreath too.
Wreaths aren't your only option for dressing the front door though. Consider a small garland to hang, bough-like, over the top of the door frame. Likewise, if you have an open porch, wind its beams and posts with foliage and fairy lights too. In the country, this might be dried hops and twiggy rosehips, while in town, glossy green laurel, magnolia or bay leaves are all suitably smart alternatives to the usual evergreens.
If you have space around your door, one of our favourite decorating tricks – year round – is to cluster potted plants here. This time of year, it could be a mix of small evergreen topiaries and hardy white cyclamen. Or, for more colour, winter-flowering hellebores and polyanthus. You could also, if you're forcing bulbs inside for Christmas, bring them outside temporarily to celebrate Christmas Day itself with a joyful mix of scented blooms.  
One last touch for the door: a small brass bell or two, hung from the handle, so every visitor is greeted by the gentlest of tinkling chimes.
Through the window
The view into each window of your home also offers the opportunity for decoration – and you needn't have a front garden nor venture out into the cold. Even upstairs apartments can get in on the act.  
This can be as simple as candles placed on your windowsills. Even one solitary candlestick will reflect off the glass to make your home sparkle from the street. Going a step further though, you could also attach fronds of fir or eucalyptus to each horizontal bar (inside or out) and allow them to drape down over the glass. Hang decorations and baubles from here too. 'Stained glass' gingerbread (made by filling cut outs in each biscuit with crushed boiled sweets before baking, so they melt to fill the gaps like panes of glass) will be especially effective hung here so they can catch the light.
And, finally, if you can, be sure to place your tree so it's visible from outside. It could be front and centre in a bay or with just a few of its branches overlapping the window, but either way, being able to see this most celebratory of decorations as you approach your home will fill your heart with warmth before you've even stepped over the threshold.