Breakfast at The Provenist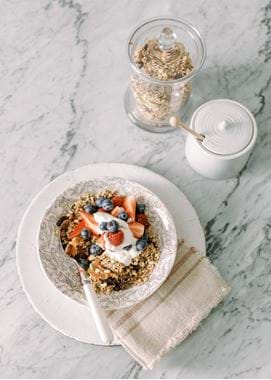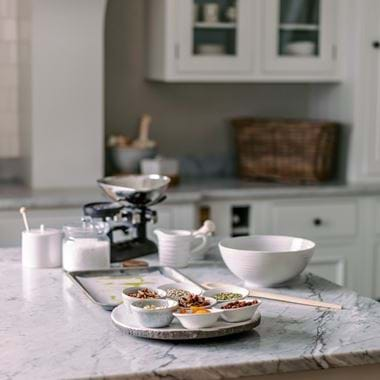 Breakfast at The Provenist
Firm believers that a good breakfast can set you up for anything, we asked the team at The Provenist to share one of their most asked for breakfast dishes – their own, homemade granola – which, with just a little planning ahead every week or so, will see you through weekday mornings full of energy. Made with oats, nuts, seeds and dried fruit – and with balanced levels of sugar – it's the perfect slow-release bowlful for busy days. You can also easily adapt it for whatever you have in the cupboard. Makes enough for ten portions.
What you'll need
300g rolled oats
1 tsp ground cinnamon
A pinch of salt
40ml olive oil
100ml maple syrup
50g almonds
50g pecans
25g sunflower seeds
25g pumpkin seeds
40g dates pitted
40g dried apricots
40g raisins
What to do
Preheat your oven to 165°C.
In a large mixing bowl, combine the oats, cinnamon, salt, olive oil and maple syrup, stirring well to ensure everything is evenly covered.
Line a large baking tray with greaseproof paper and a little olive oil to prevent sticking and transfer the oats, spreading them out into one layer.
Bake in the oven for 30 minutes, stirring halfway through to make sure the oats colour all over.
Whilst the oats are cooking, roughly chop the dried fruit and nuts.
Once the oats are golden brown and cooked, remove from the oven and cool. Add the nuts, fruit and seeds to the oats and stir together. Store in an airtight container for up to two weeks.
You could always…
…switch out the nuts, dried fruit and seeds for other variations that you can find or prefer. The maple syrup can also be swapped for honey, and the olive oil for any other oil or butter.
For more recipes from The Provenist, follow us on Instagram (where we've gathered together previous weeks' dishes in our 'In the kitchen' highlight) or like our page on Facebook.