Shape shifter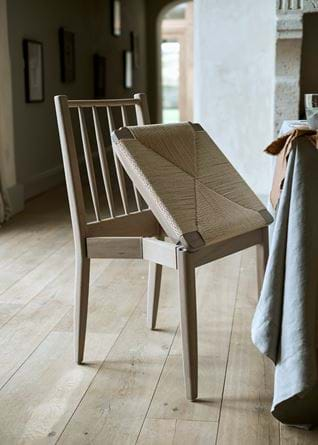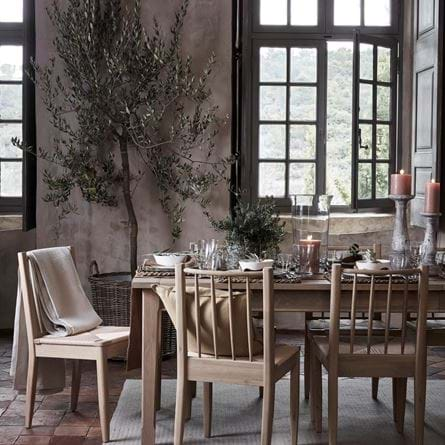 Shape shifter
A number of influences went into making our new Wycombe dining chair. Antique Shaker furniture, for one, with its unadorned simplicity. We also studied William Morris's Sussex chairs from the 1860s, with their spindle backs and rush seats. "Thinking about comfort, we looked at their unique ergonomics – the seats are firm, but still forgiving to sit on," says Amy, who works on our design team. "But to bring the chair up to date, we wanted to streamline the shape and make it easier to store." Accordingly, Wycombe comes either as a fixed or folding chair. On the latter, each side rail has a hidden hinge – simply lift the seat and these hinges fold concertina-style so the whole thing sits flat. As it still stands on all four legs, it won't tumble over when you put it in a cupboard or stash it behind a door. "The mechanism's an updated version of the ones you find on Victorian naval chairs, and it's unique to Neptune," explains Amy.
This brings us neatly to our third inspiration: folding campaign furniture, especially the kind used on old passenger ships. The idea came about partly because our co-founder, John Sims-Hilditch, loves sailing, so he's keenly aware of why boat furniture needs to be compact and versatile. That started us thinking about campaign furniture generally, and how it was once used by travellers to save space and make their lives easier.
Although it's been around since Roman times, campaign furniture was most popular during the British Empire. As well as collapsible chairs that could be taken on long journeys by army and naval officers (or civilians moving to the colonies), there were also folding dining tables, chests of drawers that broke up into sections (known as 'campaign chests') and portable beds. Even small items could be packed away into box-like forms – think mirrors, lamps and cooking utensils. One type of candlestick whose components fitted inside a rounded container was charmingly known as a 'Brighton bun'.
Most campaign furniture was made bespoke, so it could be adapted to the needs and tastes of its owner. Some craftsmen made a virtue of the hinges, bolts and buttons that signalled a design's convertible nature; others took pride in concealing those same details, provoking surprise and delight when the true nature of an item was revealed. Such pieces found an audience far beyond the military, too. Single people in small homes, for instance, appreciated side tables that unfolded to form sets of library steps, or that had raised 'fiddle rails' around the edges. These were designed to stop objects sliding onto ships' decks in high seas, but if the table top was lifted off, it magically became a tray.
The invention of express travel led to a decline in campaign furniture, as did a shift in class attitudes. One high-ranking army officer in India apparently needed a hundred elephants to transport his campaign kit across the River Ganges, while another lugged a baggage train that stretched for eighteen miles. Such extravagance was frowned upon, and in any case, it seemed to fly in the face of campaign furniture's original purpose: to make life simpler. Instead, it survived in other guises. Folding structures and fiddle rails are still essential on boats, where space is often tight and stability always an issue. Clever construction details also provide plenty of food for thought in the flat-pack era. We like to think of Wycombe as poised neatly between the two, with the craftsmanship of one, and the convenience of the other.
Something from Stories
With our stores closed for the time being and delivery services working extra hard, we knew that not everyone would be able to get hold of the spring edition of our lifestyle anthology, Stories. So, rather than printing it, we're publishing all the articles here on our journal instead, including this one. That way you can still read it, wherever you are in the world.
Get to know our Wycombe dining collection better here.