An explorer finds refuge at home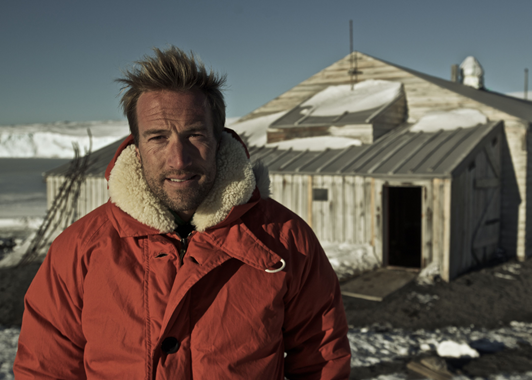 An explorer finds refuge at home
For our winter 2021 issue of Stories, we asked adventurer and presenter Ben Fogle to share the ways he and his family coped during 2020, and to suggest outdoor activities for when cabin fever hits. Even now, as we emerge back out into the world again, his words feel like a sort of manifesto for a slower, more considered way of living. So we decided to share them again, here on our journal, in case you missed them the first time.
Twenty years ago, I spent a year living on Taransay – a remote, uninhabited island in the Outer Hebrides – as part of a ground-breaking experiment to celebrate the millennium. Thirty-six men, women and children were 'Castaway' for a year to start a community from ground zero. We reared animals, grew crops, built a school. It was a year living off-grid, sustainably and self-sufficiently. The experience taught me about isolation, boredom and loneliness – and resourcefulness. Who'd have thought that, two decades later, the whole world would shut down as we all became castaways in our own homes.
2020 was quite a year. One that we're glad to see the back of but also one we'll never forget. For someone like me, used to spending eight months of the year overseas in the wilds of Mongolia and Papua New Guinea, it took some adapting to the new normal. I love travelling and the thrill of adventure. Much of that stopped in 2020 and it took time to adapt, but I now find the thrill of travel in everyday life instead. A run through the countryside or watching the changing seasons. I never had time to do that before. I approached lockdown like an inverted adventure. What it taught us is the importance of health, friends, family and the outdoors. Sometimes you don't realise what you have until it's gone and, for many of us, it was a timely reminder of life's priorities.
We had been moving, living and working too fast. 2020 taught us all to slow down and take measure. It gave us pause to reflect on where we're coming from and where we're going, both on a personal level but also on a global one. We needed to change our habits and 2020 forced our hand. For the last decade, I've been making a series called 'New Lives in the Wild', about people who've retreated to the wilderness and cut their ties to the grid. There are many lessons we can learn from this, the main one being the importance of nature for our physical and mental wellbeing.
For me, the outdoors has always been my refuge; as a family, we spent as much time outside as we were legally allowed during lockdown. We walked in the countryside and explored the woods. We grew a vegetable patch and we worked on the garden together. We tended to the pond and adopted some guinea pigs to join our family. In short, we attempted to make the most of an extraordinary situation to try and feel normal again.
Of course, if there is one thing we've really learnt, it's the importance of home. I've always loved my home: my long absences have given it an extra allure. I appreciate the comfort and consistency it offers and I like having a retreat. Last year proved just what a sanctuary home is for me and my family.
Ben's tips for getting out as a family
A four legged friend: a dog is always a good excuse. We have a rule that Storm, our Lab, has to be exercised at least once a day by the children. It's their responsibility. If you don't have a dog of your own, perhaps you could see if there is a vulnerable or lonely neighbour who needs their dog walked for them.
Secret dens: building a den in the woods is always such an easy way to create a magical retreat. It's super easy, and there are no rules or instructions. Just be creative using what you have around you.
Develop a vegetable plot: this was our lockdown saviour. We all loved the veg patch and worked on it together. It was so much more than just a veg plot. It was hope and happiness and excitement and wonder. The children are obsessed and already planning next year's planting. In fact, we've invested in a greenhouse so that they can propagate their own seedlings.
Explore and exercise: the staycation may have been the only option for travel last year but it gave people a taste for Great Britain and everything it has to offer. We have so many great hikes and national parks to explore. Maybe set yourself a family goal. Explore all the parks together. Walk the South West Coast Path. Or even cycle from Land's End to John o'Groats.
Forest bathing: sunbathing is so last year. Now it's all about forest bathing. It's simple. Find a woods and lie down on the floor, staring up at the canopy. It will change your whole mindset. And while you're thinking of bathing, try a wild swim in freezing water to really get the circulation going (being careful, of course).
'Inspire: Life Lessons from the Wilderness' by Ben Fogle is out now. You can also read Stories Volume 13 in full online here.