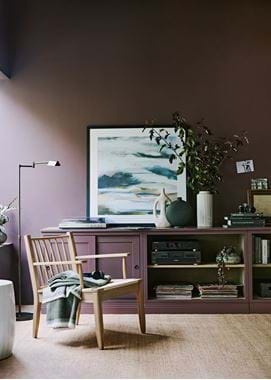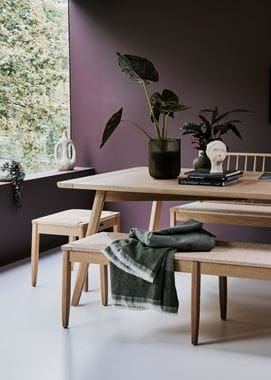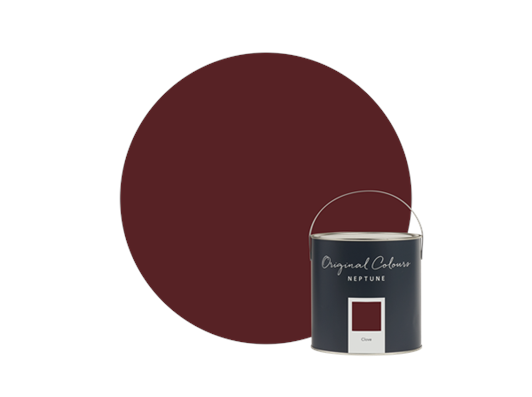 Inspired by the rich colouring of dried autumn leaves, Clove hovers between decadent plum and deep brown, a neutral that's sultry, dark and impactful. Part of our spice paint collection inspired by natural palettes, Clove summons images of juniper berries and dark woods, a warm, cosy shade to comfortingly envelop rooms, surfaces, furniture and accent areas. Choose from velvety matt emulsion, or eggshell with a hint of sheen.
Suggested Clove palettes
This versatile colour will work well with many shades from our edited collection, but we do have a few favourite combinations. Silver Birch and Driftwood are neutrals which match Clove's balance of warm and cool; Old Rose and Moss will keep the space feeling light and open against Clove's more grounding, enveloping tones; and finally, Olive and Mustard will bring an abundance of English charm.
The finishes
Like all our paints, Clove is available as matt emulsion or eggshell with a fast touch-dry time of between one to two hours. The emulsion is shine free and gives walls a velvety look. And the eggshell is like its namesake – there's just a hint of sheen. Both are water based so all you'll need to clean your brushes (and yourself!) is warm water and a little soap.
How to use it – emulsion
Matt emulsion is generally best for walls as the flat finish blurs any imperfections in the plaster. It's not quite as tough as eggshell, which is why that's the preferred option for woodwork, but there's nothing to say you can't use matt emulsion for these areas if you're after a chalky character.
How to use it – eggshell
Our eggshell has up to a 22% sheen level. It's best over the top of our primer on woodwork (like furniture, skirting boards and door frames). And because we use our own tried and tested resin system to make our paints, it makes them more durable and higher quality than most standard acrylic versions, and thereby better suited for walls in high traffic areas (like hallways) or where you're likely to need to wipe them (such as kitchens). It's the ideal choice for bathrooms too, as it'll stand up to the steamy atmosphere.
Doing the right thing
Our paints are made with both people and planet in mind. They're water-based, extremely low in VOCs (Volatile Organic Compounds, which release harmful chemicals and unpleasant odours), are suitable for plant-based lifestyles, and they've never been tested on animals. Each pot is made in the UK by our trusted partners who have been mixing paint since 1740.
Recommened Application Method
:
Brush or roller
Product Code:
PNT-MAT-25-OV
Need to know
When painting a space where humidity and temperatures fluctuate, drying times may be longer.
We recommend purchasing as much paint as you need in one go so it's from the same batch and keep some spare for touch-ups.
Colours may vary slightly with each pot – once open, stir thoroughly to ensure the paint is well mixed.
Recycle the metal tin and plastic handle separately at home.
From the Journal
Our fabrics: making the right choice for your home and lifestyle
A guide to each and every fabric in our collection, covering everything from style to which ones are suited to children and pets.
Keep reading