A slice of garden for your great indoors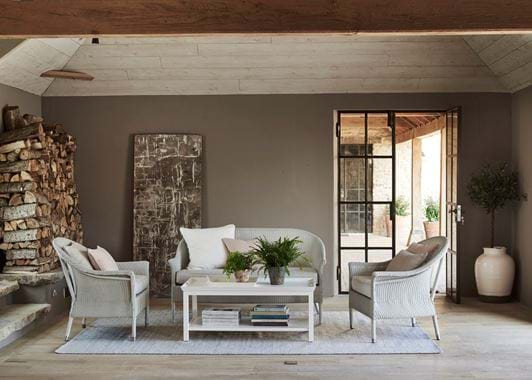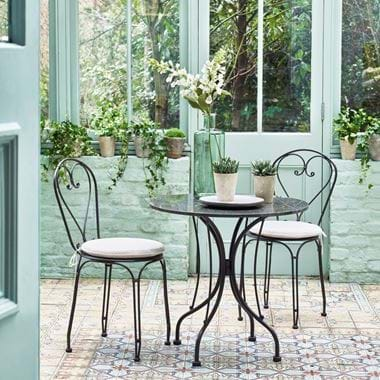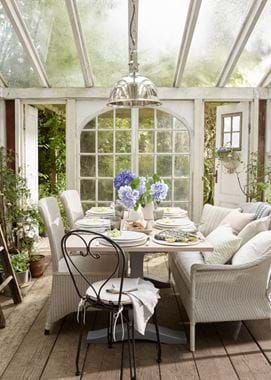 A slice of garden for your great indoors
Bringing the outdoors in is a familiar theme at this time of year, when the weather's still a bit unpredictable. It might be warm and sunny as we write this, but next week we could find ourselves turning the heating back on. So before garden season is well underway, we like to explore ways to create a sense of the great outdoors safe behind (partly) closed doors. It's a space we'll turn to when it's that bit too cool to enjoy that cup of tea on the terrace, and it's a space we'll retire to in times of summer showers…
1 Lloyd Loom furniture is one of those rare styles that's equally happy indoors or, if the weather's dry, out. In any living space, our Chatto set brings an elegant outdoors-y feel that lets you believe the weather's good. And it's still as comfy as your everyday sofa thanks to its gentle scroll and soft recline.
2 Using natural colours and materials indoors is an easy way to feel connected to the outside world. The earthy tone used on the walls here (our Grey Oak paint shade) is a simple place to start. Layer it up with elements of stone, wood (cue the log stack) and organic fibres like linen and rattan, and together they will all bring to mind the beauty of a summer garden, even on cloudy days.
3 Rugs underfoot introduce another dimension of texture, just as you would expect in your garden as you move from grass to stone paving. Pale colours will make the most of light levels as the days get longer and brighter.
4 Not-too-heavy furniture is even more useful at this time of year because it's easily moved outdoors when the weather's kind. Our Aldwych coffee table has a tray-style top with handles, making it easier to carry outside for al fresco drinks and lunches.
5 Our olive tree is the perfect size for indoors and really helps to create a garden atmosphere. Display in a large, striking planter or pot (we've used Corinium) and place in an unloved corner, or where it will frame the views of your outdoor space.
6 Bringing plants indoors will improve your day if the weather's not feeling its best. We like to mix our life-like potted plants with real greenery and flowers to give a sense of being surrounded by nature. Include some scented plants to lift your senses. Visit our Flower Shop
All that remains is to sit back, look out, and start counting down the days for summer's much-anticipated arrival. Explore our garden collection.