In the making: curtains and Roman blinds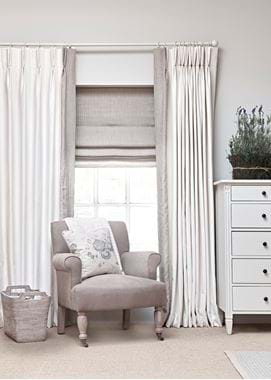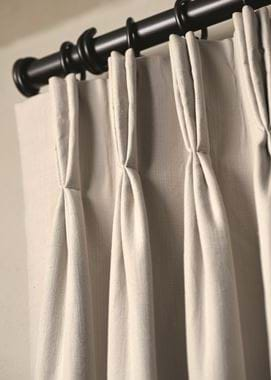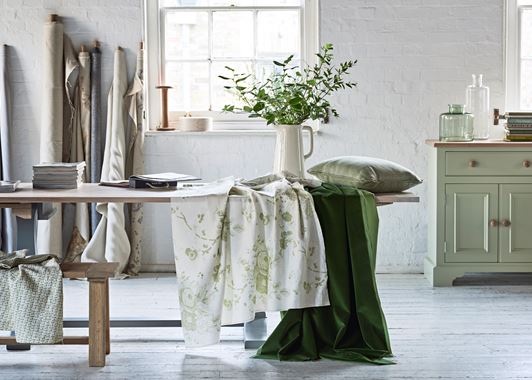 In the making: curtains and Roman blinds
Everything we design at Neptune is intended to work together. From our sofas to our paint colours, it all goes together effortlessly, without ever feeling forced. We have a beautiful collection of fabrics sold by the metre, from plain velvets to patterned linens and herringbone wools. Often these are used to upholster our seating, footstools and headboards, but we think they have a lot more potential than that. So, we decided it was time to launch our own curtain and blind service.
Emma, our creative director, began her career as a curtain maker. She's been an interior designer for many years and has her own studio, Sims Hilditch. Together with our interior design manager, Simon Temprell, they have over 50 years of expertise in dressing windows, so they knew exactly what kind of curtains and blinds would work best with the rest of our collection. Here, Simon tells us more about them.
The interview
We opened by asking about the inspiration behind the curtains.
"We started out with two key principles in mind: simplicity and quality. The whole Neptune aesthetic is very pared-down, so we wanted the curtains and blinds to reflect that. We used the rule of three: three styles of curtain heading, and three neutral poles in Flint, Millstone and Bone. The option of contrasting borders and a choice between ball or stud finials completes the streamlined curtain collection. The idea is that you can mix patterns and plains with simple or decorative pleats to create a bespoke window dressing that suits your room."
Simon explained why there was only one choice when it came to blind styles – Roman blinds.
"It was an easy choice because, for us, roller blinds just feel a bit too perfunctory and utilitarian – they're the kind of blind you'd hide behind something else, and we wanted ours to stand alone. Roman blinds feel very tailored; they look great even when they're pulled up, and they give you the option to play with coloured and patterned borders, too. You can also layer them with curtains to get just the right combination of decoration, light, warmth and privacy."
The next step was to find a maker that could bring the designs to life.
"Provenance is important at Neptune – we care deeply about the way things are made and where they come from, and we want them to tell a story. The challenge was to find a company that could make high-quality, made-to-measure curtains but also expand with us as the service is rolled out across our stores. The company we chose is one that Emma has worked with for many years. It's a lovely, family-run firm in Gloucestershire that only makes curtains, blinds and a few soft furnishings. It sounds a bit New Age-y, but they make things with soul, and I think you appreciate that when you see the end result.
This company's workshop is small, rural, and very hands-on. Every order is finished by hand before being carefully folded, labelled with the customer's name on a brown paper tag, and stacked on shelves ready to be delivered. It's the little details like this that make all the difference to us – along with the weighted hems, and the careful stitching. I love the fact that we know exactly which person has made every set of curtains and blinds."
We also discussed fabric testing and how it has helped us perfect the weight, drape and quality of our curtains and blinds.
"While most of our fabrics are available as curtains and blinds, we knew that not all of them would work for every application, so we had hundreds of samples made up to discover exactly where the pitfalls lay. In the process, we discovered that our plain velvets are too heavy to make Roman blinds (though they're suitable for borders) and that our mid-weight linen is a little too 'crunchy' to create curtains with the perfect drape (it's really designed for strength on upholstery). We also found that grid patterns such as our Hector check are almost impossible to match on large Roman blinds, so we only recommend them for smaller windows where just one width is required."
All of this means you may wait a little longer for your curtains and blinds – but it'll be worth it.
"The care that we, and our maker, put into our work means that we're asking our customers to be a little more patient than normal. Our lead times are between four and six weeks. We could've created an express service, but that would involve cutting corners and making everything by machine; it's just not how we like to do things. We also wanted to make sure that the people who make the curtains are the same ones who measure up your windows and do the fitting, because this way, there's much less chance of something going wrong."
Finally, Simon explained why we decided to offer this service in store rather than online. 
"Seeing samples 'in the flesh' is an important first step in making your choice – fine details like the drape of a fabric and the magnetic covers that hide all workings and screws can only be appreciated this way. We also didn't want people to have to make a lot of choices by themselves – when people come into the store, they can just focus on how they want their windows to look, and our staff have all the right tools to deliver that. In fact, all you'll really need to do is take a couple of measurements – the width and drop of your windows – and we'll do the rest."