Using colour in the kitchen: a tale about contrast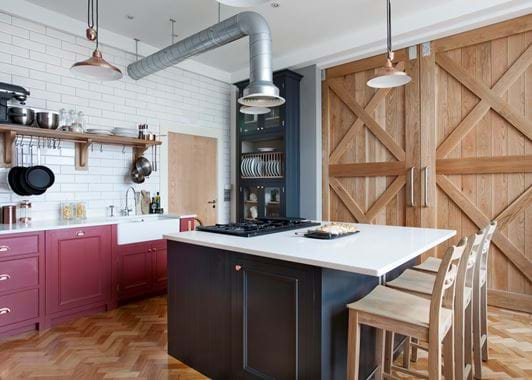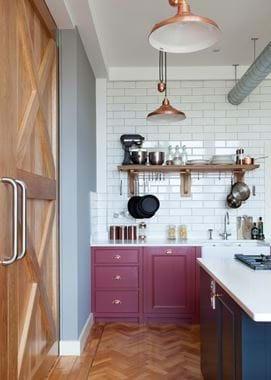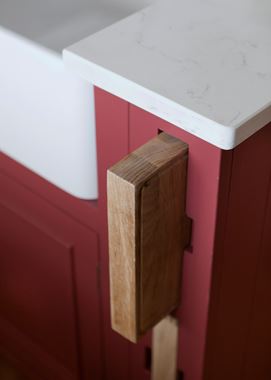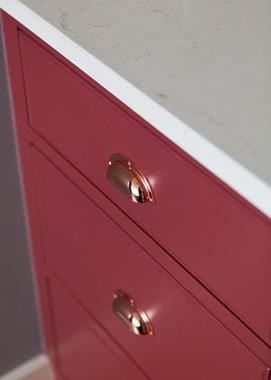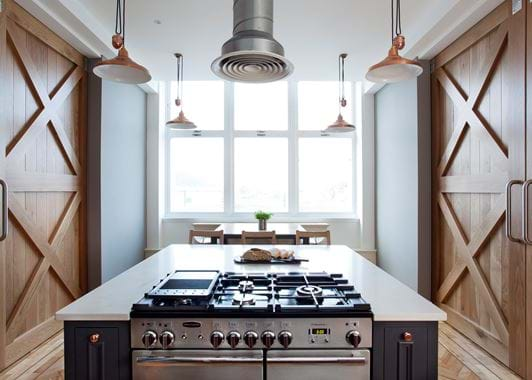 Using colour in the kitchen: a tale about contrast
Even though we've definitely started using stronger shades on cabinetry, colour in the kitchen still usually sits at either end of the spectrum – light and neutral or deep and dark. We use the tones in the middle or the ones that aren't dark grey and navy much less. And that's even more the case when the colours in question are bright, vibrant ones. It takes courage to use these pigments on our walls and furnishings, and it makes us gulp all the more at the prospect of using them on kitchen cabinetry. It feels more permanent somehow. Because you don't see them so often, it feels like a small act of rebellion, like you're going against the grain, when you say yes to such shades. In fact, that's one of the reasons why using bright colours is so rejuvenating – they're unexpected and they're a breath of fresh air.
A twist on tradition
We define our Chichester collection as being 'classic English' in terms of style, with its traditional beading and mouldings. Painting it in strong colours is, therefore, a fresh context for it to live in, but one that'll also help to keep it grounded and tasteful.
Choose timber
Just as a timeless cabinet style will help to stop colour from running away with itself, choosing a design made from timber will also help to give a colourful kitchen quiet elegance. This is true of any type of kitchen decorating scheme, but when you're being more daring with your room's interior, classic foundations such as these become even more important.
Not only that, there's an real sense of practicality with timber. If you fall out of love with your choice of colour later down the line, you can sand it back and paint it in a new shade.
Use two shades
Even if you've fallen in love with one colour, using two contrasting shades of paint is still something that's worth considering. Use an equal balance of both colours and the one tempers the other, just like in our Chichester example.
If you want one to be more dominant, alter the ratio so that most of your kitchen is in that shade with just a hint of your second colour to vary the palette. This is something we often do in our kitchen designs, although with two subtly different tones – usually we'll paint an island in a different colour to the rest of the cabinetry. It's an approach that can be particularly helpful if you're considering using two poles-apart colours too, so the stronger one acts as an accent.
Choosing your colours
In this case, it's all about creating a stark contrast, but that doesn't mean the colours don't need to be compatible. Here, we've used Navy and Paprika – two shades that can be both warm and cool, making them tonally well-suited.
It's important to think about the light in your room too and what effect it'll have on the paint colour. The bright light in this Irish studio highlights the pink undertones of the Paprika paint, which makes it a far more suitable companion for Navy. If this were in a low-ceilinged room with little light, the partnership wouldn't be as successful, because Paprika's red-brown base would be coming through more strongly and the overall palette would feel a touch muddy.
The same thinking applies to the other elements in the room. Your cabinet colours need to sit well with the flooring, wall colour, hardware and tiles. In this example, the warm tones of the wooden floorboards are reflected in the Paprika paint, whereas Navy provides a nice contrast, which is what gives the room its balance. We've then kept everything else white and simple for an unfussy backdrop.
Create another focal point
One other interior design tip to bear in mind is to create one (or more) points of interest in the room so that your eye isn't only drawn to the colour. A compelling colour is exciting and powerful, but it can dominant a space a little too much, when the key is to see it as just one of your room's layers.
In this studio, colour's the first thing that most people see, but your eye then naturally wanders to the ever-so-intriguing bespoke cabinet on the far wall (made by our bespoke team by blending multiple cabinet designs into one tall stack), then across to the sliding barn partition doors, falling copper pendants and, of course, the exposed extractor fan and piping.
Visit any of our stores to speak to our kitchen designers and home specialists about using colour in your kitchen. Find your closest store here.