Neptune Chesham: a history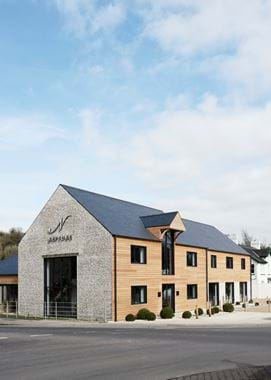 Neptune Chesham: a history
This March, we opened our first store in Buckinghamshire – Neptune Chesham. We might have built it entirely from scratch – unlike many of our stores that are renovation projects – but that doesn't mean it hasn't got a history. In fact, it's got one of the richest pasts of all of our stores and will even be getting a heritage plaque from the local mayor. We wanted its historical significance to be, quite literally, part of Neptune Chesham's bricks and mortar…
You might've noticed that in Neptune Chesham's address is 'Canada Mill'. The reason being that, throughout the 19th and 20th centuries, on that very patch of land, was a steam mill.   
Dotted along the river Chess from at least the 11th century (we know this as there are references in the Domesday Book), were a number of mills whose names and functions changed over time, including corn milling, fulling (cloth production) and paper milling. Brick-making, brewing and woodturning were other key industries in town, while smaller crafts like straw plaiting and lace-making also thrived.
There was Amy Mill (which stood opposite Neptune Chesham), Cannon's Mill, Lord's Mill and Weirhouse Mill in Chesham alone. The Rose family were corn millers at Amy Mill in the 19th century and in the 1840s they used the relatively new technology of steam power to build another mill on the opposite side of the road, calling it Bois Steam Mill.
In the early 20th century, Henry Rose took over the site and renamed it Canada Mill. There's a story behind the name. George Rose Senior was the miller of Bois Saw Mill from 1844. He was fatally injured at the mill and so it had passed down to one of his sons, George Rose Junior by 1851. The next successor was his son, Henry John Fox Rose. He moved to Manitoba in Canada from c.1883–1892, before moving back to Bedfordshire. He took over the mill in 1902, converting it to a woodenware establishment, and renaming it Canada Mill. It specialised in woodturning and portable building structures (and later became known as Canada Works). This work continued well into the mid-20th century before the mill was changed into display rooms and offices. This change to the building, including renaming it 'Solar House' meant that there were no longer any clues as to its earlier industrial history. Of all the mills in Chesham, only the building of Weirhouse Mill still stands to this day.
Sadly, Amy Mill had been demolished by the early 1900s and in the 1970s, Amy Mill House was severely damaged in a lorry accident and was then demolished. It was replaced with a roundabout to control traffic coming in and out of Chesham. Only part of the old sluice gate remains in the nearby Meades Water Gardens.
Centuries on, Chesham's riverside sees yet another change. Neptune Chesham might not be a mill, but, it's been designed with a historic mill structure in mind from the shape of the building to how we've uncovered the river that runs at the front of the store and reconditioned the bank of the river that would've once fuelled the watermills. And inside, there's many a design that includes turned wood, just like Canada Mill might've made all those years ago.