Design focus: headboards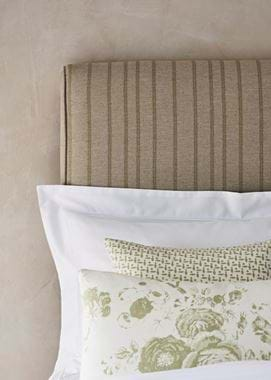 Design focus: headboards
Divan or bedframe? Footboard or no? Upholstered headboard, wooden, or none at all? There's a fair bit to think about when choosing a bed before you even get to thinking about linen, throws and cushions. We caught up with Simon Temprell, interior design manager at Neptune, to get his advice on something that our readers told us they find difficult – deciding whether or not to go for an upholstered headboard.
Why do you think headboards are such an important feature in a room?
"Even if there are other lovely features in the room, like a fireplace or freestanding tub in the corner, the bed is where your eye should be drawn. Your headboard announces the bed. It helps it to be the most dominant aspect of the room, without being overpowering in any way – unless you want it to be of course!"
What choices are there when it comes to headboards?
"In two words – upholstered and timber. Though you can get more 'creative' with headboard alternatives too, these are the most classic, enduring choices.
"Many bedframes are built with a timber headboard. It's part of the design and so can't be replaced. These can be solid wood, or they can have a panel within that's padded and upholstered like we do with our Chichester and Larsson bedframes.
"Fully upholstered headboards can also be part of the bedframe, but at Neptune, we design them as separate pieces that can be fitted onto any sort of bed base, whether that's a timber one, an upholstered base, or a divan (which can be easily disguised with a tailored linen valance like Alice). You can attach the headboard to the wall – a bit like they do in a hotel – using a French cleat fixture which is incredibly sturdy and makes it feel as though it's completely integrated. Or you can have it fitted to the bed base if you want to keep them as one fluid piece. At Neptune, both ways are possible so it's whatever you prefer. We've also thought carefully about how the headboard meets the bed base. That's why we have a little step in the headboard so that the mattress fits snugly beneath it without a gap."
Is one option better than the other?
"It completely depends on how you want to use your bed. If you're the sort of person who likes to sit up and read a book before bed or the papers at the weekend, or to do a bit of early-morning emailing, then an upholstered headboard is what I'd always recommend, because they're hands down the most comfortable option.
"If your bed is simply a place to sleep, then you won't get as much use from your headboard, so a timber one is worth considering. They're still comfortable, so if you did want to sit up and read now and again, you're not going to be disappointed.
"You can go for no headboard as well. It's a much more minimal look. Just bear in mind, no matter how careful you are, you'll mark your walls more easily, and if you don't have a footboard, your mattress can move around a bit and your pillows can slip down the back."
On the practical point, is an upholstered headboard generally a less practical choice?
"Not necessarily. Timber might seem like a strong material, but it's not bulletproof. It can be dented and paintwork can be chipped if you're not careful. Yarns like linen and wool are very robust, and darker colours won't show up marks  either, so upholstered options can be just as practical. There are pros and cons to both.
"Space is the other thing to think about from a practical point of view. If your room is on the small side, remember that an upholstered headboard can add up to 20cm to the length of your bed, which can make all the difference when floorspace is limited. Because of how neatly our bed bases sit under our headboards though, it means the bed base can be pushed as close to the wall as possible, so that extra 20cm isn't an issue at all.
"The scale of the room is also something to bear in mind. In a room with a low ceiling, a taller, upholstered headboard can make it feel even lower. On the other hand, the size of an upholstered headboard can make the ceilings in larger rooms with taller ceilings feel higher still."
So, I've decided I want an upholstered headboard. How do I go about choosing what sort to go for?
"Start by thinking about the style of your interior. Is it traditional? Country? Modern? You probably wouldn't put a low-to-the-floor, sleek sofa in a country cottage. The same approach applies with headboards.
"Next, look at the architecture of your room. Are there any features that your headboard might want to echo? For example, arched windows work well with a curved headboard, and a clean-lined room complements a rectangular one. Or, if you want to create contrast, go in the opposite direction to what the main shapes of your room are doing.
"Finally, think about the dimensions of your room. As I mentioned, if your ceiling is low, avoid very tall headboards. You should be leaving at least a third of your room's height free.
"If you're going to be hanging artwork over your headboard, I always think a squared shape is better too. A curved or castellated headboard is a bit too fussy and detracts from the frames above."
How about fabric? Any tips?
"Linen, velvet, wool – they all work really well. Just as with other upholstered items in your home, you should be mindful of each textile's character. For example, velvet on a headboard will have pile marks as you move against it, which some people will love, and others will find irritating. It looks so decadent though.
"If you've chosen a heavily buttoned headboard, like our Charlotte design, a plain fabric is generally better. If you were to use our Emma textile, the pretty rose motif would be broken up too much by the buttons. Olivia or George would be much better headboards for this type of print. Fabrics with a stripe or grid design work best with a straight-lined headboard too.
"On the subject of pattern, if you have wallpaper behind the bed that's patterned, choose a plain textile for your headboard if you don't want things looking too busy. If high-contrast is your thing though, pattern on pattern can be loads of fun.
"If you've chosen a headboard with studs, like Charlie, remember that we change the colour of the stud depending on what fabric you choose. So, if you want a particular stud colour to complement the rest of your furniture, make sure you choose a fabric that works with that stud colour too.
"Lots of ifs I know!
"The other thing to say is that patterned fabrics are generally more forgiving when it comes to marks and scuffs. That's another big practicality tick to end on too!"