Carolyn Swash & her Henley kitchen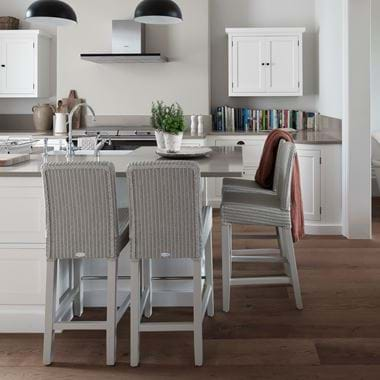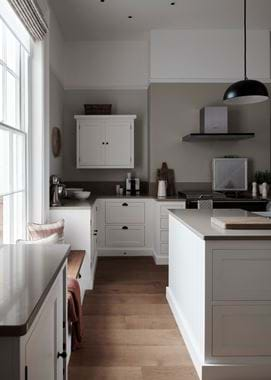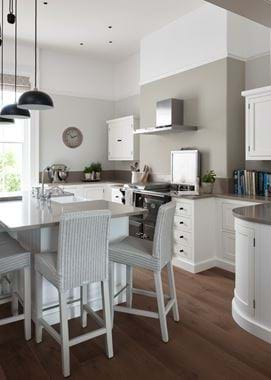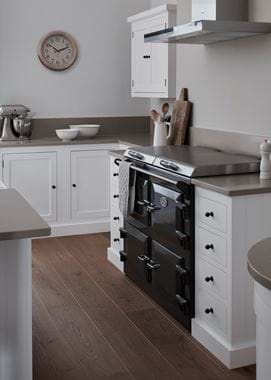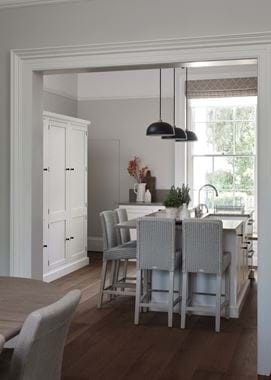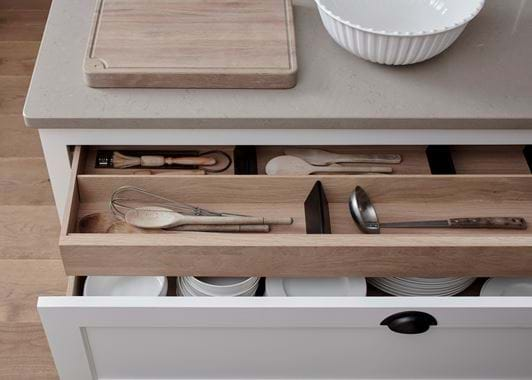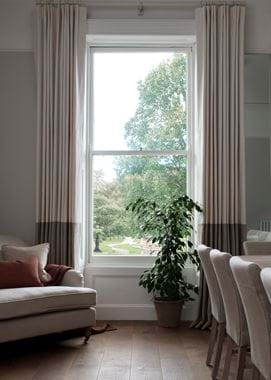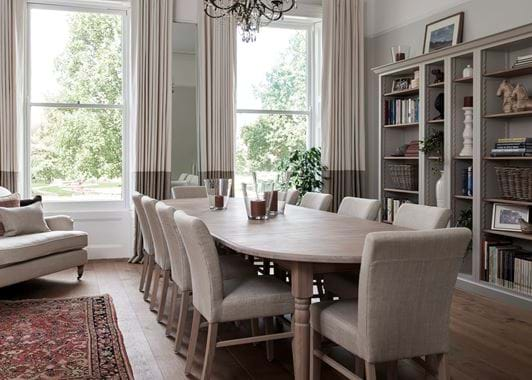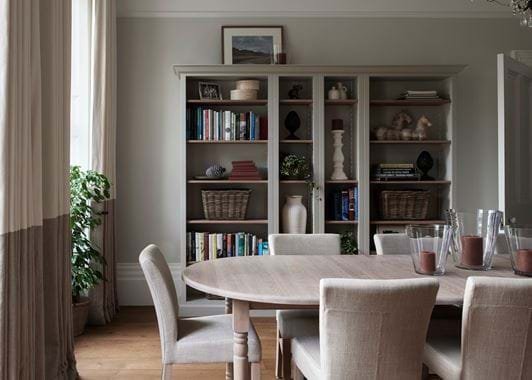 Carolyn Swash & her Henley kitchen
This is the home story of a couple who moved from a Gloucestershire village to the centre of Cheltenham, so they could renovate a period property to call their own. It all began with the kitchen, which until we came along, wasn't a kitchen at all. We caught up with the Swashes and Hannah, the kitchen designer from Neptune Cheltenham who turned not just one room, but two (and a third on the way) into their very own Neptune home.
Home profile
Once a charming B&B, Carolyn and her husband, Tony moved into their Regency property home in January 2018. It overlooks the very pretty Imperial Square Gardens and is full of period features, like big sash windows, the original timber shutters, coving, ceiling roses and fireplaces, all spread over four storeys. It's a home for two first and foremost, but their grown-up children often come back to the nest and they're frequent supper party hosts, so it was important that their home was a space that could cater for all and sundry.
The project
"November 2017 was when the project really kicked off," began Hannah, the Swash's kitchen designer from Neptune Cheltenham. "Carolyn had been in to have a look around a few times, and on her second or third visit, she booked a kitchen design consultation and away we went. It all moved very quickly, because she seemed quite certain that it was a Neptune kitchen and the Neptune look that she wanted in her home."
Having been a bed & breakfast before the Swashes moved in, they were completely overhauling the property, from the layout to the décor. The kitchen was in fact a bedroom and large en-suite, and on Hannah's first home visit, she was met with a striking copper bath in the middle of the room. "It wasn't quite what I was expecting to say the least," Hannah joked.
Carolyn and Hannah worked together closely. She knew from the off that she wanted the Henley kitchen collection. "The Swashes wanted something that was in-keeping with the character of the property. Something elegant and refined that would suit a townhouse, but with a freshness to it and a bit of a contemporary edge. Henley painted suited them perfectly, and they loved the crispness of the Snow-coloured paint finish." Hannah explained. Carolyn's wishes were small and straightforward. She wanted a kitchen with an island, a large range cooker and a larder, and after that, left the decision-making to Hannah. "She was very trusting from the beginning, which, as a designer, is really lovely. It means you can get creative and really connect with the space to do what you know is going to work best for the property and for the people living in it."
Being a period property, part of it was listed, including the chimney breast, which had a big influence on the kitchen's layout. Hannah used it as the wall to place their large Everhot range cooker, and that became the central point of the design that Hannah worked back from. "There are always a few parts of the puzzle that fall into place quite clearly and from there, you build out the rest of the design. The chimney breast and stove position was one. It made sense to follow that line and have the island in front of that, and then the huge sash window was something I wanted to make a feature of too. I had some bespoke cabinetry made in our Wiltshire workshop to create a window seat with storage beneath. Carolyn said how she could imagine herself sitting there enjoying a glass of wine, so I included a wine rack into the cabinetry next to the window seat too. I think little details like that make all the difference in the world and makes your kitchen a genuine living space."
Hannah designed the kitchen island with storage and seating space, but also as the main clearing up station. There's a double Belfast sink, an integrated bin, and two wide dishwasher drawers too. "Carolyn and Tony love the ease of using drawers over cabinets, and so I made sure to include as many drawers as possible. That included the clever dishwasher drawers. They're actually freestanding appliances, but I took the measurements of the model that they wanted to make sure we could design the kitchen in a way that they appear integrated. They're really handy if you don't want to be using the full dishwasher every day, because you can use just the top dishwasher drawer or just the bottom. But when you're entertaining, you can use the two sections at the same time to give you one big wash space."
Other cabinetry included a bank of three full-height cabinets – one a larder, the other two fitted appliance cabinets housing a microwave and fridge-freezer – and wall cabinets, chosen over countertop cabinets because the Swashes wanted maximum work surface space. "There's under-cabinet lighting too so that the worktops are as functional as they can be," added Hannah. There's even a small secret larder that's been made to look like part of the wall. Push it open and there's lots of shelf space for pantry pieces.
Hannah designed one piece of curved cabinetry into the Swash's kitchen too, for good reason. "In the Swash's home, by bringing in a single curve, I could add a touch of softness but also draw the eye into the adjoining room – a dining room. It has the oval-shaped Sheldrake dining table which I suggested to keep that continuous curve. It really helps to link the two spaces." In fact, Hannah and the Neptune installation team went on to help Carolyn and Tony with the design of their dining room, suggesting furniture and finishes to create a continuous theme. "They wanted a table to seat at least ten, chairs that were comfy enough to stay sat in for as long as you fancy, and somewhere cosy to sit after too. Together, we'd been building this calm but cosy atmosphere, so we wanted to continue that. I suggested fabric finishes like Imogen Holkham Sand and Hugo Pale Oat because I thought they combined nicely with the timber flooring and Coral Clay quartz worktops in the kitchen. When Carolyn took a liking to the Olivia loveseat, I was so excited. They'd just launched at the time and I adored them. They fitted perfectly into the alcoves in the room." Over time, Carolyn and Hannah added Pembroke shelving, Suffolk side tables and other bits and pieces to finish off the scheme. "She's popping in for some lamps this week too actually," Hannah remembered. "We drop by from time to time to make sure everything is as they'd hoped, and Carolyn's often stopping in at Neptune Cheltenham too. Oh, and we've designed a laundry room for them now too. That'll be fitted…[she paused]…a month today!"
Life in her new kitchen
What's your favourite thing to do in your new kitchen?
"It has to be sitting at the island on our lovely Lloyd Loom chairs or on our bespoke window seat and gazing out of the window."
What's your favourite part?
"Having so many drawers. Hannah was able to design our kitchen so that we predominantly have drawers instead of cabinets. I find them so much easier to use."
What could you now not live without?
"Our Quooker hot water tap and Insinkerator food waste disposal. It's surprising how much nicer it feels to have no kettle on the worktop, plus it means we have instant boiling water for cups of tea and coffee. And the Insinkerator is just fantastic."
What's next? 
"Quite a lot. We're renovating the whole house, but next up is completing the entire lower ground floor. There are five rooms to go, starting with our Neptune utility room. After that we'll head upstairs and start on the garden by spring."