Creative ways with kitchen cabinetry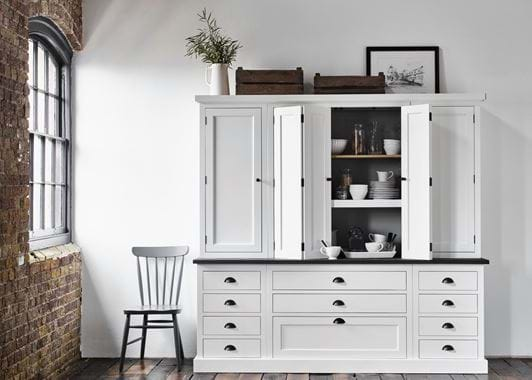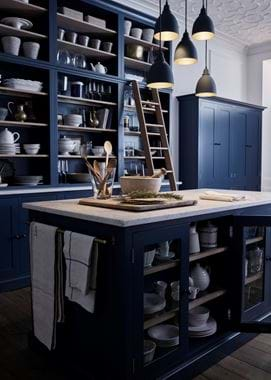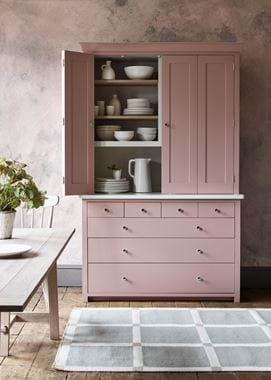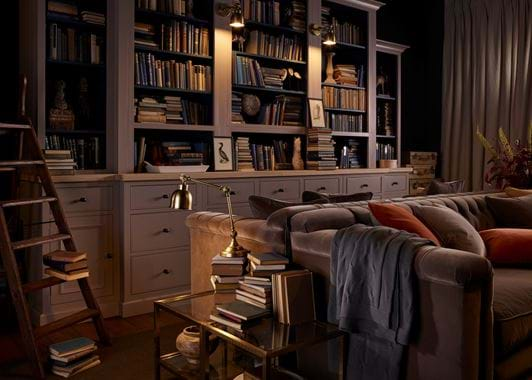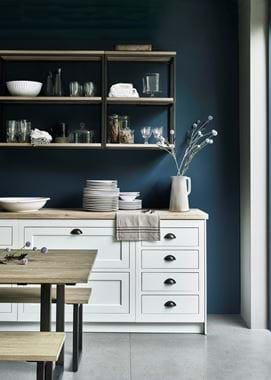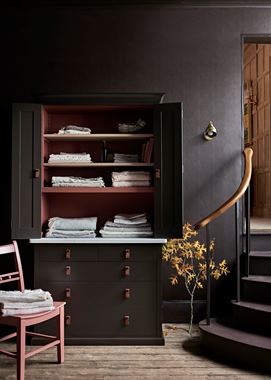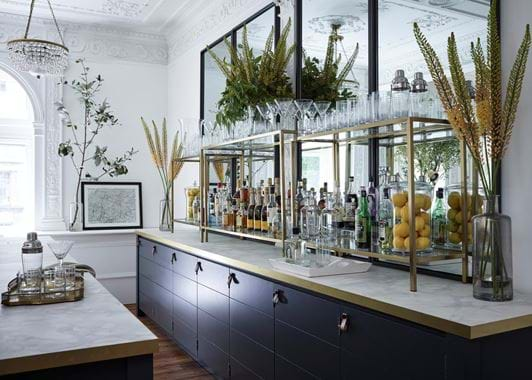 Creative ways with kitchen cabinetry
Cabinetry provides our kitchens with bone structure. It provides shape and it provides substance. It decides how well our kitchens will work, takes up much of our floor space and, more than any other element, sets the tone for how the room will feel. Which is why we like to look for new ideas and embrace the unconventional. For us, it's all about adaptability. Because truly intelligent kitchen cabinetry goes much further than strong first impressions. Whether you're looking to maximise space, mix-and-match or go bespoke, read on for inspiration on how to be a little inventive with how you're using yours.
Build an island from glazed countertop cabinets
When you're short on space, think big. The idea may seem absurd, but you'll be surprised by what a single statement piece can do. That doesn't mean it's about adding more to an already tight squeeze. But the greatest gift an island can give is the solution to a lack of space, with impact. The key is to look beyond the obvious.
Islands come in all different shapes and styles, but you can speak to your designer about using cabinetry that's a bit unexpected. Countertop cabinets placed on the floor may feel counter-intuitive, but they're storage saviours and creators of options. Think large glazed doors with narrower frames for a refined, elegant look. And, being glazed, you'll get to appreciate the form that rows of understated shelving bring to your room – they're not just for walls. Use your 'counter bottom' cabinets to display treasured pieces together that you'll get to see as soon as you walk into the room, and on the other side, fill it with the things that you want to keep close to hand. Or, turn it into a mini library with all of your cookbooks stored safely behind glass, ready to be thumbed.  
Convert your larder into a linen cupboard
Another kitchen storage staple, larders may have been around longer, but they haven't stopped gently evolving. Ours are cavernous inside with a cabinet face that's discreetly minimal at the same time. It's a lovely juxtaposition that feels quite contemporary. Of course, it's not just their design that nods to today, it's the new uses you're finding for them in your homes.
If you prefer things tucked away, a breakfast larder cupboard provides the perfect antidote to cluttered mornings. But if you're partial to putting the things that give a lift to your everyday on display, another idea is to add a little softness by turning your larder into a kitchen linen closet. From softly crumpled napkins to laidback tablecloths, not only is linen a greener choice, but it's a comforting material to bring into the kitchen. So why not take them out of the cupboard or sideboard, and into your kitchen's larder? It keeps them close at hand when you set the table. Whether coaxed into wicker baskets or neatly folded, it's a soothing take on the larder for a kitchen that's got lots of storage elsewhere.
Take your cabinetry outside the kitchen
Kitchen cabinets aren't just for kitchens. They're an honest, solid foundation. A starting point. And they're happy playing more than one part, on more than one stage.
In one of these scenes, you can see what looks like a pale pink dresser standing proudly in a dining room. But if you peer closely, you'll find it's actually a kitchen cabinet drawer base with a bi-fold countertop cabinet being used as a storage cabinet for serveware. It's a happy combination and it gives you an idea of what we mean when we say "a clever way of mixing and matching". We don't like a set-in-stone blueprint; we like a design that's just-right for you.
The refashioning of the kitchen cabinetry from our Chichester collection in the wall-to-wall library image is even more dramatic. It's fair to say that, when it comes to bespoke, we don't believe in half measures. But we do believe in creating continuity – both in materials and design – for a more balanced aesthetic, that runs throughout your home. It's another case of combining kitchen drawer cabinetry and shelving for when you want a bookcase that combines drawer and shelf space.
Transform the meaning of kitchen furniture
And it works the other way around too. Improvising with freestanding pieces from outside the kitchen offers a looser approach to cabinetry, celebrating a more individual look.
You'll find our Keswick tables provide a robust framework for a cocktail bar feel in kitchens with a higher ceiling. Just arrange bottles on the lower shelves, glassware on top, and make mirrors the backdrop if art deco appeals. Or, if you're looking for something a little more rustic but still refined, our Carter cabinets-come-shelves follow the same thought – a way to break up banks of cabinetry.
We love the calm that fitted storage brings to an out-of-sight laundry room. But we also like to give it a well-deserved moment of glory. Especially when a built-in pantry is top of your kitchen wish list and you want it to reach higher than any of our kitchen cabinets do – just like in the Teal Suffolk kitchen scene. They're also adjustable, leaving room for taller items.
When it comes to kitchen storage, it's not about the quick fix or chasing the latest trend. It's about design that works harder for your home, making all the effort for you. And it's about giving you flexibility to creatively blend pieces, putting your own stamp on them in a way that's entirely up to you.