Charlotte & her Henley kitchen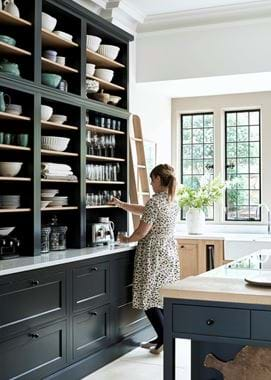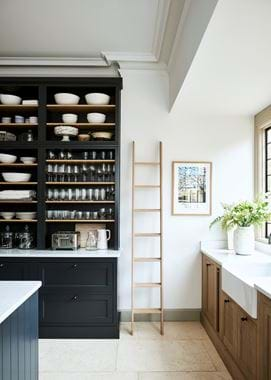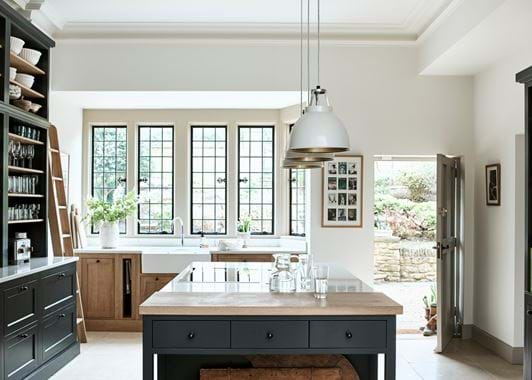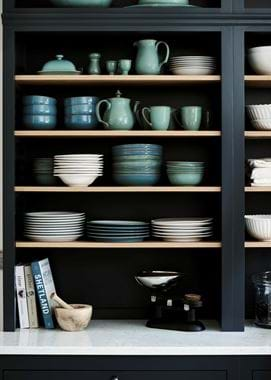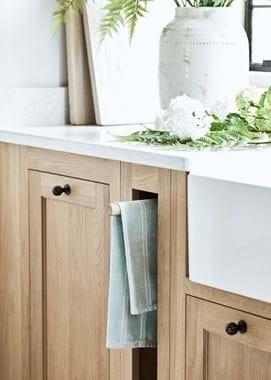 Charlotte & her Henley kitchen
Henley's a kitchen that's always been considered a bit grand, because of its oak cabinetry, but it's also one that can look very clean-lined and modern. In Charlotte's home, you'll see both sides of Henley come together in a kitchen that's designed to 'wow'.
Home profile
This period property, set within the grounds of a Cheltenham estate, is large in every way. From the square footage of the house itself and the seven acres of land that surround it (where you'll find the family's four alpacas – Cloud, Muffin, Pablo and Larry), to the scale of the rooms and the family of eight who live inside its confines. Welcome to the home and the Henley kitchen of Charlotte, her husband, Lee, their four boys and, last but not least, their two pet pooches.  
The project
Before Charlotte and her family even moved into their new Cheltenham home, renovation work had long begun, with a team of 30 or so people refurbishing every room over three months. The kitchen was a part that Charlotte had been imagining for some time, with a picture of a Neptune kitchen in a magazine that really sparked her imagination. 
The kitchen she'd been eyeing was Suffolk, but as she looked around Neptune Cheltenham, Charlotte decided that it was our Henley collection that would most suit her home and style. She liked its subtle grandeur. "Kate was our kitchen designer, and I explained to her that I wanted the height and the wow of the kitchen I loved in the magazine, with its full-wall dresser. That was the key part of my brief. She was brilliant, and completely understood what I wanted and how to make it work in a way that suited our home. At first, I was nervous about a run of oak cabinets mixed in with our Charcoal-painted ones, but it's perfect."
Charlotte's wish list, aside from her 'wow' wall cabinetry, included a big island and sub-zero fridge – a request of Lee's – but most of the conversations pivoted around the vast dresser section. "We had Neptune's Bespoke Workshop alter the cabinets so they went right up to the cornice. Kate suggested that so we could really show off the ceiling height – such a great designer's tip. We added the oak ladder to reach up high, though we don't need to go up there often. We use it when we need it, otherwise, it just looks so smart." Other parts of Charlotte's design included a bespoke Henley window seat with storage below, two larders and a workstation that blends into the cabinetry as they wanted somewhere for a family computer that wouldn't stick out like a sore thumb.
Once Charlotte's kitchen was installed and all settled in ("I used Neptune's installation team because I wanted their lifetime guarantee; it meant I could step back and relax," Charlotte added), she decided to bring Neptune back to design a room for her dogs and a laundry room upstairs. "For the dogs' room, I chose Chichester cabinets for a bit of a change and I had them painted in Juniper which Kate thought would suit the light of the room and would flow well from the hallway. We have Neptune's housekeeper's cabinet, a deep butler's sink for dog washing, and bespoke dog bed cabinets too. And upstairs, I have almost two of everything from the Chichester laundry collection. It's one of my favourite rooms in the house."
Life in her new kitchen
What's your favourite thing to do in your new kitchen?
"Having a glass of wine in here with Lee or my friends. It's such a lovely room to be in. It's where I like to unwind as much as cook. I call it my living kitchen."
What could you now not live without?
"My two ovens that are integrated into the island, and the amazing extractor fan that I saw on the Limehouse kitchen that disappears into the worktop. It's incredible!"