Designing to stand the test of time: Chawton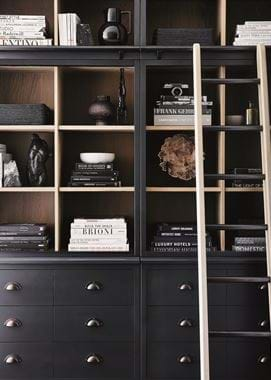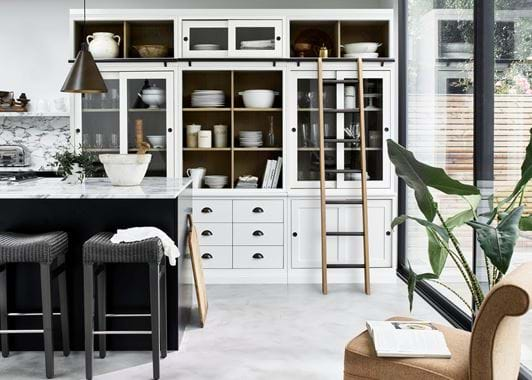 Designing to stand the test of time: Chawton
Each time the Neptune design team welcomes a new creation into our collection, it's done slowly, steadily and scrupulously. Craft and quality, lifetime value and timeless appeal, flexibility and functionality are tick boxes checked with every new addition, be it a cushion or a cabinet. With the arrival of our new autumn 2019 collection, we sat down with Henry from our design team to hear what went into making Chawton – our no-stone-unturned timber perspective on modular cabinetry.
Where did the idea for Chawton come from?
"It had been brewing for quite some time; Chawton has been one of our longest design cycles I'd say. Already, we were able to create sizeable storage pieces using designs like our Pembroke shelving or our largest dressers such as Henley and Suffolk, but we felt there was a need for something that sat between the two. Something that had the solid, cabinetry aspect of the dresser, but also the modularity and versatility of Pembroke. We wanted total flexibility to ensure it would fit into any home with ease, and the very evident elegance that we felt was missing from most modular cabinets."
Was there a key source of inspiration that guided Chawton's development?
"We did begin with the view of a full library wall in mind – wall to wall and ceiling to floor. The ability to produce something large-scale was a definite goal, not least because of its storage appeal but also because of the visual impact this has on a room. There's an old-world quality to having the entirety of a wall covered in books – this is actually what lead to us designing Chawton with the optional add-on of an oak ladder and rail so that you can have the whole libraries-of-old experience should you want to, whether that's in your sitting room or study."
What made you decide to scale it back so much, away from the original inspiration?
"Because the full-wall storage concept was only one part of the story. The real driving force was modularity with, at one end, the ability to build something tall and wide and, at the other, to remain shallow and narrow. Chawton had to be capable of both extremes and everything that fell in-between. We wanted it to be sympathetic to matchbox-sized city homes too – this was the thinking in the option of sliding cabinet doors which take up much less space."
Did you feel from the offset that you'd be able to bring something different to modular furniture?
"We certainly felt there were a few things missing in the modular cabinets that currently existed, and hoped we would be able to fill those gaps. But, I would say the key differentiator in Chawton is that every section is designed as a piece of furniture in its own right. This gives people the flexibility to use as many of the different sections as they wish without it ever looking unfinished. Often with sizeable pieces of modular storage, you have to have a certain number of parts to build a complete piece of furniture, and that means you're restricted to which rooms it can fit in, and if you move house, you have to leave it behind. Our timeless approach to furniture design isn't purely about aesthetics that won't fall out of favour or materials that will stand the test of time, but also to make pieces that can grow old with you and adapt. They're pieces to invest in for a lifetime, that can move with you from home to home, changing as needed. Which is a far more planet-conscious way to create too."
Does this mean that you could move Chawton to a different part of your home should you ever want to?
"Absolutely. Chawton doesn't tie you down, because if you were to have an extension, for example, and decide that actually Chawton would look better in your new living space, you would be able to relocate it, and add extra pieces to it should you want to extend its footprint. Similarly, if the size was a bit too large for the new destination, you would be able to take away part of Chawton without the fear that the end panels would look unfinished – you wouldn't ever tell. The section removed then becomes another piece of furniture, like a slimmer dresser that you could use in a hallway or landing. I suppose the word is that it's mouldable – it really does just fit in with whatever you and your home want it to do."
How did you set about choosing the materials for Chawton?
"We looked to what we know and what we love – tulip, hardwood ply and oak. This tried-and-tested trio is our go-to for most of our furniture, and there was no reason for us to want to do something different here. A painted finish was an absolute, and tulipwood is ideal for this. Exposed oak is a thing of real beauty so we were clear that we wanted it to feature on aspects like shelving. And hardwood ply is in there to help stabilise the solid timber. For us, it's a winning combination that we trust entirely."
Is Chawton's colour a big part of its story?
"I would say that's up to the individual. Colour can certainly be a key character in Chawton's story, if that's part of the statement you'd like to make. Being in tulipwood means you can select any of the colours from our edited palette. So, if you happen to have configured a selection of Chawton cabinets that leads to a very sizeable piece and then you opt for a very bold colour, then certainly colour will have a huge presence in your room. But equally, if you have white-painted walls, we can paint Chawton in one of our whites like Salt or Snow so that it blends in very quietly."
Why did you decide autumn 2019 was the right time to launch it?
"This season's story is all about statements. We had come to a point of being very happy with Chawton in every respect and didn't feel as though we could improve it further; it was ready to be released into the wild as it were. But instead of holding it back until spring, the narrative for the autumn collection suited it quite perfectly. This is a statement-making design in every sense – from the size of Chawton you create and the cabinet combinations you choose to the way in which you decide to style and use it. It's a piece to well and truly make your own."
In one word, why Chawton?
"Infinite. Chawton is just boundless in its options and its ability to reinvent itself as the years go by, and for me, this is one of the qualities that forms a promise of timelessness. It can be styled to suit homes that are classic or contemporary; it works as a large-scale bookcase in a sitting room, a graduated storage piece beneath the stairs, or as freestanding, unfitted kitchen cabinetry. In a dining room, it can take on the role of a bar, or take it into a dressing room and see it as an apothecary cabinet filled with toiletries and towels for a nearby bathroom. Fundamentally, it's a design that will make a statement of quality and authenticity, but is equally there for you to make your own personal statement. Depending on how you build it, style it, and use it, it will make a statement that's unique to each and every home."