Ways with Ink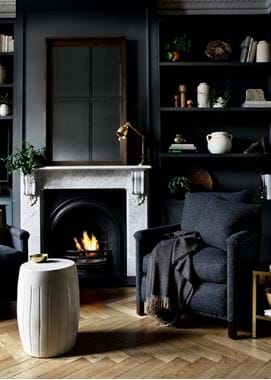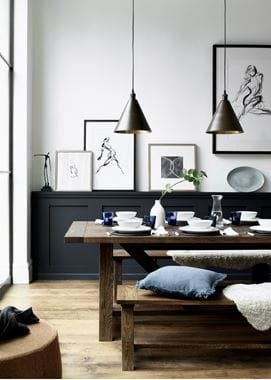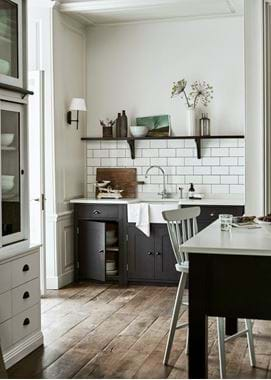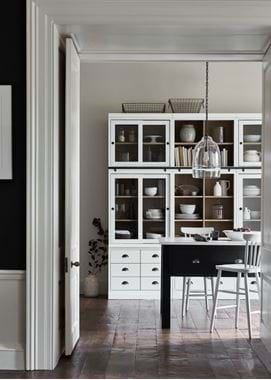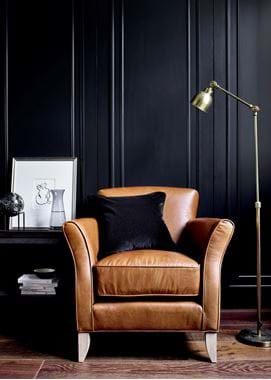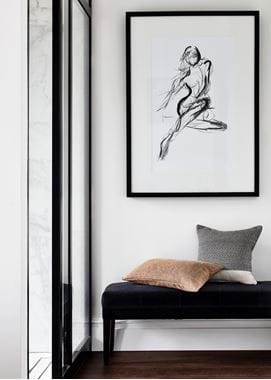 Ways with Ink
See borderline-black shades of grey, abyss-dark blues and greens so dark that it's only when the light hits them that you detect their underlying verdancy, and you might be conditioned into thinking feature walls are where they look their best. Kitchen cabinets too are another part of the home where it's common to unleash your dark side. But, the unveiling of our seasonal shade for autumn 2019 – Ink – brings with it several short stories about ways to let it loose, contributing confidently and calmly to your home's interior design. Here are just a few of our favourites to start off the new season… 
All-over Ink
Beginning with the most daunting of colour applications, spreading Ink over all the walls in one particular room is a way to ensure your space feels larger and calmer. Colourists claim it's about giving your eye less to read and the room fewer interruptions that makes it feel bigger than it actually is. The theory rings true whether the colour in question is light and bright or intense and moody. Include any furniture in your colour wash and the effect is greater still. From fitted bookshelves to a freestanding sideboard, colouring them in the same Ink tone as the walls behind helps them to melt into the background, giving the illusion of more floorspace. Knowing that the darker end of the spectrum will in fact help you to achieve everything that you think it might not, immediately helps Ink to feel approachable, open and inviting. Go one step further and involve upholstery in the Ink conversation and you'll benefit from rich tonal layers. The same colour it might be, but Ink paint versus Ink on wool, velvet and linen reveals hidden depths. It will bind the elements of your room but also celebrate your chosen signature shade and all of its subtle differences.
Low-lying Ink
There's no escaping the fact that Ink is bold. If you're somebody whose palette preferences tend to be on more neutral territory, or if all-over Ink feels simply too heavy for you and your home then taking Ink to the lower portion of your walls is a good way to ease you into using darker colours. Whether you choose period-style wall panelling on the bottom half or third of your wall, or a traditional dado rail, by painting the wood and all that's below it in Ink, it won't be the first thing that strikes you when you enter the room. This effect is about a low profile and finding a way to slowly weave colour into your interior without going down the feature wall path.
Ink in the kitchen
Kitchen cabinetry remains a worthy area to experiment with colour, because it presents the opportunity to use a little or a lot and to be a touch playful. If you've fallen for Ink, then allow it to seep across all of your cabinetry, setting it off with brass hardware for contrast or BlackBronze to stick with tones deep and dark. Or, flow it on just a run – don't be lead to believe that all of your fitted cabinetry has to share the same shade. Similarly, try Ink on the base cabinets and a different colour on wall and countertop cabinets (or vice versa). Common practice is to paint a kitchen island in a colour different to the main cabinetry too – either tone down Ink by using a lighter colour on your kitchen's anchor, or leave the cabinets light and punctuate the heart of the room with a puddle of Ink topped with crisp marble or quartz, as our Charlecote scheme goes to show.
Ink accents
This final colour story is one with chapters to pepper throughout your home. Ink works well in small packages as much as those large and statement-making. If you've used it in one room, don't just leave it there. Colour palettes should be felt as you roam from room to room, so nod to Ink with a velvet hallway bench here and an Ink pillow-strewn bed there, dress a dining table with Ink glassware and napkins while in the living room drape an Ink-threaded throw over an armchair or sofa. And remember that Ink accents are not purely a case of small colour references dotted about your interior, but that Ink can be used to accent other colours. Team it with crisp Salt or soft Snow for a modern take on monochrome or sit it side by side with punchier tones like the oranges of Tan leather and Marmalade, the russets of Rust and Cranberry, and the ochres of Mustard. It's through these colour couplings that Ink shines 'brightly' as an easygoing, forever elegant new wave of neutral.