The festive mantel – styled three ways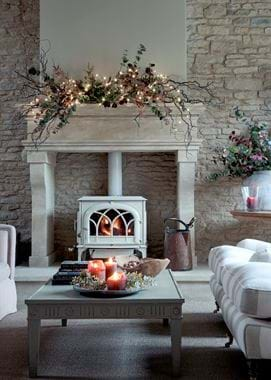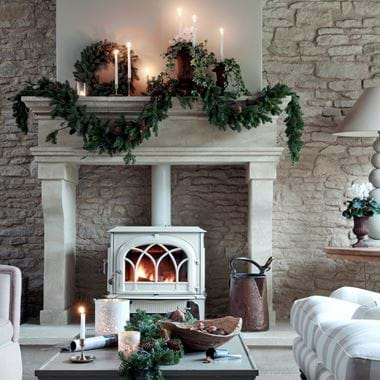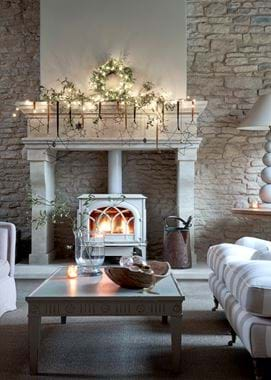 The festive mantel – styled three ways
When we're decorating our homes for Christmas, it's almost always the tree that steals the show. The spot where presents gather throughout December and where Christmas Day morning is spent, it's the natural centrepiece of the season. But how about the feature that, at any other time of the year, is usually your room's focal point? Read on for three ideas that'll well and truly welcome your fireplace into the festivities too.
The gathered-from-the-garden mantel
A look for those whose decorating style is more wild and wintery than classically Christmassy, this fireside scene has a loose and relaxed feel, though it still makes a strong impression.
Our stylist, Meaghan, made her arrangement on a nearby table first, lifting it onto the tall mantel once it was nearly finished, though you can build it in place if you'd prefer. Start by creating two bundles of bare branches (the spindlier and more twiggy the better – look out for hazel branches if you'd like the same corkscrew shape as the ones we've used here). Facing them away from each other, tie them together in the middle with ribbon, wire or florist's tape so they fan out at either side. You'll want to pick branches that'll extend out a little past your mantel's edge to achieve the wild and generous feel, and don't make things too symmetrical: this look's all about being naturally imperfect.
Next, gather together your seasonal flowers and foliage – life-like ones work best here because you won't need to worry about them wilting or the heat from the fire, and you can twist their wired stems to hold them in place. We've used three types of eucalyptus – our Burgundy stem, with its tiny berries, and the large and mini Russet sprigs – as well as the orange-hued Rowan spray to create a base that's full of texture and muted colour. Simply weave these through the branches until you have a full arrangement. Meaghan then added a handful of Burgundy Hellebore flowers here and there as an accent, and Antique Gold Berries for just enough metallic glimmer to feel suitably celebratory.
If you haven't already, carefully lift your arrangement onto your mantel at this stage. If it looks like it'll easily topple off, you can secure it in place with a little tape on the branches, making sure it's hidden out of sight. Then, finish off by winding a strand of fairy lights on fine wire through your display, tucking the batteries behind.
The classic with a twist mantel
With its swags of pine branches laden with cones, trailing ivy, candles rather than fairy lights, urns and wreath, this mantel-top arrangement is the most traditional of our three. What lends it its slightly more up-to-date edge though, is the asymmetry.
"The key to making an asymmetrical arrangement work," explains Meaghan, "is keeping it balanced. You don't want one side to feel 'heavier' than the other. So here, because the urns on the right side are taller, we've hung the garland lower under the wreath on the left. It just tips the scales back in that direction."
We've also stuck to a very edited palette – the deep green of the pine, the russet brown from the pinecones and antique urns, brass on the candlesticks, and the white potted cyclamen and taper candles. The ivy, with its variegated edges, then creates a link between the green and white. With such an edited look, it means that all the attention is on the display's form and shape, and it keeps things in the realm of timeless and classic.
Finally, by using just a handful of candles (as opposed to fairy lights), you'll creates a more restrained feel to suits the palette. "Just be careful," Meaghan says, "that the tapers don't burn down too close to the foliage, especially in the pots where we've used the Coatbridge candle stakes to hold the tapers. If you're worried, you could always replace one or both of the urns with tall hurricane lanterns like Newington, placing pillar candles inside. That way, you won't lose the height."
The deceptively simple mantel
If you're a little pressed for time, not so artistically inclined or more minimal in your style, this scene is super simple to put together but looks impressive enough that your fireplace will still feel special.
It's also easy to make it your own, whether your home is contemporary or traditional, colourful or muted, depending on the hanging decorations you choose. "You'll want a mix of sizes," says Meaghan, "and a couple of different shapes. Here, we've mostly used our Stella stars, which feel quite modern, and added in a few of the Aylmer pinecones, Alba snowflakes and Clement bells which are all made from similar materials. But you could use the Aurora, Evelyn and Xanthe baubles for a more classic look, together with the Floe icicles. It would make your statement more about shimmering, silvery tones as well."
Meaghan strung each decoration using our colourful velvet Isla ribbons, and then simply tacked them in place using painter's tape ("It's great because it won't damage a painted mantel, although you could also use sticky-backed clear hooks if your decorations are heavier."). Hanging them at different lengths and spacing them out fairly randomly will give the larger decorations room and stop things from looking too uniform.
Next, top your mantel and hide the taped-on ribbons with seasonal foliage – we've used our life-like Mistletoe – dangling some of the stems over slightly to soften the edge, and place a coordinating wreath front and centre. Finish with fairy lights woven through the foliage and around the wreath – all-important for bringing everything to life.