In the kitchen: an overnight oats recipe for late winter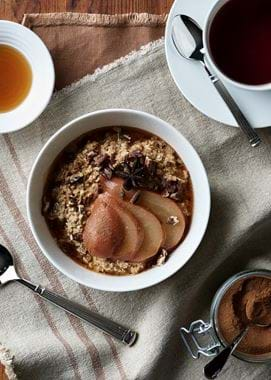 In the kitchen: an overnight oats recipe for late winter
While we're waiting for spring to properly arrive, not-quite-light and chilly mornings call for something extra special to tempt us out of bed. Overnight oats are a perfect choice if you're a little pressed for time in the mornings because they're ready to go straight from the fridge, are packed full of much-needed energy, and you can dress them up in all sorts of ways. Georgie, the nutritional therapist behind lots of the dishes at our café, The Provenist, has created this recipe to make ahead using in-season ingredients like British-grown pears and warming chai spices. Made with almond milk, it's also vegan-friendly, and you can opt for gluten-free oats too.
Chai-spiced overnight oats with poached pears, pecans and maple syrup
Makes enough for: two
What you'll need
100g porridge oats
200g almond milk
3 tbsp chai spice mix (not chai tea leaves. We use Jeeves & Jericho's blend at The Provenist, but you could also just use ¼ tsp ground cardamom, ½ tsp ground cinnamon, ¼ tsp ground ginger and ¼ tsp ground nutmeg)
A pinch of salt
1 pear (Comice pears poach well and British-grown ones can usually still be found in February. You could also use a Conference pear too though)
1 star anise
2 cloves
1 tbsp maple syrup plus extra to serve
A small handful of pecans roughly-chopped
What to do
1 Measure the oats into a bowl and cover with the almond milk, chai spices and a pinch of sea salt. Stir everything together and cover with a lid or clean tea towel before popping in the fridge to soak overnight.
2 To poach the pear (you can also do this the day before if you'd like), start by peeling it before placing in a saucepan with enough water to cover it completely. Add in the star anise, cloves and a tablespoon of maple syrup before bringing to a gentle simmer. Cook the pear for about 40 minutes or until it's completely tender when you pierce it with a knife – just watch the liquid in the pan doesn't dry out.
3 Remove the pear from the pan and slice it in half, then into thin segments, throwing away any of the core or pips.
4 Take your oats out of the fridge and, if they're looking a little dry (different types of oats can soak up more or less liquid), add in a touch more almond milk...
5 Divide the oats between two bowls and top with the pear slices, pecans and a drizzle of maple syrup.
Why not try…
Making the oats into porridge. Rather than leaving them in the fridge overnight, once they're mixed together with the spices and almond milk, place them in a pan over a medium heat for five–ten minutes, stirring so they don't stick. Add an extra 100ml of almond milk while cooking if they're looking a little thick.
You could also make a big batch of the poached pears (simply add more water and spices when you're cooking them). They'll keep just fine in the fridge for up to four days, and you could serve them with yoghurt and granola or even in a salad of bitter leaves, soft cheese and walnuts.
Making the most of what's in season
Late winter might not seem like a time of plenty, but there's still lots of in-season fresh produce that you can make the most of in the kitchen. Here are Georgie's suggestions for February and March…
Celeriac
Perfect for making soup, you can also eat celeriac raw. Simply grate and mix with yoghurt and mustard to make a remoulade.
Purple sprouting broccoli
Stir fry stems with ginger, garlic, chilli, cubed firm tofu and soy for a quick Asian side dish.
Jerusalem artichoke
Looking a little like a knobbly potato, Jerusalem artichokes also roast really well. Just peel, slice and cook as you would potatoes – par-boil for 15 minutes and roast in the oven with garlic and rosemary for 20.
Savoy cabbage
Make a warm salad out of this crinkly-leaved cabbage by cutting it into wedges, roasting in a hot oven until slightly charred and serving with a drizzle of olive oil, a splash of lemon juice and a handful of homemade sourdough or rye croutons.
If you're ever in Bath, stop by our café, The Provenist. Our dishes and drinks are made using seasonal and local ingredients wherever we can.