An Easter tablescape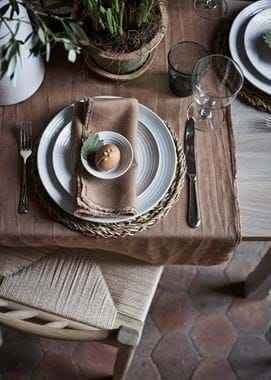 An Easter tablescape
This year Easter may not be quite as big an occasion for feasting as we'd like, but with the possibility of small garden get togethers – or even if you'd just like to make your family's Sunday lunch into more of an occasion – we wanted to share a few ideas to make it special nevertheless. 
Easter marks the end of winter and the promise of brighter days ahead. Traditional Easter symbols like painted eggs are one way to honour the return of sunlight and colour to the landscape, but in the room pictured here, we've shown a subtler, more laidback way to decorate an Easter table. Maybe your celebration meal centres on seasonal ingredients like spring lamb or newly harvested asparagus; with its earthy colours and textures, this table setting serves as a reminder of their place in nature.
To begin with, pure linen tablecloths and napkins in soft colours create an informal mood – thanks to its rumpled texture, linen can't help but feel relaxed. The warm apricot hue of our Antonia table runners and napkins is a great backdrop for a palette of organic materials, and as the runner is narrower than a normal tablecloth, it will allow the beauty of a wooden table to show through. 
Because mixing textures is key to any good table setting, you need a contrast for the smoothness of ceramics and glassware. And woven materials like rush and rattan will also be a nice nod towards the egg baskets traditionally brought out for Easter.
When it comes to decorations – the little extras that aren't functional but just help to set the mood – again, take your cue from nature. Living blooms are more in tune with this particular setting than cut flowers, so we've used grape hyacinths and daffodils that are just about to burst into flower. They're planted in terracotta pots, whose handmade, slightly wonky shapes are right at home in this setting. For those green fingers out there, gathering from the garden your own wild posies for each place setting is another way to add a personal spring touch to the table.
Other than that, we've chosen plants that are evergreen or seasonal for spring – olive branches in tall jugs to add a little height, and sprays of white gypsophila to add fullness to a display on the mantelpiece (this would be great as a table centre too).
And finally, in the centre of each plate, a hen's egg makes the perfect place marker. We've left them au naturel here as their colours are such a good match for linen, wood and rush, but we also love the look of naturally dyed eggs (keep an eye on our Instagram for a tutorial on how to do that this week), and we also love the look of a couple of tiny, spotted quail's eggs tucked in together too. A dipping bowl or pinch pot makes a good holder (this is our Lewes dipping bowl), as well as a spot to place a name tag or a flower sprig (we've used mimosa for its sunny yellow hue).
And voilà – a feast table that rivals any Christmas one for seasonal joy. Happy Easter! 
For more Easter decorating ideas, be sure to follow us on Instagram.