Interior design for gardens: how to make more of your outdoor space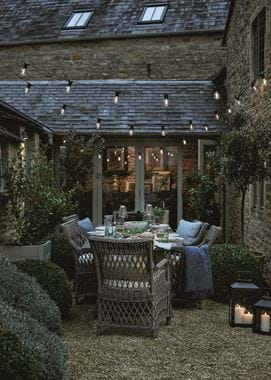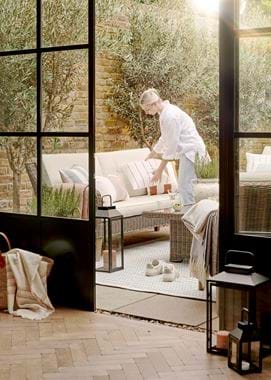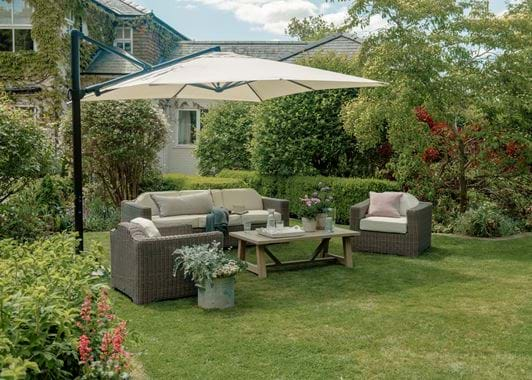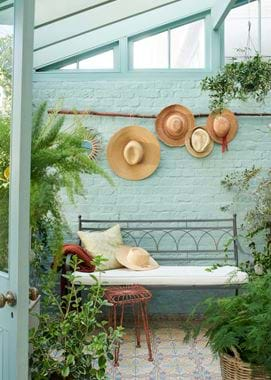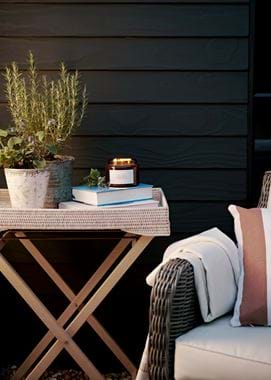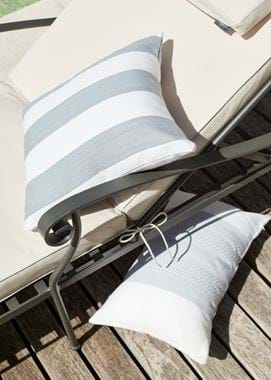 Interior design for gardens: how to make more of your outdoor space
You hear it every year: bring the outside in, and vice versa. These are the golden rules of linking our interior and exterior worlds so that the connection between home and garden is uninterrupted and entirely convincing. Being on the cusp of summer, we caught up with our interior design specialist, Simon, to tease out his top tips on how you can make your garden behave as another of your reception rooms without calling upon a landscaper.
1. Setting the scene with planting
'Needless to say, greenery is what your garden is made for; not least because of the environment, but because planting is a form of decoration in the same way that hanging artwork on interior walls is.
'Think not just of low-level plants, but in which areas you might like to add height, to draw the eye and to create a sense of intimacy, as window treatments do indoors. Could a climbing rose on a trellis close to your outdoor dining table add a romantic dimension to the setting? Or something delicately scented like honeysuckle or jasmine that fragrances your garden's soft seating area in a way that no sofa-side vase of flowers in your sitting room could. For serious density, consider the English classic that is wisteria – the most curtain-like of all the climbers – that will also introduce a hearty dose of colour and texture to further your garden's palette.'
2. Allow a parasol to provide a roof over your head
'A short yet sweet mention to one of the garden accessories so often regarded less crucial than table, chairs and plant pots. A parasol is what reassures you that shelter can be sought in the wild, encouraging you to remain outdoors so that your garden can continue being loved and used come rain or shine.
'Of course, a parasol can't provide what closed doors and a genuine roof might, but its mere presence serves as a reminder that a sprinkling of April showers won't put a halt to al fresco living. I always include one whenever I'm devising a garden scheme so that it's viewed as a key part of the outdoor aesthetic.'
3. Giving the illusion of a gargantuan garden
'When there is little garden to be seen or had – such as a postage stamp-sized cottage garden – I will often suggest a garden-inspired scheme for the room that looks onto, or leads out to, it. This may be back to interior styling, but it's very much about how you can use a garden-like visual to create a sense of an outdoor space far bigger than its reality.
'Timber flooring that's weathered and reminiscent of rustic decking, terracotta plant pots in abundance, and louvered shutters that let you peer out and natural light to flood in will all aid you here.'
4. Dress it so
'Keen to give your garden that sitting room feel? Then you'll need to accessorise accordingly with all of those added extras with which you style your reception rooms. Think cushions, think blankets, think decorative objects as well as mirrors that you won't mind getting spattered with rain.
It's not all down to the accessories though. Mimic the furniture you've used indoors that you find yourself flocking to. If slumping on a sofa with your feet up is what beckons you most, then be sure to find a similarly comfy garden sofa, complete with coffee table (or side table) to boot.'
5. Light up, light up
'And finally, never underestimate the transformative effect of lighting.
'Wiring our Dartmouth lights in will achieve the softest ambient lighting, but if getting an electrician in and digging up turf and slabs is something you're keen to avoid, then candlelight and strand lights will be your friends.
'With fairy lights draped above (hooks in fencing or into the mortar of your house's brickwork gives them something to loop onto) and candles nestled into hurricanes and lanterns on your garden's path, terrace corners and tabletop, nobody will want to head back indoors, even when the sun has firmly set.'
Explore our entire garden collection online here.