Spotlight on the Audrey occasional chair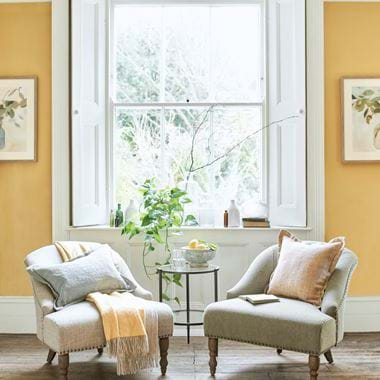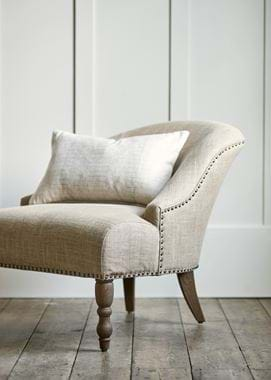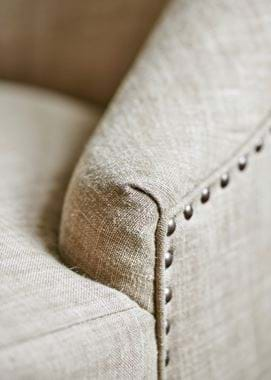 Spotlight on the Audrey occasional chair
Every design in the Neptune collection has a story. Some shorter and simpler than others, but even the smallest of pieces has a reason for being. It's all part of our quest to make homes that are considered from top to toe. Over the next few weeks, we'll be telling some of the tales behind the bigger pieces in our spring collection – the ones you're truly investing in for years and years, if not a lifetime, to come. Starting with the newest addition to our seating designs: the Audrey occasional chair.
Audrey's story begins in Belgium – a country whose style played a big part in inspiring our spring collection (you can read more about that on our journal here). "There was space among our armchairs for a smaller piece that would sit low to the ground like Madeleine but be a bit more generous in terms of size and comfort: something you could happily sit in for an hour while you read the paper," says Amy from our design team. "And then we were visiting a hotel in the Belgian city of Ghent, 1898 The Post, where their living and bedroom spaces are all dotted with these kinds of chairs, and we knew we had to create something similar for our Belgian-inspired spring collection."
It was the laidback nature of these linen-upholstered chairs that the team felt we were missing, so they set about designing a piece with a low, reclining backrest and relatively deep seat. The result is a chair that, although small, won't make you feel as if you're missing out. "It's not very tall at all," says designer Henry, "which means that you can easily see across it. It's one of the things that worked so well about the upholstery at The Post – even though there are lots of little groupings of chairs in the lounge, it doesn't feel too busy because it's all quite low. But, once you're sat down, it's a comfortable, relaxed and very cosy setting."
That cosiness came in large part from the way many of the chairs featured coved backs. "When the backrest curves and melds seamlessly into the arms like that, you feel nicely enclosed by the chair," continues Henry. "So we made sure to incorporate that into Audrey." It's a feature inspired by the 'crapaud' chair, a late-19th-century French style which, in turn, most probably developed from the 18th-century bergère chair. These were the first armchairs that really considered comfort, more like what we know today than the very upright seating that came before, so it's fitting that Audrey follows in the same vein. "We didn't just give Audrey a curved back though – there's deceptively a lot more to it than that," Henry goes on to say. "We really played around with and tweaked the combination of the curves in the frame, the tension of the fabric and the springs, and the amount of filling until we created a lot of lumbar support in what is a very modest chair." 
Style decided and refined, comfort tested (and tested again), it was time to move onto the finishing details. "We chose quite bold studs for Audrey," explains Henry, "partly because studs are a traditional upholstery technique that felt in-keeping with Audrey's sense of history, and partly because, with its sinuous curve from back to arms, it was lacking definition. The studs almost create an outline, highlighting that curve. And they're a bit bigger in size than we normally use to match the generous padding. Not too big mind! And the simplicity of the rest of the design keeps things understated."
So, how to welcome Audrey into your own home? Amy suggests taking your inspiration from hotels too: "In hotel living spaces, you'll often spot these little groupings of armchairs. By the fire, in a window bay… And at home, they can help to make a large or open-plan room feel more intimate, encourage pockets of conversation at a gathering, or, with a side table in-between, make an intimate spot for two friends to drink tea together. Audrey would be perfect for that."
See more of Audrey and its details online here, or pop by one of our stores to see (and, importantly, sit on) it in person.