In the pottery studio: the making of our Bayham collection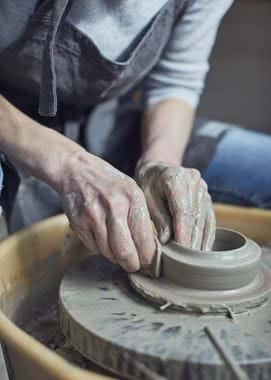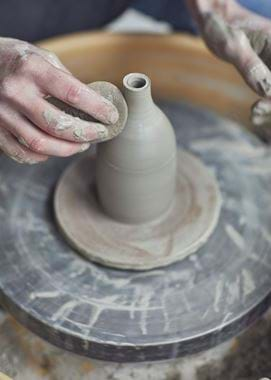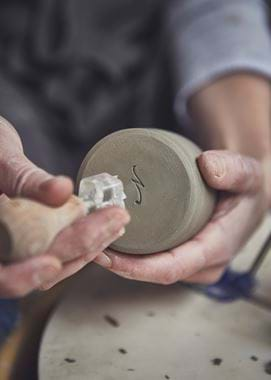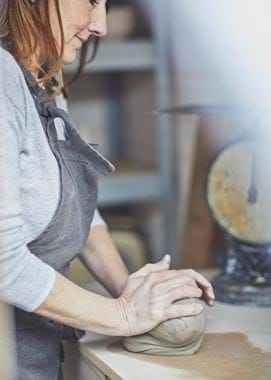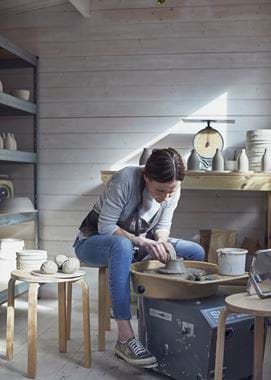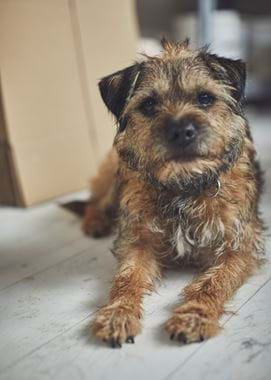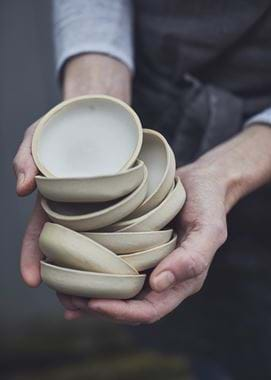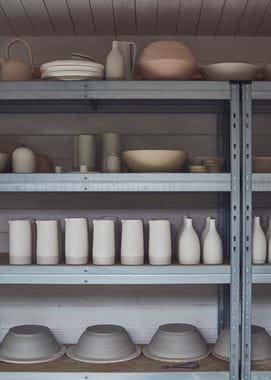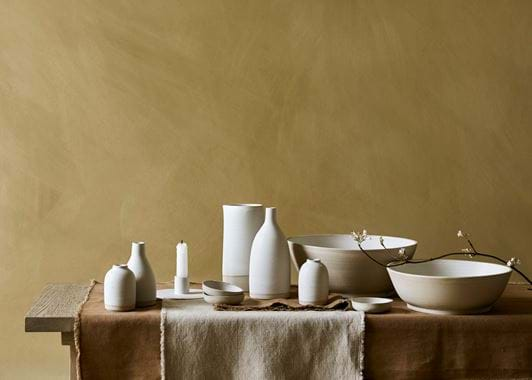 In the pottery studio: the making of our Bayham collection
There's nothing that paints a more idyllic picture than a studio at the foot of the garden, two friendly pups, and the sea just feet from your front door. And that's exactly where ceramicist Rebecca Williams resides. On the south coast, not far from Chichester, she lives in her Victorian semi, with her husband, two children, and Bertie and Rosie, the Border Terriers.
Rebecca is the pair of hands behind our new Bayham collection – simple stoneware designs, handmade in her West Sussex studio, where she throws each piece herself on the wheel, misshapes them a little to give each one an individual personality, and glazes them with her self-mixed matte glaze, to give them their vanilla-toned speckled finish.
Rebecca's journey began five years ago when she took part in a one-day pottery course and became hooked. "From there I signed up to a weekly class at a local studio. I just enjoyed how immersive it was - I was totally absorbed. The guy who ran the course was involved in lots of things arts related in my area, and he encouraged me to start selling my pieces. It took off and before long, I was selling in the Chichester artist quarter with other small businesses. You could say it was 'accidental pottery' – I didn't see it coming!".
So how did Neptune's collaboration with Rebecca come about? It's a sweet, and simple, story. Our product development lead Amy bought one of Rebecca's butter dishes as a gift. From there, the relationship grew. The design process began with Amy sending over visual inspiration - "Rebecca has a really organic, simple style, which I didn't want to get lost". Rebecca then interpreted those into her own work. "I produced around twenty samples, at the same time visiting HQ and stores, to really understand the brand and the concept of Neptune", Rebecca explains. "I tend to just design on the wheel – I make a few of a new design, rather than sketch out plans or ideas". This process led to the eight unique pieces you'll now find in our spring summer collection. Each one made by hand, by Rebecca, and never quite the same as the next.
Rebecca has a small team – someone to help her pack and another to help her glaze. But she's committed to throwing each piece herself – "I want to be making it", she explains. "It's a balance in not becoming a production, it has to be enjoyable". And enjoyable it must be. Her wooden studio is a breath of fresh air – in fact, her two studios. Cosy at the foot of her garden, they're home to her prized tools, classic radio and three kilns – which are continuously on. That said, Rebecca sticks to the number one rule of working with clay - "You can spend all your time on a piece, and it can still go wrong. The potter's mantra is 'Don't get attached until it's out of the kiln!' ".
It really is a very charming, lesson in patience.
Favourite piece from the Bayham collection?
I love the serveware - it's about bringing everyone together.
Most enjoyable part of the process?
Throwing, definitely!
Tips for anyone looking to get into ceramics?
Don't put it off any longer.
Are your pieces best suited to a certain interior style or could they fit in any home?
I think they fit in well in both contemporary and rustic interiors.
Who's a better co-worker – Bertie or Rosie?
Definitely Rosie. Bertie only shows up when it's time for food!
To explore our Bayham collection, created by Rebecca Williams, click here.