Using colour in the kitchen: tone on tone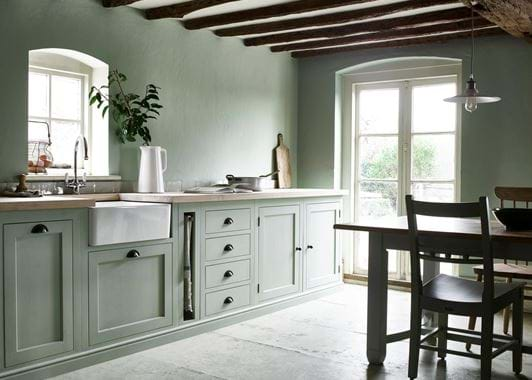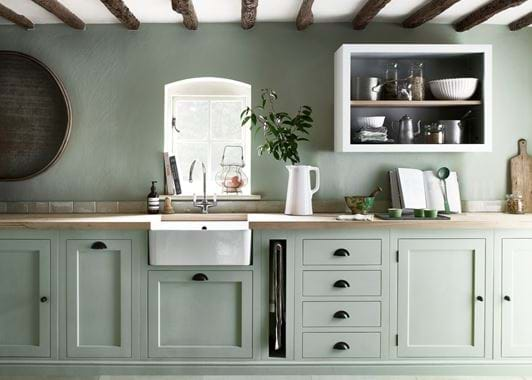 Using colour in the kitchen: tone on tone
Just a few posts ago, we explored how you can use colour in the kitchen with strong contrasts. This time, we consider how you can apply the same tone across your whole scheme in a way that won't saturate or become too repetitive, but instead will give the space a level of calmness, consistency and quiet confidence. 
Why it works
Using one colour throughout your kitchen (or, indeed, any room) means there's less for your eye to read. Multiple shades will switch your focus as you read one colour to the next, and creates more obvious dynamism, whereas a single colour simplifies your scheme and give it a constant. And with that comes serenity. Colour alone won't create tranquility, but it'll certainly help in a big way. 
One colour will also make a room feel larger
Just as positioning mirrors cleverly will open up a space, using one colour on cabinets and walls connects the two elements and fuses them in a way that'll make your kitchen feel wider.
Use the same colour on your ceiling too and that'll make it seem airier. How? Because it comes back to the same point about making your mind read. Colour's like punctuation. A white ceiling's very much a full stop in your palette, so you see a distinct difference between walls and ceiling. Paint it in the same colour though, and it's nothing more than a comma, with one part flowing seamlessly into the next and giving the illusion of a higher ceiling. If there are architectural details that you want to highlight though, a white ceiling is a good choice, such as in these images where the beams already define the height of the room and continuing the colour from the walls onto the ceiling wouldn't have an effect. 
Think about what statement you want your shade to make
Colour's full of surprises. With the recent popularity of dark colours, we've been shown how deep can equal dulcet just as much as barely-there tones can. It's undeniably a different kind of soft and soothing though. Walls and cabinetry in the darkest grey will, for sure, give you a muted, cosy atmosphere, but there'll be undertones of bravery and drama. Walls and cabinetry in easy-going Sage, such as in this Henley kitchen, feels brave too, but in a way that's quieter and more peaceful. Every colour has its own agenda – hidden and not. 
And as ever, work in layers
A point we touch on frequently. Repeating colours and materials in a room gives you a steady ground to build a scheme on. But you need to bring a point of difference in somewhere. The only time a totally consistent tone works is in an art installation to highlight the absurdity of how it'd look in real life. In a kitchen, the walls and cabinetry are the protagonists, and they perform together beautifully, but the rest of the cast need to create a richer environment, supporting them to put on the their best show. 
Without the ceramic Belfast sink, without the oak work surface, without the aged timber beams, without the flagstones, without the propped-up chopping board, this take on our Henley kitchen would've felt flat. But with them, it flies.
Visit any of our stores to speak to our kitchen designers and home specialists about using colour in your kitchen. Find your closest store here.