Take a (perfectly positioned) seat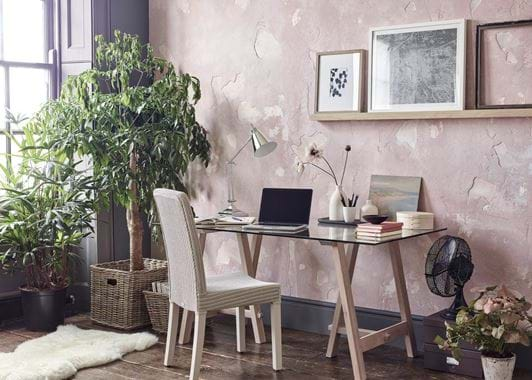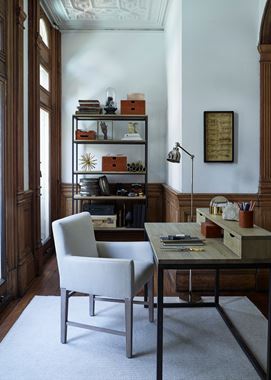 Take a (perfectly positioned) seat
Hands up if you're working from home more these days. In fact, hands up, breathe in and stretch. If you're one of the many who've moved their offices into their homes in recent months, or if you regularly do your admin at the kitchen table, chances are your seated posture isn't as good as it should be. But finding the right chair can help alleviate aches and pains and ensure you're perfectly positioned for a good day's work.
"Essentially, your work chair needs to be comfortable," says George Miller, Home Designer at Neptune Fulham, "and there are lots of ways to ensure it is, from the tilt of the chair back to the seat height."
Before you begin to choose your perfect work chair, Jessica Sims-Wilson, Home Designer at Neptune Cheltenham, advises considering how you're going to use it. Will you be in front of a computer for most of the day (in which case you'll need a purpose-built office chair), how many people will be using the chair (as it might need to be easily adjustable), or will it be for intermittent working or admin which might only require a well-supported chair?
Regardless of use, there are some basic rules to sitting well at your desk or table:
Ensure you have lower back support either from the curve of the seat or with a cushion to avoid back issues. And take regular desk breaks – frequent short breaks are better than fewer, longer ones.
Your knees should be just slightly lower than your hips and your feet should sit flat on the ground. If they don't, invest in a footrest and never be tempted to cross your legs or tuck one leg under the other as it'll throw your whole alignment out.
Adjust your seat height to ensure your arms and wrists are straight and parallel with the floor when you're typing as this can help avoid repetitive strains. And keep your elbows bent at a 90 degree angle, allowing your wrists to rest on the table edge as you type or write.
George suggests also looking for a chair with a deep seat, so that you can position a cushion behind your back for extra lumbar support should you need it, and recommends chairs with arms as they'll offer extra support and stop you resting forward over the table when you're feeling tired. If you are spending long hours in your chair, George adds that a chair with wheels or one that spins is a bonus as it'll stop you twisting your body awkwardly as you move and reach for items.
But for many of us, our home offices are also our living spaces and we need the functional furniture to blend effortlessly with the rest of the space while being useful and comfortable when called upon. For Jessica, there's one obvious answer to this conundrum – the upholstered, Shoreditch carver chair – which she tried and tested with her family during lockdown. "It can work in lots of different places around the house," she explains, "so while it's a very comfortable chair to sit in for extended periods and has a really supportive back, it can be relocated easily to another room when not in use."
George agrees. The Shoreditch carver is his 'go-to' work chair but, over a summer spent between the Fulham store and home, he also tested out the Lloyd Loom Havana carver chair and found it to be a good alternative. "The Havana is a good height and has arms and a slight incline on the back," he explains, "and because of its modern, conservatory-style feel, it looks great in spaces where another, more formal chair wouldn't work." Proof that working from home can be both comfortable and stylish.
Explore a curated edit for desk chairs online here, or our entire collection of dining chairs here.