An al fresco Christmas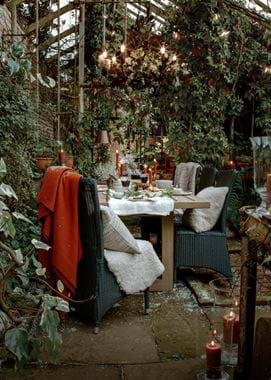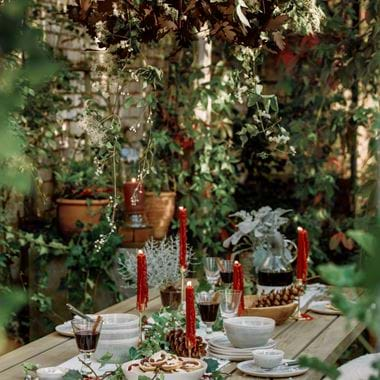 An al fresco Christmas
The Christmas table is a special moment in our festive celebrations: a central focus and an opportunity to create stylish, convivial surroundings for our friends and family. And while indoor get-togethers might need some re-thinking this year, outdoor gatherings will hopefully be more flexible. What better way to make this most unusual of seasons a magical one than with an al fresco Christmas supper? You just need to consider three factors:
1. Style
As with any successful setting, pick a theme and stick to it. You could consider a woodland scheme for your table with trailing ivy, rustic wooden table and benches, even a log pile acting as a draft-breaker. Decorate a nearby tree or evergreen bush with baubles and lights to create an outdoor Christmas tree and use texture to add visual warmth – rattan, sheepskins and chunky throws do more than keep us warm, they exude a sense of depth which suggests cosiness.
Or be inspired by chic Alpine ski resorts – after all, if you can't be there, recreate it! "Use mini Nordic pines in pots as a centrepiece," suggests our stylist, Meaghan. "And work with a colour palette of frosty whites, dark greens, raw timbers and flashes of rust red."
2. Warmth
The key to a happy winter al fresco lunch or supper party has to be keeping the guests warm. Pick your table location carefully – a sheltered spot against a wall and away from drafts, or maybe inside a greenhouse with all the windows and doors thrown open.
Look for chairs with slip covers or skirted legs like our Havana Lloyd Loom chairs which will protect legs and ankles from drafts. Use sheepskin rugs as seat and back coverings – they are ridiculously warm and comforting – and treat guests to the luxury of a Tussock sheepskin-covered hot water bottle against their backs. Drape a pure wool throw, such as the new, weighty Auburn throw, over each chair for guests to wrap themselves in.
An outdoor fire pit will offer instant warmth and confer that fireside glow or you could shake up the traditional turkey-in-the-oven routine and fire up the barbecue for this year's festive menu, as guests enjoy the extended warmth of an outdoor oven.
Fingerless gloves might be optional but hot toddies definitely aren't. Check out our mulled pear and ginger cocktail for a heart-warming recipe for chilly gatherings.
3. Lighting
Winter days are short so lighting comes into its own early. The trick to an evocative dining scheme is to layer the lighting. "I'll use branches to drape outdoor lights on or try to find an overhanging structure to hang a chandelier from, interlaced with greenery," says Meaghan.
The tall, slim proportions of the cordless Hanover lamps are perfect for placing at intervals down a long table as they don't get in the way of conversation. While Newington hurricane lamps dotted about on floors, windowsills and low walls and our Kate hanging tealight holders suspended from hooks or branches, create pools of warm, flickering colour.
Finally, no self-respecting festive table is complete without a sprinkle of candles along its centre. For a larger table, try the circular Campden candle holder with space for 24 tapered candles. "It's all about creating ambience," adds Meaghan. "You can't have enough twinkle for an al fresco winter table."