Deck the hall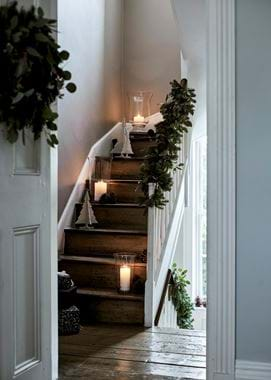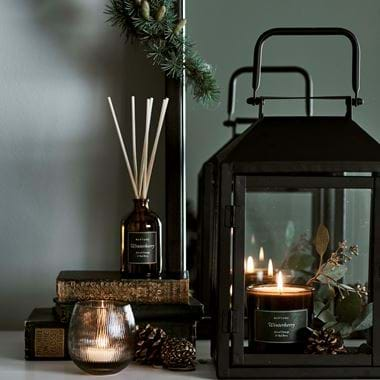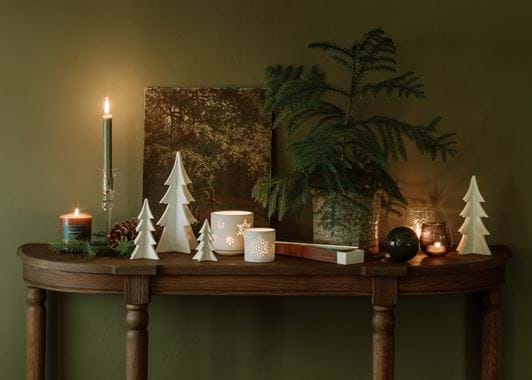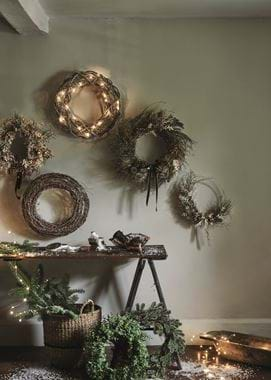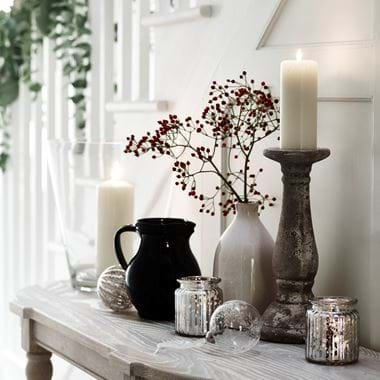 Deck the hall
It's intriguing how many of our Christmas traditions are centred on entrances and thresholds. From the wreaths we hang on our front doors to the candles and Christmas trees we place in our windows and even the carol singers that gather on our doorsteps, so much festive symbolism is about the subtle connections between us and the wider world. This year, of course, Christmas may look rather different and we probably won't be as free as we'd like to welcome others into our homes. But even if it's only for the enjoyment of your own household, decorating your hallway is still a potently uplifting gesture at this time of year, and sets the tone for a cheering atmosphere throughout your home.
Our new Christmas collection takes a fresh look at the most comforting, traditional festive colours, red and green, which we've reimagined in our Rust, Chestnut and Olive shades. The link between these hues and Christmas goes all the way back to medieval times, when evergreen fir trees were hung with apples to symbolise the Tree of Life in the Garden of Eden, and the renewal that comes after the winter solstice. They're also the colours of holly branches, which have been woven into wreaths and hung on front doors since the 17th century. The idea wasn't just to signal that you were celebrating Christmas – the spiky leaves represent Christ's crown of thorns, and the berries his blood – but also to ward off witches, who were reputed to be powerless against its protective properties.
Here are a few inspired ideas for lifting the mood in your hallway this Christmas – some contemporary, and others inspired by olden times…
1. Illuminate your space
Twinkling lights are one of the easiest ways to bring a festive feel to your hallway on dark winter days. "Flickering candlelight creates such an atmosphere – if you have a table or console in the hall, deck it with our Blyton Juniper candles in Browning lanterns," says George Miller, home designer at our Fulham store. "I also love to use fairy lights to frame doorways, which draws the eye from room to room, or to surround larger pieces of furniture, such as dressers and mirrors."
2. Hang decorations wherever you can
This trick is especially good for small hallways, where floor space is limited. In medieval times, people used to hang mistletoe over their threshold to banish evil spirits (before the Victorians started the kissing tradition), but George suggests hanging the branches from light fittings for a modern twist. "Hang things from coat hooks, pictures and banisters, too. My hallway is quite small, so I wind a pine garland and fairy lights around the banister and weave in some baubles." Decorating the base of banisters is always a good idea, as you can still use the handrail safely and you'll get an eye-level view of the trimmings as you walk past.
3. Introduce a tree
If your hallway is on the larger side, consider moving the tree here rather than having it in the living room. "Our Christmas collection this year combines simple white ceramic baubles with rich velvet textures that make a tree feel really welcoming," says Jessica Sims-Wilson, home designer at our Cheltenham store. "Right now, it feels appropriate to hark back to Christmases past and envelop ourselves in a sense of warmth and tradition, but keep tree decorations simple so your hallway doesn't feel cluttered." Placing the tree under the stairs, or in an empty corner, instantly transforms it into a cosy nook.
4. Adorn the walls
"I like to make a feature of the wall art in my hallway at this time of year," says Jessica. "Our Buckland print ledges are great for hallways as they don't take up lots of space and they allow you the versatility to change art with the seasons. I'll frame beautiful festive wrapping papers to display alongside my pictures, but the ledges are wide enough for fun ornaments, too, such as baubles or felt animals."
5. Treat your senses with scent
You may not have lots of guests to impress this year, so think of it as self-pampering instead. George recommends Neptune's Winterberry candles and diffusers to make your hallway feel comforting and inviting. "For a natural alternative, cinnamon sticks, dried orange slices and fragrant winter greenery like eucalyptus will add a subtle Christmassy scent – place in bowls and vases or drape branches over mirrors and picture frames."
You can explore our Christmas collection here.