Flower pressing creations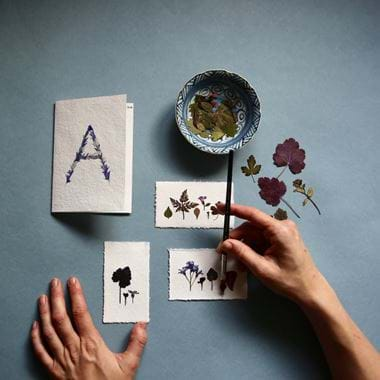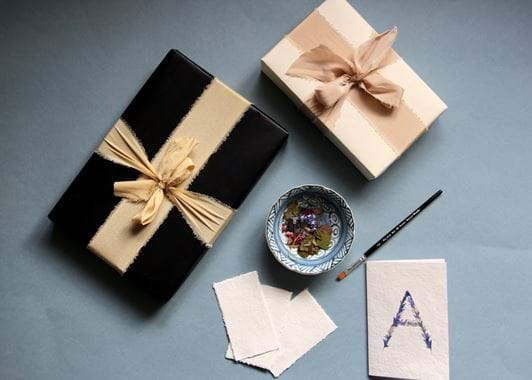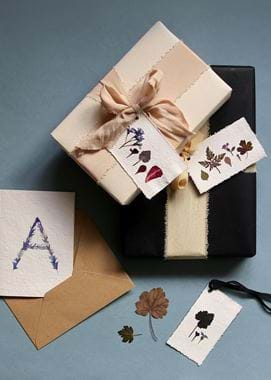 Flower pressing creations
In our last journal post – 'Autumnal flower pressing' – Izzi Hudson, founder of florist, Flower and Press, showed us how and where to forage for seasonal foliage and the best ways to press your finds. And now, she's showing us what to create with our pressed flowers and how to turn them into personal gifts for Christmas.
What you'll need
Thick papers: recycled, natural papers (or anything above 200gsm). There are so many amazing paper suppliers that it's worth trying out lots of different papers and colours until you find a look that suits your style
Thin papers for gift wrapping – Again, natural papers such as cotton rag papers or Japanese screen-printing papers work well. If you want a more cost effective alternative, brown 'kraft' paper or newspaper can also look beautiful
Envelopes
Paint brush
PVA glue
Hole punch
String or raffia for the gift tags
Ribbons – crushed velvet and uncut silk ribbons will look beautiful for Christmas
Sharp scissors for cutting ribbon
Pressed autumnal flowers and leaves
Things to consider
Make sure you think about what you want to create and the quantities you'll need in advance so that you have enough paper and ingredients. Make sure you factor in enough time so you can enjoy being creative whilst not rushing the process too much.
Your design
Don't be afraid to play around with different designs until you're happy with your finished pieces. This may be with a variety of blooms and foliage or you may find this in its single variety form.
What to do
Cut thick paper to size using a guillotine, Stanley knife or scissors. Do take care whilst doing this and lay out protective layers to preserve your table top!
Lay all your pressed flowers out so that you can see what you're working with
Create your designs by placing your pressed flowers onto your gift tags or cards. Once you're happy with the design, you're ready to start sticking them down
Take each individual pressed flower piece, pick it up, turn it over and brush PVA glue onto the back
Using your paint brush, pick up the glued pressed flower piece and delicately place it back on to the paper, taking care and pressing it softly to ensure it sticks
Repeat until your piece is finished
Leave plenty of time for your pieces to dry
If you're making gift tags, use a hole punch to make a hole and add ribbon to attach it to your gift