Bringing Christmas into the kitchen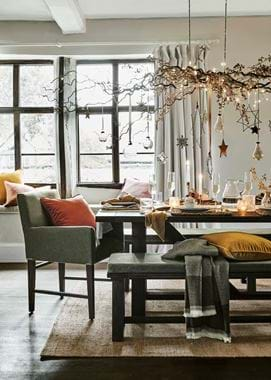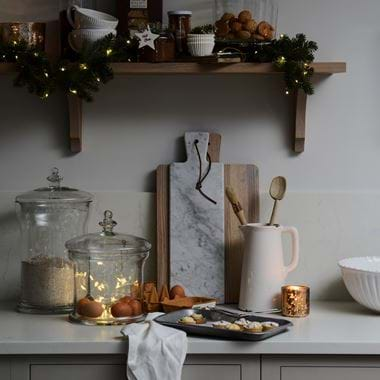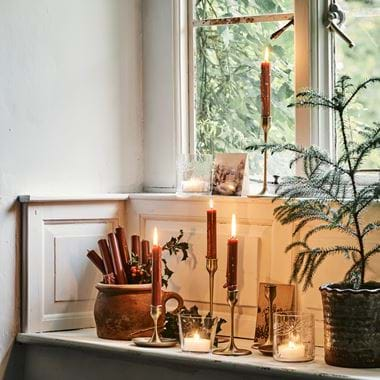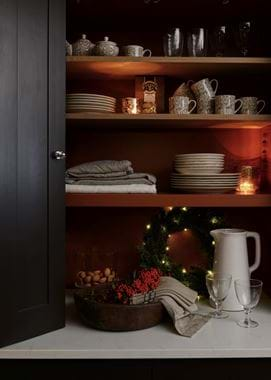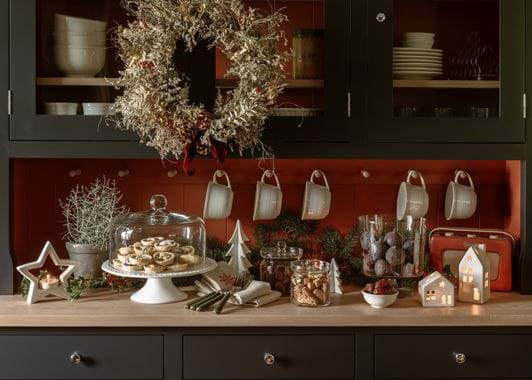 Bringing Christmas into the kitchen
With the Christmas tree likely occupying your sitting room or dining room (or both if you're feeling indulgent), a wreath on the front door so that your hallway begins with some festive cheer, and maybe there's a festive-scented candle that's wormed its way into your downstairs loo, all too often the kitchen gets left out of the Christmas decorating equation. But, as great believers in Christmas cheer spreading to every corner of the home, here we share a few of the easy but effective ways to sprinkle some seasonality into the heart of your home – the kitchen.
Branch out over the kitchen table or island
A long term love of ours is to get outdoors and bring back a fallen branch that can be suspended over the table, or kitchen island for that matter. Not only is the feeling of having foraged and reclaimed a piece of nature for one's own fulfilling, but it extends the fancy of the Christmas tree by giving you another branch to play with.
To help yours float as convincingly as possible, we suggest painting any positioning hooks in the same colour as the paint on your ceiling and then to hang it from however many hooks you need (depending on the length and weight of the branch in question) using clear wire. Then, fetch the fairy lights and decorate with a restrained number of decorations – we find sticking to just one or two is best to stop it from looking overcomplicated. Simple is beautiful remember.
The cookie jar becomes the fairy light jar
It is nigh on impossible to not feel festive when in the company of twinkling fairy lights. In the kitchen, they work a charm if you have exposed oak shelving that a pine garland can rest along with lights woven in amongst the fir bristles, but the light show needn't stop there. Is yours a kitchen with pantry jars on display? Why not decant your dried pasta or pulses, and stash inside a cluster of strand lights. Or if you want to keep everything in order and as it was, invite a few newcomers like our glass Belmont jars, and fill one with festive treats like mini mince pies or gingerbread biscuits and the other with our Hazlitt star lights – they're battery powered so there's no plug socket required.
A chorus of candles to light up the window
Just like fairy lights, the next form of light that never fails to create a feeling of enchantment are candles. But Christmas is the season of generosity, so don't hold back on the number that you use – candlelight is one of those exceptions to the rule where less isn't necessarily more.
Take them to the window ledge and use candlestick holders as well as tea light cups so there's a pleasing mix of textures and height of flame. And because it's Christmas, go all out with coloured wax like our Coleridge dinner candles that are fittingly Cranberry-coloured. Teamed with our Heddon brass candlestick holders, they're a match made in festive heaven that are just as much of a delight to be in the same room as they are to look onto from the outside in.
Wreaths – not just for the front door after all
Who doesn't appreciate a wreath that greets you as you walk on up to the front door? It seems a shame then to only enjoy that moment on the one or two occasions a day when you might head on home.
Out of all of the rooms in the home, the kitchen is the one that surely has the most cabinets and cupboard doors with handles aplenty – ripe for hanging bits and bobs from. Rest one from the handles of a double-doored countertop cabinet, like a bi-fold larder (a favourite of ours), or, if you're the sort who doesn't want the festivities getting in the way, you could always lean it up inside a cabinet's interior as a happy surprise every time you open its doors wide.
Gingerbread, spice and all things nice
Christmas decorating, ornaments and all, is done best when it appeals to all the senses. So welcome smell and taste to the party by having ingredients out and on display to delicately scent your kitchen with the aromas of the season. A decorative bowl with clove-punctured clementines, a decorative jar filled with star anise and cinnamon sticks whose lid is left off for an hour here or there so that its notes can dance around the room, or better still, get hands on and make the most of those kitchen work surfaces by baking to your heart's content. Is there a better scent in December than walking into the kitchen to detect gingerbread baking away and ready for snapping and scoffing in not too long at all? We think not… (Christmas Day turkey and trimmings aside that is).
Getting your home Christmas ready? You can browse our full Christmas collection here.