The hidden elements of design: Dualit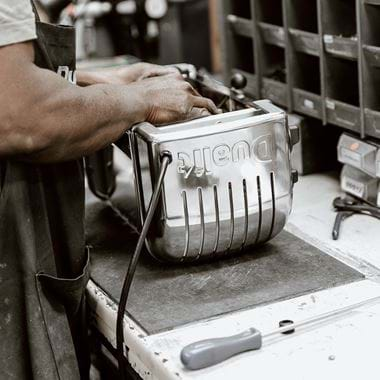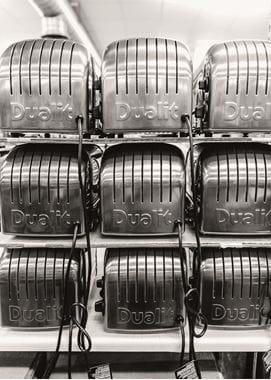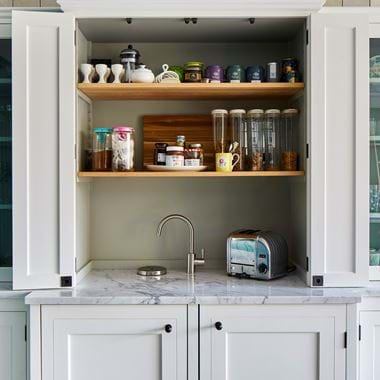 The hidden elements of design: Dualit
Engineering, innovation and design restraint are all things we strive to put into each of our own products here at Neptune, and it's those shared qualities that mean, when it comes to the small kitchen appliances we recommend to our customers, Dualit is top of the list. In the latest in our series exploring how craftsmanship can elevate design, we talk to this family-run brand about the almost undetectable details and behind the scenes expertise that have made their flagship product – the humble toaster – a kitchen icon.
A thumbprint mark on the inside of an electrical good might be cause for rejection by some manufacturers, but at family-run business Dualit, it's a badge of honour. "Brian has powder-sprayed the toaster castings for over 30 years," says Alex Gort-Barten, grandson of founder, Max. "Every casting has his fingerprint on it where he's moved it ready for firing." And adding to the personal touch, each Dualit toaster, manufactured in the West Sussex factory, is made by an individual person who includes their name on the base plate.
It's this hand-built, crafted approach, along with skilled engineering design, that has ensured the Dualit toaster has become a 20th-century design classic. As Leslie Gort-Barten, son of Max, puts it so succinctly, "Our products are not built to a price, but built to a quality."
So how did Dualit begin? Engineer Max Gort-Barten fled Germany at the start of the Second World War and ended up working for the British Armed Forces. In 1945, he used his savings to rent a factory and returned to his passion – designing products. His first creation was a cocktail shaker, followed by a fire guard, but his third design, a commercial toaster offering six bread slots, was the breakthrough he needed. Pretty soon, Max was producing toasters for hotels and restaurants and even supplying to Royal Navy submarines and British embassies around the world.
When son Leslie joined the business in 1972, he was keen to make his mark and utilised a government scheme offering small businesses the skills of a product designer. Leslie was sure that, with a little refinement, his father's commercial toaster would work in domestic kitchens. He and the designer worked on prototypes but Max wasn't impressed. "Father didn't like it," recalls Leslie. "So he went to the workshop where we had a wooden model, got a big saw and cut off a corner of the toaster. And it worked. We've simply been tweaking the design ever since to keep it fresh."
The toaster's design credentials are simplicity and honesty. Each part is connected with visible screws making the toaster robust and easy to repair ("Built-in obsolescence isn't what we're about," notes Alex). And all the products share a visual language. "We rely on pure geometry," says Alex. "Nothing too fussy, just vertical or horizontal lines and the same radius for curves." As Leslie points out, the curved profile of the Dualit kettle is the same as the toaster's curves. It's an attention to detail that the business is proud of. "Nothing is left to chance," says Alex. "It's an easy thing to say, but it requires obsessional detail from us."
When it comes to materials, Leslie and Alex are equally uncompromising. The toaster ends are made of expensive aluminium because it's solid and keeps the heat in. The patented ProHeat elements come from India and even the wiring is sourced from Poland "because they have the best quality nickel and steel," says Alex.
The classic exterior is stainless steel but coloured options have proved popular from the start. "Our first colour was a utility cream because it was the only paint you could get after the war," says Leslie. Today, the products are available in a range of colours and finishes to suit different settings, from a country to a contemporary kitchen. And the range has expanded from coffee machines and blenders to the latest compostable coffee pods and even baby-bottle warmers.
Ultimately, it's ingenuity and daring that drives the Gort-Barten vision. "Dualit is a company that's genuinely innovative," explains Alex. "You only have to look at the 100s of patents we've come up with over the years. We're passionate makers, always hunting for something new and better, and nothing is ever finished. We're never going to be the biggest or the cheapest, but we do strive to be the best."