Get to know us: Henry from our product design team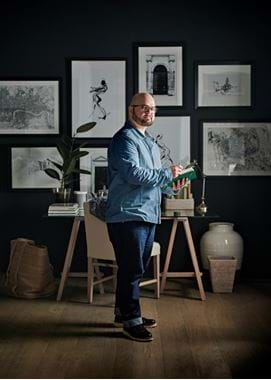 Get to know us: Henry from our product design team
Those of you who've been with us a while might remember that in our second volume of Stories, way back when in 2016, we sat down to chat to one of our furniture design team, Dan, about his life at Neptune. So we thought it's high time we introduced you to another of the faces behind the pieces you have in your homes. Introducing Henry, furniture and product designer extraordinaire.
Let's start at the beginning shall we? Did you always want to be a designer? 
"Sort of! I was obsessed with Lego as a child, always making and drawing. I started off wanting to be an inventor, and as I got older and figured out where my strengths lie, that turned into designer. I ended up doing a master's degree in industrial product design, and then went into furniture for hospitality and bespoke commissions before coming to work at Neptune.
"In fact, it was musical instruments that got me into design really. About a year or so after leaving university, I came a hair's breadth away from working at Yamaha and moving to Japan. But it wasn't to be and I've been designing furniture ever since."
So aside from the obvious – designing furniture – what is it that you get up to? 
"It all depends on where we're at in the design process for a season really. Right now, we're getting underway with our autumn collection for 2021 – we try to design a season within the season, usually a year ahead. We've shortlisted the new designs so I'm at the stage of developing them to the point I can share them with the team. Then it'll be a case of refining the details until we have the final piece.
"Creating our seasonal collections and the designs that go into them is a huge team effort at Neptune. Dan and I are the designers, but then we also work with Rebecca, who leads our team, as well as the product developers, and of course John and Emma [our co-founder and creative founder]. Everyone feeds their own knowledge, experience and perspective into the mix in order to create something that's better because it was done collaboratively. Our weekly team meetings are a big part of what I get up to!" 
Do we do things differently at Neptune?
"Definitely. The focus on quality, on versatility, the desire for products to last a lifetime - those are all more than just words at Neptune. They're something I'm challenged on and checked and double checked on all the way through the design process. The way each product is considered and valued is pretty rare I think."
What would be your dream project to work on?
"That's a tough one. I've always loved the way people personally interact with a product, and designing those details that'll surprise and delight them. There's that moment of reveal, when you see the look on their face when they discover something that goes beyond their expectations and that they love. So not really a specific design, but more those that give me the opportunity to engage someone's enthusiasm. That's my dream project."
You've already answered our last question, but is that it, your favourite part of the job?
"Hitting the nail on the head is a nice feeling. Not that I'm saying it happens every time, but when it does, and what you've designed gives someone joy, that's the very best bit."