Where to buy antiques & art: an expert's guide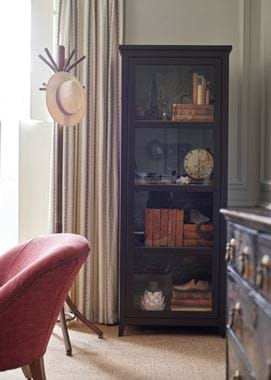 Where to buy antiques & art: an expert's guide
Hunting for antiques to proudly display in your home? Homes & Antiques writer Caroline Wheater rounds up some of the best haunts visited by those in the know
Whether you're newly nesting, or are re-nesting now the children have left home, well-chosen antiques and art can bring a new feeling of comfort and character to your home. 'The feel is very eclectic at the moment – people want homely homes dotted with colour, pattern and well-made brown furniture of all periods,' says antiques dealer Toby Lorford who runs Lorfords in Tetbury, which sells everything from classic French armoires to handmade Scandi rugs to Victorian silver candelabra. To help you build that eclectic look, we've selected the go-to places for finding lovely things and statement pieces – magnets for creative minds and those on the art scene.
Antique hotspots
Good quality antiques are back in vogue, with even ornaments such as porcelain and glass on the creatives' shopping lists. 'It only takes a vase to make a table look more homely,' reminds Toby.
Out of town
The Cotswolds has one of the biggest concentrations of antiques shops in the country, focusing on Burford, Stow-on-the-Wold and Chipping Campden (browse cotswoldsantiques-art.com to plan a route). In Marlborough, Wiltshire, head for the Blanchard Collective, home to the likes of Marcelline Herald for standout furniture and Robert Antiques for eclectic taste. In Yorkshire, Harrogate's Montpellier Quarter offers a street's-worth of quality antiques from top dealers including Elaine Phillips. Elsewhere, Edinburgh's Georgian Antiques has the largest selection of antiques in Scotland, while Snape Antiques Centre on the Suffolk coast is piled high with goodies, and, inland, small antiques shops in and around Sudbury, Long Melford, Clare and Halstead offer great browsing too.
The London scene
Lillie Road in Fulham draws buyers looking for distinctive items. A herd of shops stocks everything from French art deco furniture (Quindry) to antique mirrors (269-Antiques) and everything in between (lillieroad.co.uk). For pure creativity, visit Pimlico Road to browse some of the most stylish antiques shops in the capital – Rose Uniacke Interiors, Jamb and Howe London.
Antiques fairs & markets
These larger events are beginning to reopen again, especially the open-air markets. We've included details of their schedules below but do check ahead as things may change. Either way, bookmark them for later in the year or for antiques hunting in 2022.
Pick up special things – from Regency armchairs to Danish sideboards to Worcester porcelain – at these leading antiques and design fairs: The Decorative Antiques and Textiles Fair, usually held three times a year in Battersea Park, although each event is digital this year; Lapada Art & Antiques Fair held in September at Berkeley Square; and Antiques for Everyone at the Birmingham NEC, which has over 200 exhibitors and is normally held three times a year but is hoping to go ahead with the November fair in 2021.
The big multi-day markets are also prime snaffling events, where you'll find everything from chandeliers to fine furniture to silver teapots and decorative vesta cases. Newark in Nottinghamshire is the largest antiques event of its kind in Europe and runs six times a year, attracting up to 2,500 stands. Ardingly in West Sussex is the biggest fair in the southeast, also on six times a year, with up to 1,700 stalls to discover. Check the website of organisers, International Antiques & Collectors Fairs, for details, although both fairs are planned to go ahead on certain dates this year.
Art treasure troves
Paintings and prints bring rooms alive and no creative in their right mind would want a bare wall these days. 'A big, contemporary artwork used in a small space can make the room seem bigger,' advises Toby Lorford.
Artist's prints
The 'Prints and Multiples' auctions at Sotheby's, Christie's and Bonhams offer limited edition prints by big name artists such as David Hockney, Bridget Riley, Jasper Johns and Roy Lichtenstein for a fraction of the price of a painting, and you can bid online. Monitor the art sales of leading regional auction houses, Sworders and Cheffins, too.
Contemporary art
For top value in the fine art world, visit the art schools' graduate shows in early summer – The Slade, Central Saint Martins and the Royal College of Art in London; and the University of Leeds, the Ruskin School of Art in Oxford and Glasgow School of Art, outside the capital.
Traditional British art
For fine drawings, paintings and prints from the 19th and 20th centuries, browse the stock of art dealer Harry Moore-Gwyn, who has an excellent eye.