Jenna, Lydia & their Henley kitchen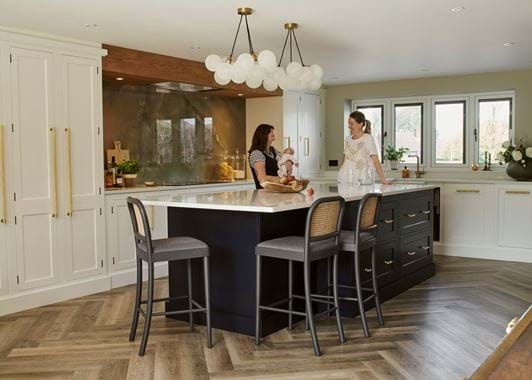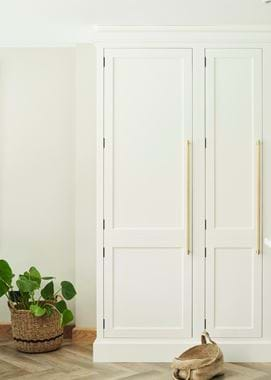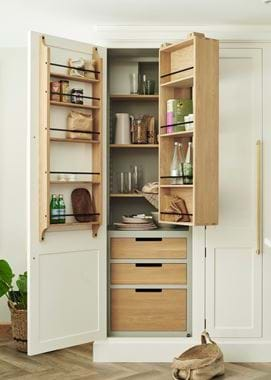 Jenna, Lydia & their Henley kitchen
With a growing family, Jenna and Lydia set about transforming what was once an old-fashioned house into a contemporary, stylish home. Here, we caught up with them to hear the story of just one of the spaces they reimagined: the kitchen.
Home profile
This detached home, built in 1925 on the outskirts of a lively Kent town, has been loved and lived in for seven years by Jenna and her wife, Lydia. Now, with the addition of three children, the house has gradually transitioned into a large family home through extensions and renovations in every room. What was once a standard four-bedroom house – with a living room, kitchen and diner, and 'painted in all the different colours of the rainbow' – has become an enhanced, contemporary space carrying their own creative imprint. Since moving back in, they've welcomed the newest member of their family, and their new kitchen has really come into its own: 'We both have massive families,' Jenna told us, 'so we needed enough space to entertain and, with another little one on the way, have dinner together around the table. We also wanted to update our style and bring the old-fashioned house back to life and modernity.'
The project
Renovations began at the start of lockdown in 2020, and the couple, along with their two young girls, moved out for five months while the project got underway. With their new home starting to take shape, Jenna and Lydia queried how to tackle the final hurdle, designing their kitchen. Having been introduced to Neptune three years ago when Jenna's parents had their own Neptune kitchen installed, and knowing that they wanted a spacious and contemporary room that was simultaneously homely and fit for guests, Jenna and Lydia spoke with one of Neptune's designers. 'We knew at the time that Neptune kitchens are quality made, and since we'd done the whole house the way we wanted it, we thought that we should finish the renovation by getting a kitchen that will last years and years, not settling for a kitchen we didn't absolutely love,' said Jenna.
Working with Tom at the Tonbridge store helped Jenna and Lydia to recreate the space virtually, and although they weren't able to see the kitchen in person, they were drawn to the Henley collection's streamlined design and oak interiors. Realising they would need plenty of space, not only for their family of five but also for entertaining guests when they could, the priority was storage, cooking and cleaning, as well as enough space around the table to enjoy their meals.
With a particular desire for as much storage as possible, and after falling in love with the larder cabinets, the couple included six tall larders. Despite some technical difficulties with wall space due to plumbing, Tom was also able to accommodate their need for as much storage as possible by introducing countertop cabinets along the wall. 'Even though we wanted more of the tall cupboards, it has worked out so well considering the structural challenges we faced from a design perspective,' explained Jenna. 'The larder is the perfect place to keep the girls' cereals and treats hidden away and out of reach!'
Initially planning to have all their cabinetry painted in one of our archived shades, Navy, Jenna and Lydia eventually decided that the addition of a lighter colour would open up the room: 'We were nervous that it would feel too dark, and we wanted to draw in as much light as possible without completely removing the Navy.' Opting for Navy on the island alone, they chose Henley's standard colour, Snow, as a crisp contrast for the walls and cabinets. Alongside bespoke brass handles, a richly-coloured statement splashback (a one-piece porcelain tile with a marble effect), and timber details throughout, the eventual palette was one of both dramatic contrasts and warm, comforting neutrals.
Reflecting on the transformation, the couple told us, 'We absolutely love our new kitchen. It's become a hub of the home. We can't wait to have more friends and family round to enjoy it with us!'
Life in their new kitchen
What's your favourite thing to do in your new kitchen?
'Dinner around the kitchen table, and cooking our children's favourite meals.'
What's the best part?
'We really love the look of the splashback – it's so unique. But it would have to be the amount of space for cooking, cleaning and for storage.'
What could you now not live without?
'Two dishwashers! We never knew how much we needed them both before we had them.'
What's next?
'It's time to enjoy it now, after months of renovations and work it will be so lovely to spend the summer relaxing.'