Meet the Wycombes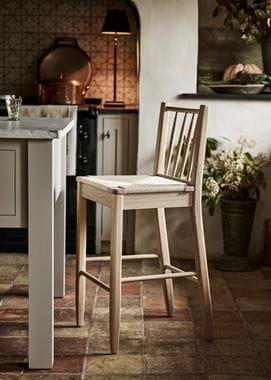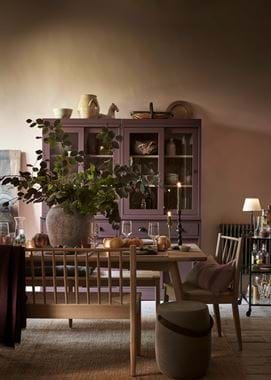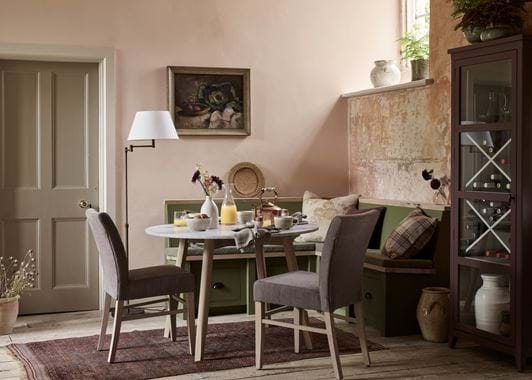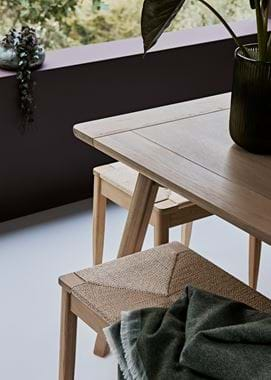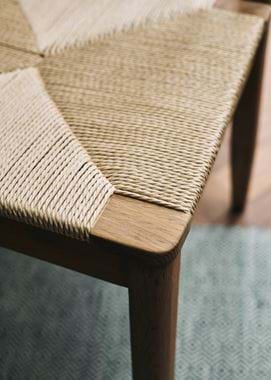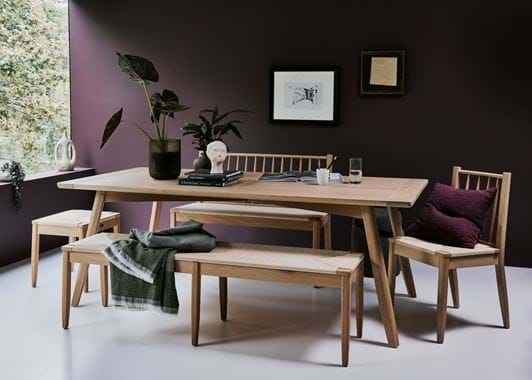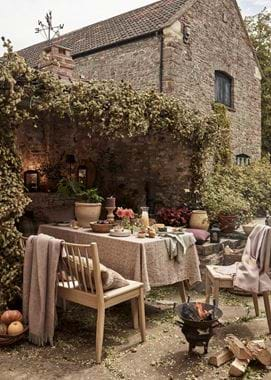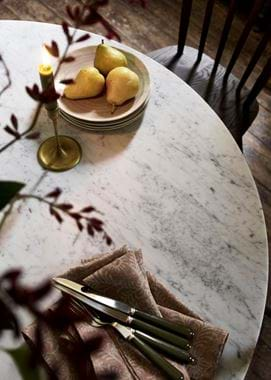 Meet the Wycombes
Our well-loved Wycombe furniture family continues to grow this season as we introduce benches, a bar stool and a series of dining tables, some of which showcase surprising new material and design twists.
The collection reaches back to the Art & Crafts movement which took hold in Britain in the late 1800s and was based around the ideals of revering simplicity, traditional crafts skills and the natural world – principles which we, too, champion. The style of the Wycombe family is drawn directly from the famous Sussex chair which Morris & Co. presented in 1869, our design echoing its squared frame, woven seat, high-backed spindles and pared-back, modest aesthetic (something we've written more about here). The Wycombe family is a wholly contemporary take on the Sussex chair, updating its characteristics in line with modern furniture design sentiment. The iconic spindles, woven seat, oak frame, tapered shapes and craft-centric components remain, but each is considered from a contemporary viewpoint – wood is paler, finishes are subtler, shapes are more minimal, and the overall effect beautifully, timelessly simple.
The material that draws each Wycombe piece together as a whole is white American oak sourced from the Appalachian mountain region. With a smooth, characterful grain, the timber is not only strong and durable but also incredibly sustainable, with at least two trees naturally growing back in the place of every harvested trunk. Protected with our oil-based IsoGuard finish which emphasises the wood's inherent beauty, the collection has an exceedingly natural feel. The pale-honey coloured oak is accented with paper cord seats which are expertly woven in an understated yet ornamental technique – detailing which adds a tactile contrast to the softness of the timber.
Each new addition to the Wycombe family was carefully considered, mirroring the established style of the collection and extending it further into the home. The bar stool stands tall on elongated, tapered oak legs, which host a discreet foot rail for added comfort, ready to slide neatly under a breakfast bar. We've created new benches which showcase the humble beauty of woven paper cord on their lengthened seats, coming with or without a decorative spindle back (which you can read more about in this blog). The three new dining tables encompass a rectangular-shaped top which supports its solid timber surface with angled spindle-like legs, and a rounded table, a point of difference from the collection's usually angular features, topped with either a circular slab of oak or – in a new take on Wycombe's homage to the glory of nature – a slice of lightly veined marble.
These new designs join the existing Wycombe collection, the story of which started with the Wycombe dining chair breathing new life into the Art & Crafts philosophy with its simplified spindles and contemporary silhouette. In time, we developed the Wycombe folding dining chair, one of our most innovative pieces of furniture. It looks almost identical to its classic counterpart, but hides the ability to flatten for easy, freestanding storage (read more about it here). Then followed a more relaxed take on the seat, the Wycombe armchair, a lower slung, more slouchy evolution of the original dining chair which incorporates comfortable arms and a broader width (find out more about its transformation in this article).
What unites every item in the Wycombe family, and our autumn 2021 collection in general, is texture and tactility. This season, it's touch that brings us together with nature and that invites us to interact with our surroundings in a more fundamental, physical and human way. Every member of the Wycombe dynasty narrates its natural origins and skilled construction through its smooth matt oak, deftly woven seat and charming, crafted contours.
Explore the entire Wycombe family online here.