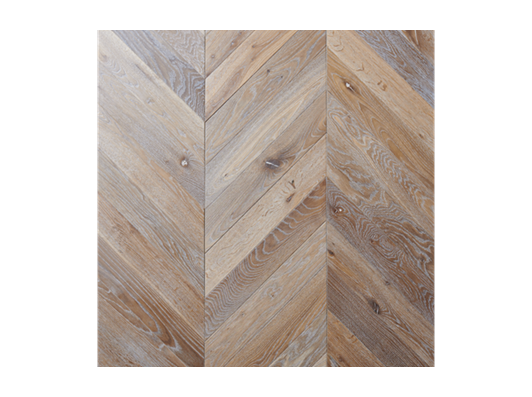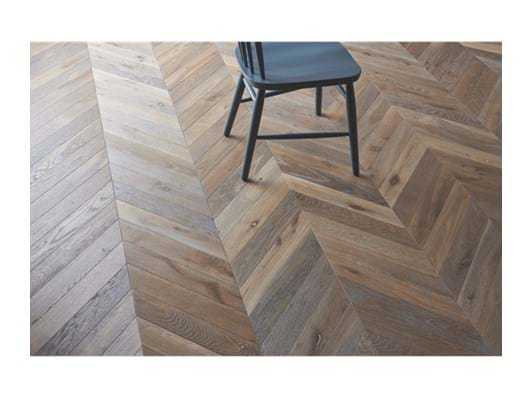 Savernake Oak Engineered Flooring
This Savernake engineered oak flooring has a much more rustic finish than our Marton wooden floorboards. It's still perfectly clean-cut and precise in its making, but means you can bring in the character and texture that comes with aged timber – without the wobble.
Layout style
Savernake comes in three styles: bold and contemporary chevron; traditional parquet herringbone; and wide, one-direction planks. If you don't want to use the same style in every room, try using two or all three to mark the change in space. Think statement chevron or intricate herringbone in bigger downstairs rooms and the calmer look of planks upstairs.
Materials
Oak, because it'll look more than good in your home. You can expect the odd knot here and the odd change in wood grain there – which means no two tables will ever look quite the same – but overall, it's a well-balanced timber. All the oak in our Savernake flooring comes from FSC-certified forests in Europe, which means they're sustainably managed.
What is engineered flooring?
Most people place engineered flooring somewhere between laminate and solid timber. It might sit there in terms of price, but really, it's the best of both worlds. The layer of natural oak on top means it has the same authentic look and feel of solid timber – and you can sand it back and refinish it – but the plywood underneath gives it structural stability as the timber expands and contracts in the humidity and temperature of your home.
The finish part one: brushing
Brushing's a bit like sanding, but instead of taking away a whole layer of wood, it just removes the softer fibres from the grain. Run your fingers over the surface and you'll feel the slight indentations left behind. It's the way to create the texture of weathered timber in a brand-new, engineered floor.
The finish, part two: smoking & pigment
Vintage Oak is the finish for those that want a warmer and more classic look than the pale grey tones of Chalked, but not something as strong as Dark Vintage. It's finished in the same way as the latter though, with ammonia-smoking – a traditional process where we expose the oak to ammonia to make it darker – and a pigmented oil that highlights the grain. It's just not as bold.
The finish part three: protection
Finally, we add a second coat of oil which seals and protect the oak. It's not quite the same oil as our IsoGuard® finish, but it's just as protective. It also means that Savernake's slightly different to look after than any of our other oak designs, but we've included everything you need to know in our timber care guide.
Product mastercode
FLO-SVK-CHV-VO
Savernake Flooring
Savernake is one of the only designs we don't deliver ourselves, because it comes straight to you from our specialist partner. We'll still handle everything for you though, from booking in your delivery date to finding out about any restrictions. When you place your order in store, we'll also be able to let you know how much delivery will cost, as it depends on where you are.
Because Savernake's made to order for you, we're afraid that you're not able to return or cancel it unless it's faulty.
For our full returns policy, please click here.
Just so you know
You'll probably have Savernake fitted by a professional, but if you or they ever need any guidance, we've created an installation guide and included it in the packaging.