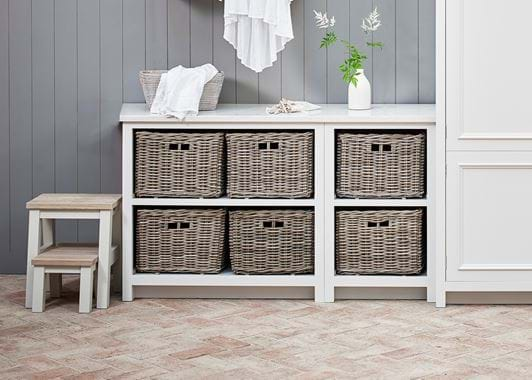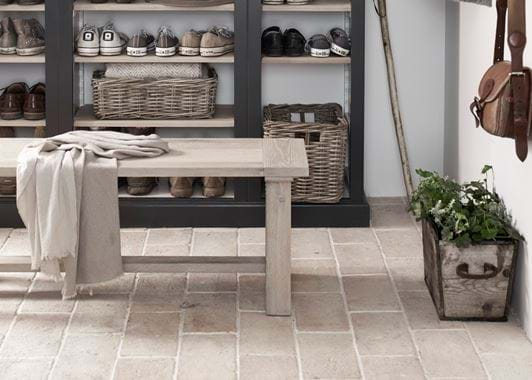 Tamworth Antique Finish Floor Tiles
Made by hand from sun-dried clay, our Tamworth terracotta tiles have the warmth and character of old Tuscan farmhouse floors. They come in brick shapes that vary slightly in size and colour, adding to their handmade feel.
How they're made
The artisans that make these tiles mix red clay with water, then shape them by hand in wooden moulds and leave them to cure in the sun and wind for a few days. After that, they're fired – each tile ends up a slightly different colour, from more pinky reds to brownish and yellow tones.
The finish
These tiles are all about the raw texture and soft, earthy colour of natural clay. They've got the well-worn look of an antique floor, with little imperfections that add to their charm.
Where we see it
As they've got a warm, homely look, these tiles are ideally suited to cosy spaces like kitchens. You can play up their rustic feel with wooden furniture, or make them more modern with contrasting colours. Like all our stone tiles, you can use them with underfloor heating.
Product mastercode
FLO-TER-ANT-03
Ca Pietra Flooring Delivery
Our stone tiles are one of the only designs we don't deliver ourselves, because they'll come straight to you from our flooring partner. We'll still handle everything for you though, from booking in your delivery date to finding out about any restrictions. When you place your order in store, we'll also be able to let you know the cost of delivery, based on your location and the size of your order.
No-quibble returns

For our full returns policy, please click here.
10% wastage
Stone flooring can be fragile when cut or trimmed. We recommend allowing for 10% wastage when it comes to installing these tiles.