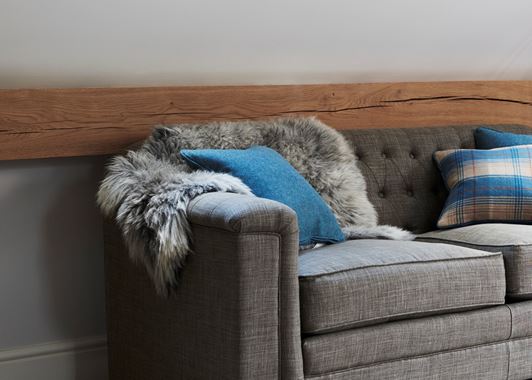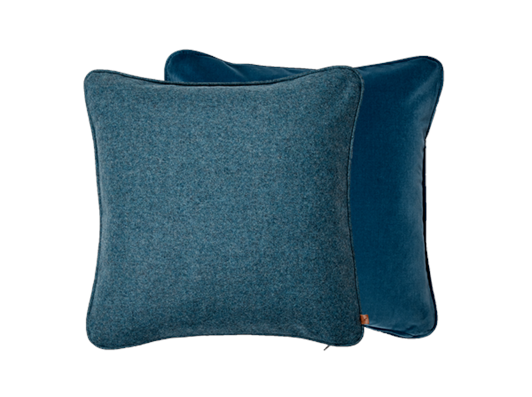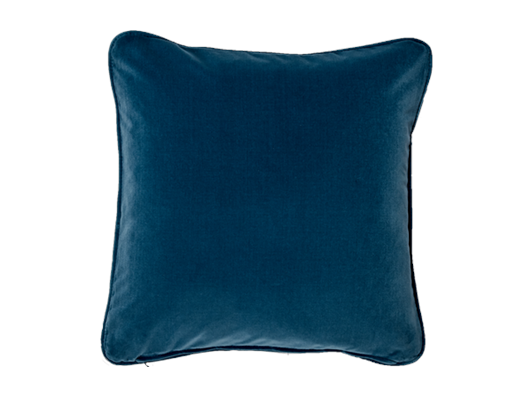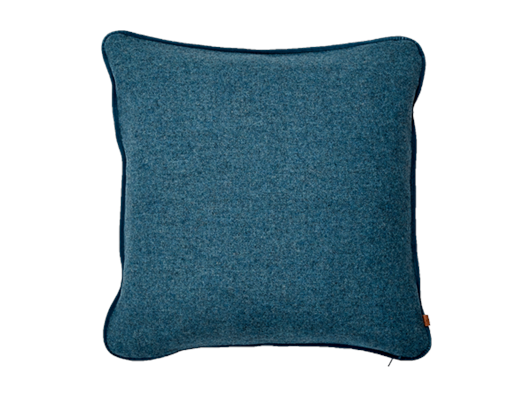 Camilla's a reversible scatter cushion, with one fabric on the front and another on the back so you can easily switch to a new colour, texture or pattern. The ethically sourced duck feather filling is covered in a mix of Angus 100% wool that has a felted feel and our jewel-like Isla Kingfisher velvet.
The materials: wool
Strong, hypoallergenic, insulating and breathable, our felted feel 100% wool is tactile and can withstand plenty of wear and tear.
The materials: velvet
Made from 100% cotton, this material is strong, soft and has a slight stretch. It's also backed with a cotton and polyester mix for excellent structure. A common feature of velvet is its pile direction – the 'shadow' which appears when you brush your hand up or down the fabric. But our trusted partners, who have been developing velvet since 1932, have created a straight pile, which means there's no visible marks or indentations on the material.
Design detail
To remove the feather-filled pad, we've included a concealed zip in the side – an especially useful feature when you need to wash the cover. We've also added piping to the edges – in this case, it means you can see a small amount of the velvet on the wool side, a design detail that adds a hint of contrasting texture.
Product mastercode
CAM-CUS-45X45-ANGTE-ISLKI-01
Care guide
Wipe the velvet side with a dry sponge or velvet brush.
Steer clear of abrasive cleaning products.
For a deep clean, we recommend dry cleaning only.
Need to know
There can be colour variation between different batches of our fabric but this is to be expected with natural fibres. If you'd like to buy the cushion cover without the feather inner, visit one of our stores or get in touch with the customer experience team.
From the Journal
The joy of sitting in
Ways to rekindle the joy of an evening in, from the practical (choosing the perfect seat), to the fun (setting up a home cinema) to the emotive (why 'hygge' is still relevant).
Keep reading