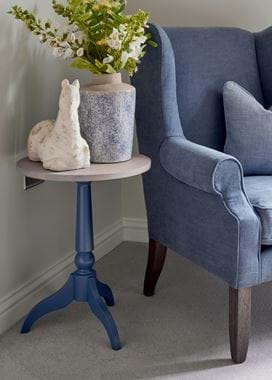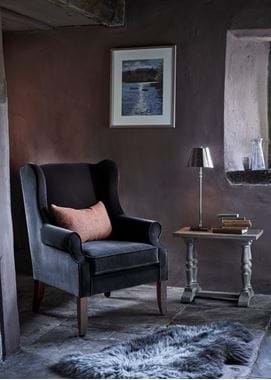 Dominic's a simpler version of the traditional wingback. Think smaller wings, less seams, minimal piping and generally less of a heavy shape. Because of those things, it makes it ideal for homes that like the idea of tradition, but don't want to end up a with an interior that feels too fussy. And if you're looking for a more formal, upright armchair.
Frame
We build our frames as pieces of furniture in their own right, using solid timber and proper joinery over cardboard sections and staples. And we've secured the back legs into each frame with finger joints to make them as strong and long-lasting as possible.
Filling
Just because Dominic's upright when it comes to its proportions, doesn't mean that it'll feel like sitting in a dining chair. The generous layers of feathers, down, fibre and foam in the seat cushion, as well as the padding hidden inside the backrest see to that. It's definitely supportive, but on the softer side.

Product Code:
DMC-CHA-ARM-HUGPO-PO
Fabric notes
The textiles in our fabric library range from pure linen to rich velvet and wool, and each one has its own character. Tone and texture can vary slightly from thread to thread, and expect to see the occasional slub in our linens and pile movement in our velvets. We've written an article about the personality behind each of our fabrics so that you can figure out which one best suits your home.
Rest assured, all the feathers and down in our cushion fillings come from ethical, cruelty-free sources.
Sometimes colour between batches can vary ever-so-slightly. To be on the safe side, we'd advise buying pieces that are being used in the same room in one go.
You might notice 'marks' on the velvet when it comes out of its packaging or after you've lent on it. They happen when you flatten the fibres and are a completely normal characteristic of velvet – they're all part of the way it ages. But if you'd prefer, you can use a velvet brush to push the pile back into place.
From the Journal
Our fabrics: making the right choice for your home and lifestyle
A guide to each and every fabric in our collection, covering everything from style to which ones are suited to children and pets.
Keep reading