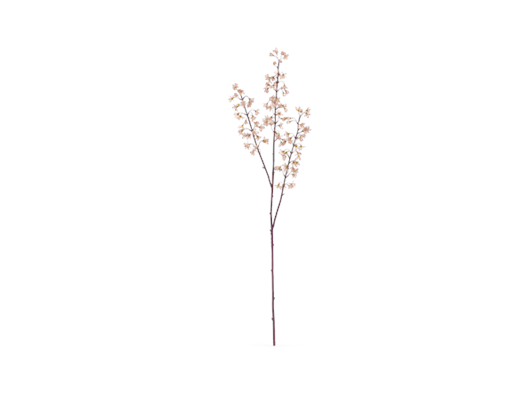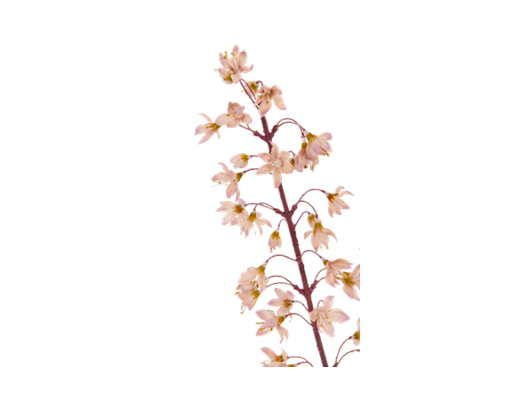 We've captured the romantic beauty of dusty pink blossoms with this life-like stem. Every sprig has three branches and on each one there are individual soft pink blooms along its length which will add delicacy to a floral arrangement.
The materials
As our stems are life-like, we want them to look indistinguishable from the real thing. So, that's why, on each stem, we've added a hidden wire inside that allows you to bend it into a natural position rather than have it sitting straight up.
Why life-like?
Having flowers and foliage in your home makes such a difference – they're one of those final touches that helps it feel more lived in. And stems that look as good on Friday as they did on Monday are even better – no water to change, nothing to trim, no mess, no fuss, and no wilting.
Arrangement ideas
For an uplifting floral display, arrange two to four of these blossoms alongside our Callicarpa Twig (otherwise known as a beauty berry) and a selection of our soft white roses and blush pink peony buds.
Product mastercode
BLS-STE-TP
Care guide
Look after your life-like stems with just a quick weekly dust. Use a clean feather duster or a wipe to keep your bouquet looking as good as new. The wire in the stem is tough so you can't accidentally snap it. But you'll need something powerful if you want to trim it down. We've found long-handled loppers (the ones for pruning shrubs and trees) or wire cutters do the trick. The wire inside also means you can't put your stem in water for long or it'll rust. So, if you're arranging it with real flowers, bend the life-like stem up out of the water.